Follow these easy step-by-step directions on how to freeze papaya fruit before it gets overripe and goes to waste. Freezing cubed papaya is an easy and convenient way to keep this amazing fruit on hand at all times.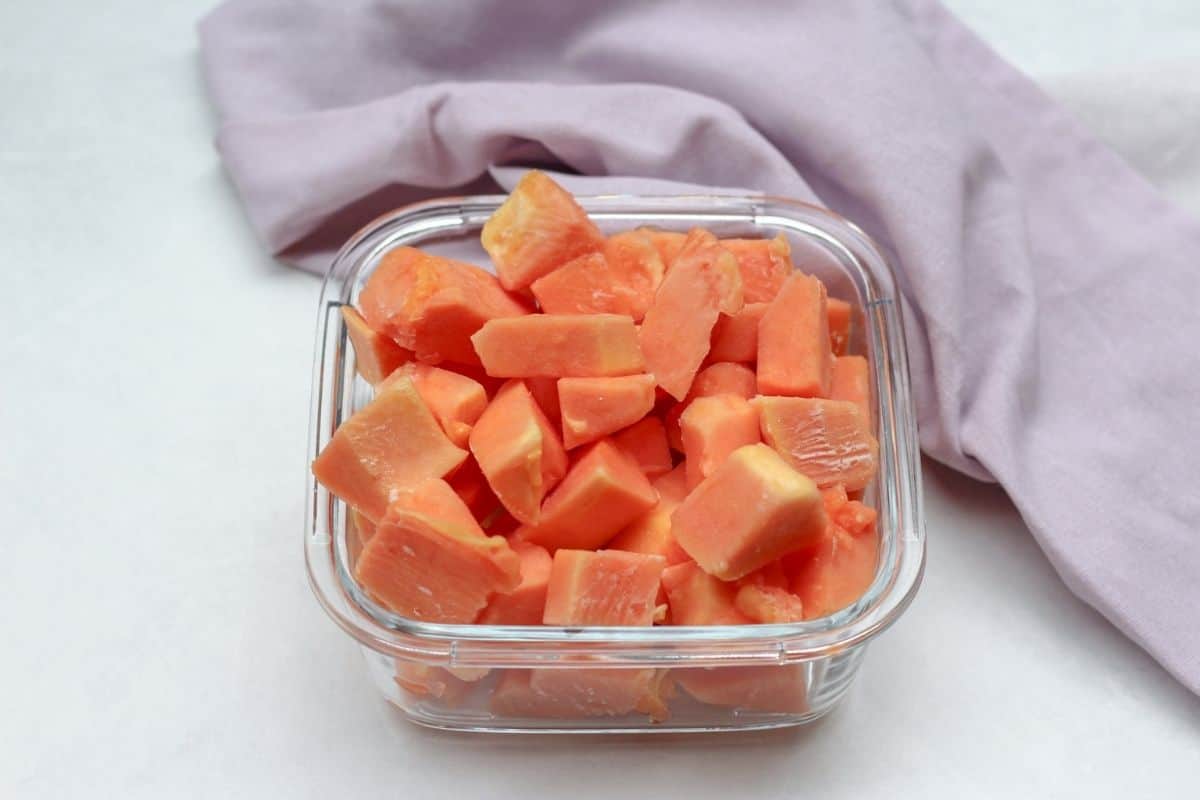 The best way to use frozen papaya cubes is in smoothies. Try my delicious papaya smoothie bowl.
Jump to:
Why you should freeze ripe papaya
How many times have you bought a papaya and waited too long to open it before it went bad? Or how many times have you tossed the cubed papaya after 3-4 days of being stored in the fridge?
Ripe papaya can go bad so fast unless it is frozen. That's why freezing is the best method to store this amazing fruit. Enjoy it at any time.
Papaya is one of the best fruits to freeze. It has high water content and freezes well without losing its taste and nutrients. Most people use papaya in smoothies, so frozen papaya will be the best one to add to your blender. 
By the way, you can also freeze fresh spinach and add it to smoothies as well.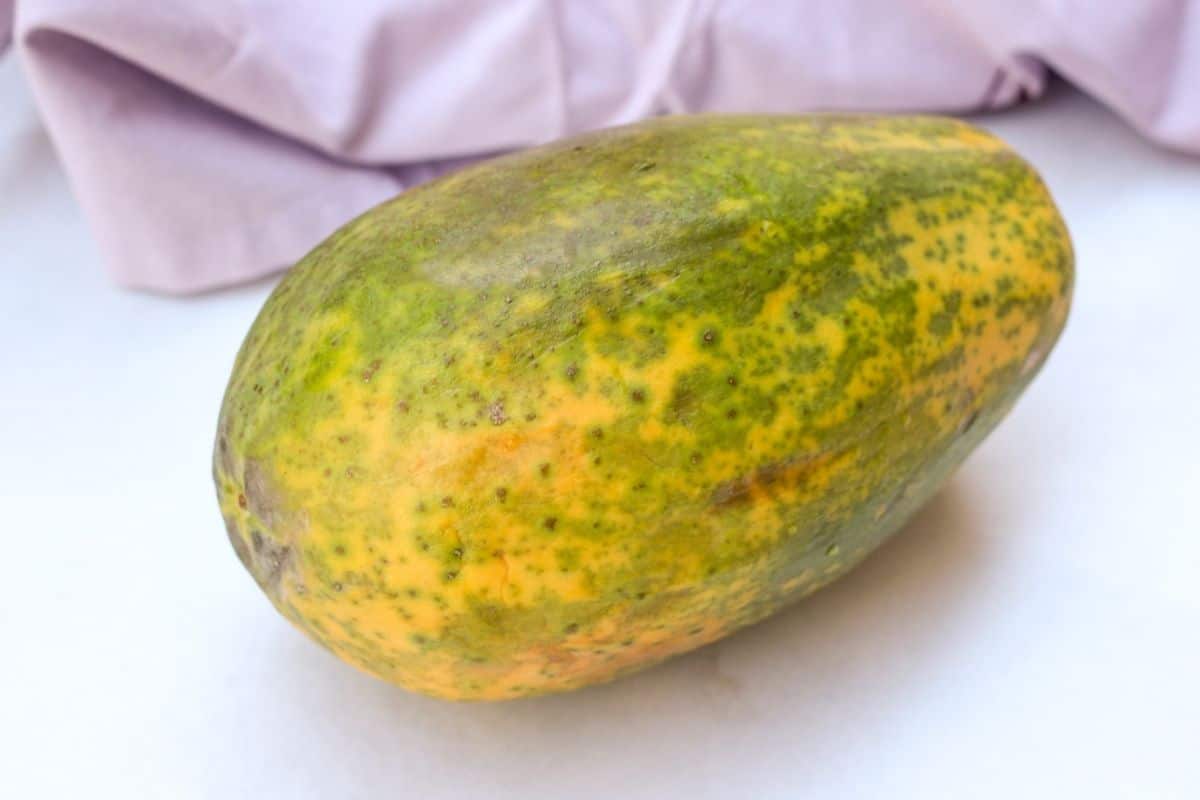 What will you need to freeze this fruit
ripe papaya fruit - pick a ripe papaya fruit for freezing. The flash must be soft and sweet. Ripe papaya will have yellow skin and is a little soft if pressed on the skin. If papaya is not ripe, let it ripen on the counter for 2-3 days.
knife and a cutting board - use a large cutting board and a large sharp knife.
baking pan and a sheet of parchment paper - you will need these two to flash freeze papaya first.
freezer container or a freezer-safe bag - any freezer container with the lid or a bag for storing the frozen fruit.
Step by step directions
Remove Seeds - First, wash the fruit and remove any stickers. Cut the papaya in half lengthwise. Using the spoon, scoop out all the seeds and scrape out any loose strings. Freeze the seeds separately for other recipes.
Cut off Ends - After scooping out all the seeds, cut off the papaya ends (about one each from each side). This step will help to peel the skin off the fruits easier. The ends usually do not taste great anyway.
Peel - Hold papaya firmly in one hand facing the cut side down, and run a knife down lengthwise, peeling off the fruit's skin. Peel both halves.
*Note: If you are not familiar with this peeling technique, use the veggie peeler or you can slice the papaya first and then remove the skin off each slice separately.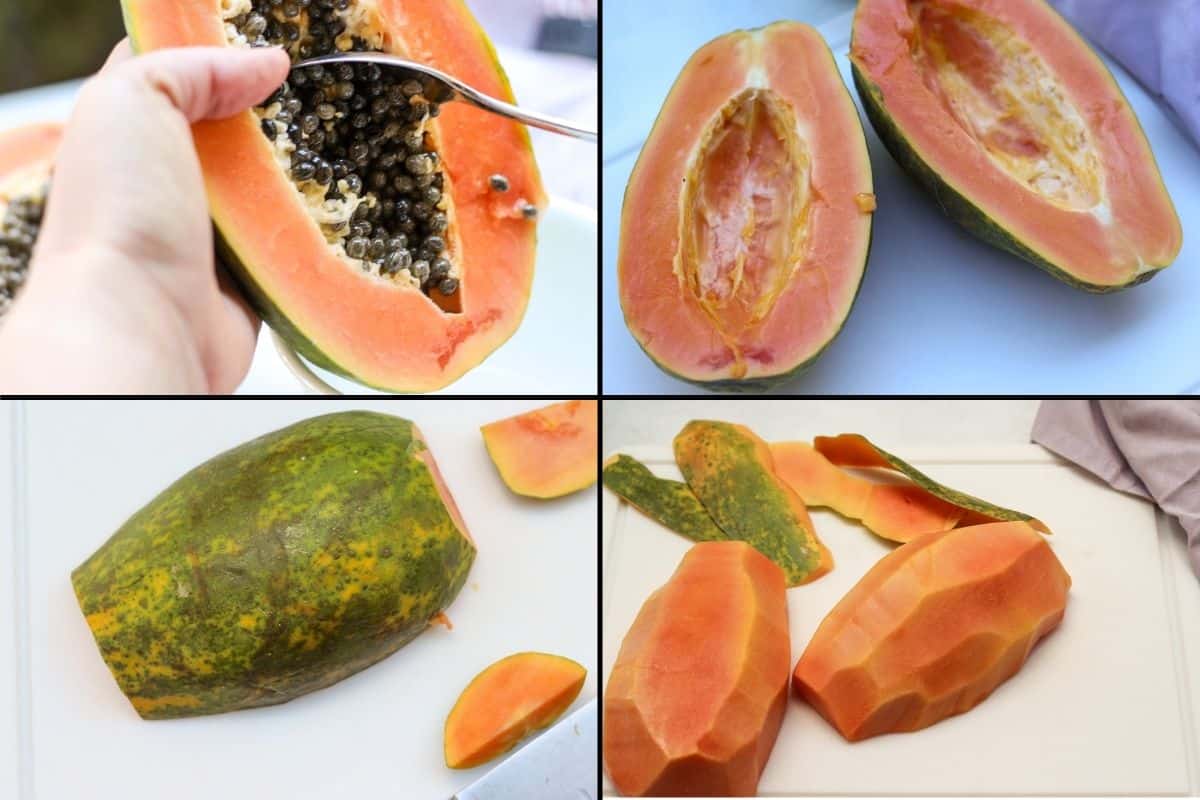 Cube - slice both papaya halves and then cube them. The cubes do not have to be the same size or shape.
Flash Freeze - lay a sheet of parchment paper over your baking sheet. Spread the cubed papaya on the parchment paper in one layer. Try to keep the pieces as separate as possible from each other. Place the pan in the freezer for about 2 hours.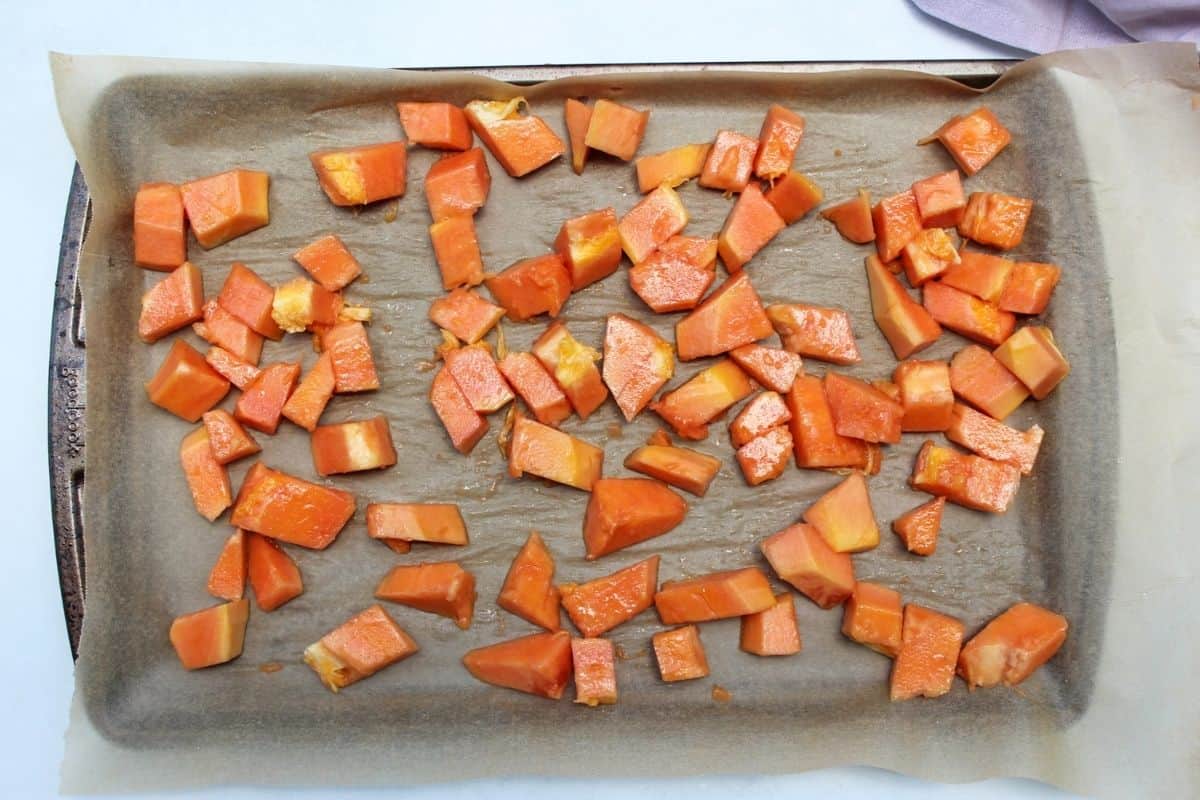 Bag it - When the papaya cubes feel frozen from the outside (they might still not be deep-frozen in the center), transfer the frozen fruit to the freezer-safe container or a bag. Label with the name and a date. Place it back in your freezer for storage.
Hint: no need to freeze the papaya in small portions. Flash freezing will prevent the pieces from sticking and you will be able easily to take out as much as you need.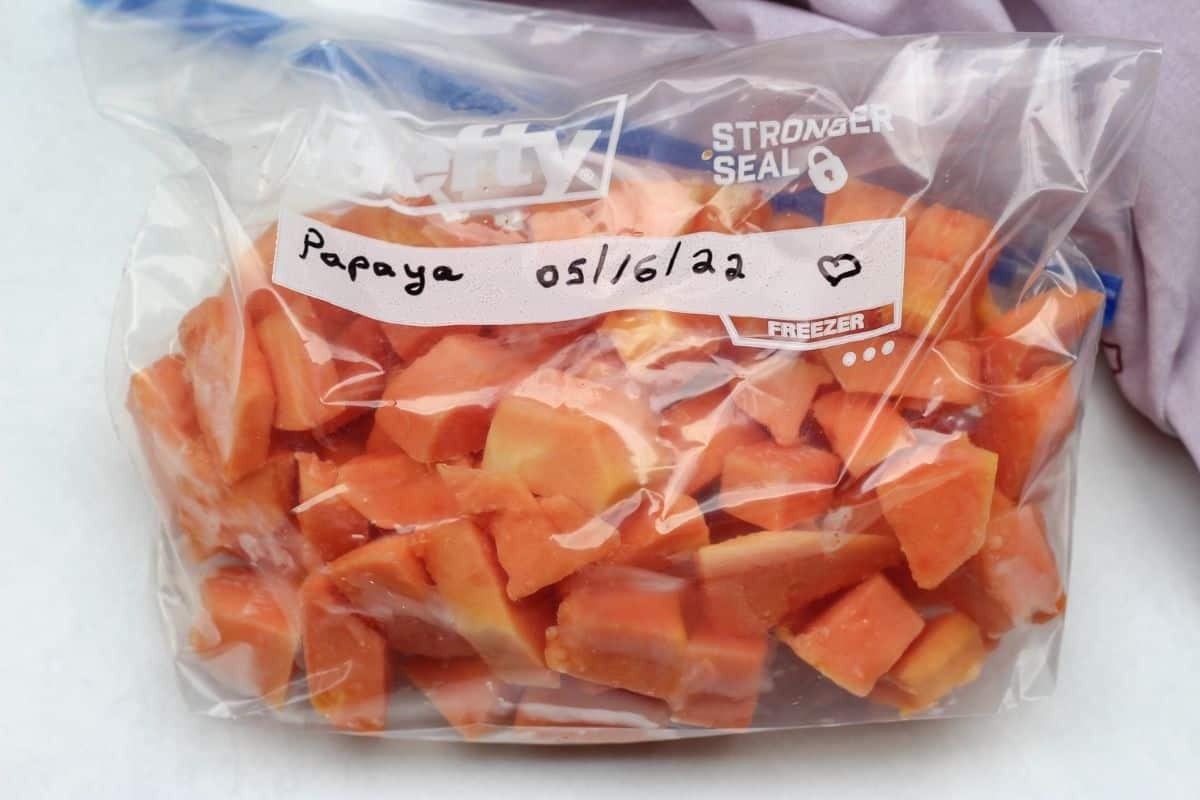 Top Tip
Do not skip flash freeze - it will prevent the papaya cubes from sicking.
How long can you store papaya in the freezer
With proper storage, freshly frozen papaya can last in the freezer for about 3 months.
If you notice a freezer burn, it is still safe to eat. I suggest squeezing as much air as possible out of the bag before freezing the fruit to prevent the freezer burn.
Consider double bagging the papaya to prevent the fruit from absorbing freezer odors.
How to thaw papaya
Thaw frozen papaya in the refrigerator for about 24 hours.
You can also safely thaw it on the counter for no longer than 2 hours. After two hours at room temperature, papaya cubes need to be consumed or placed in the fridge.
Can you refreeze thawed papaya
Yes, as long as papaya was still good when thawed you can safely refreeze it. Just make sure to place it back in the freezer in a separate bag.
Other common questions
Is papaya healthy?
Yes, papaya is a super healthy and nutritious fruit. We always keep it in the freezer and use it for smoothies at least a few times per week. Smoothies with papayas helped my son with constipation so much.
Papaya contains a good amount of digestion enzymes and is so good for our gut health. It is rich in different vitamins and dietary fiber.
How to tell if papaya is not good anymore?
Once ripened, papaya can go bad very fast. Spoiled papaya will have a lot of dark spots and dents on its skin (a few is still ok), it will be super soft to touch and the flesh will smell sour. Always have a good judgment by inspecting the fruit properly. Toss it out if there are signs that the fruit is not good.
Can I freeze papaya seeds?
If you are using seeds for other culinary needs, freeze them separately in the bag. Some people dry them as well. But freezing papaya seeds is always the easier and safer way to preserve them for later usage.
📖 Recipe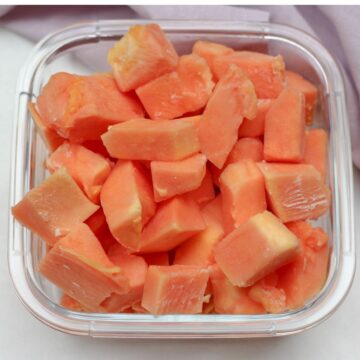 How to freeze papaya
Follow these easy step-by-step directions on how to freeze papaya fruit before it gets overripe and goes to waste. Freezing cubed papaya is an easy and convenient way to keep this amazing fruit on hand at all times. 
Equipment
1 freezer

1 Baking pan

1 parchment paper sheet

1 large cutting board

1 Large knife
Ingredients
1

ripe papaya

as needed

water

to rinse the papaya
Instructions
Prepare the baking pan by laying a sheet or parchment paper on top. Wash papaya and remove any stickers. Cut papaya in half lengthwise. Use a spoon to scoop out the seeds and strings.

Cut and discard about one inch off each end. Use a knife or veggies peeler to remove the skin.

Cut the papaya halves into cubes by slicing it first lengthwise and then crosswise after.

Spread the papaya cubed over the baking sheet in one layer. Try to spread them in a way that most of them do not touch each other.

Place the pan in the freezer and freeze for about 2 hours or until cubes are frozen firm.

Transfer frozen papaya cubed to the freezer-safe bag and place it back to the freezer for storage. Enjoy as needed!
Notes
use a flash freezing method to prevent from sticking
freeze the seeds separately for other use
use parchment paper over the pan
consider double bagging to prevent from odors absorption
the nutrition facts are estimate. For accurate calorie and macro counts, weight the food and use special apps to calculate more accurate nutrition information.
Nutrition
Calories:
60
kcal
Carbohydrates:
41
g
Protein:
2
g
Fiber:
2.7
g
Sugar:
23
g