If you enjoy having smoothies for breakfast, this papaya smoothie bowl is the perfect start to your day. A delicious fruit smoothie bowl topped with protein-rich almond butter, chia seeds, and muesli will satisfy your hunger and boost energy levels.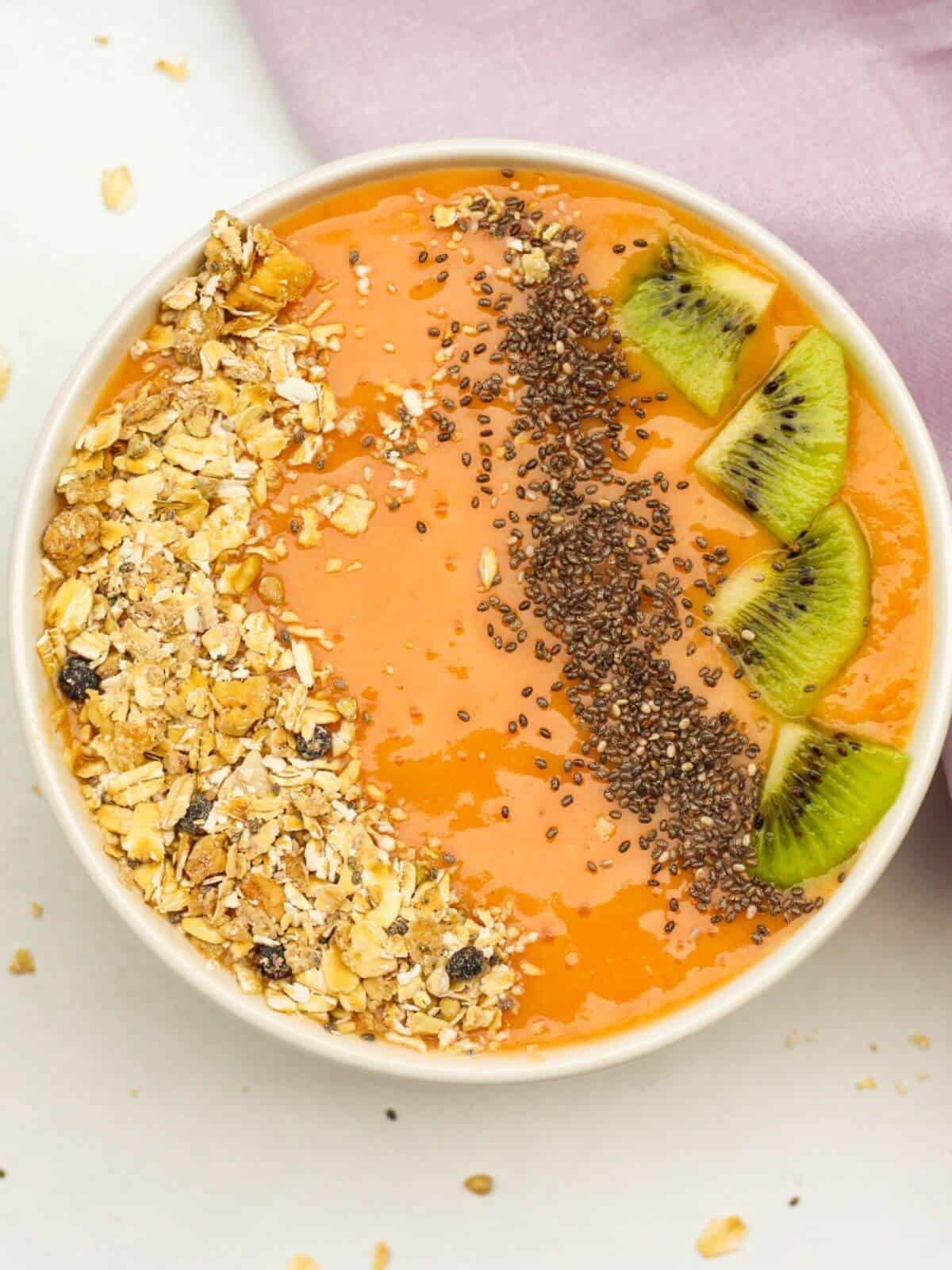 Summer is the best time to enjoy this delicious smoothie bowl made with papaya and other fruits. You can find different large and small papayas at local grocery stores starting early summer until fall.
Jump to:
Why you will love this recipe
this smoothie bowl is great for kids
it is vegan, gluten-free and sugar-free.
it is versatile: you can pick your favorite toppings
papaya is very nutritious: rich in digestive enzymes, antioxidants, and vitamins A, C, and E. It helps with constipation due to high fiber content and helps digestion.
this is a very nutritious breakfast that is so easy and quick to make
Ingredients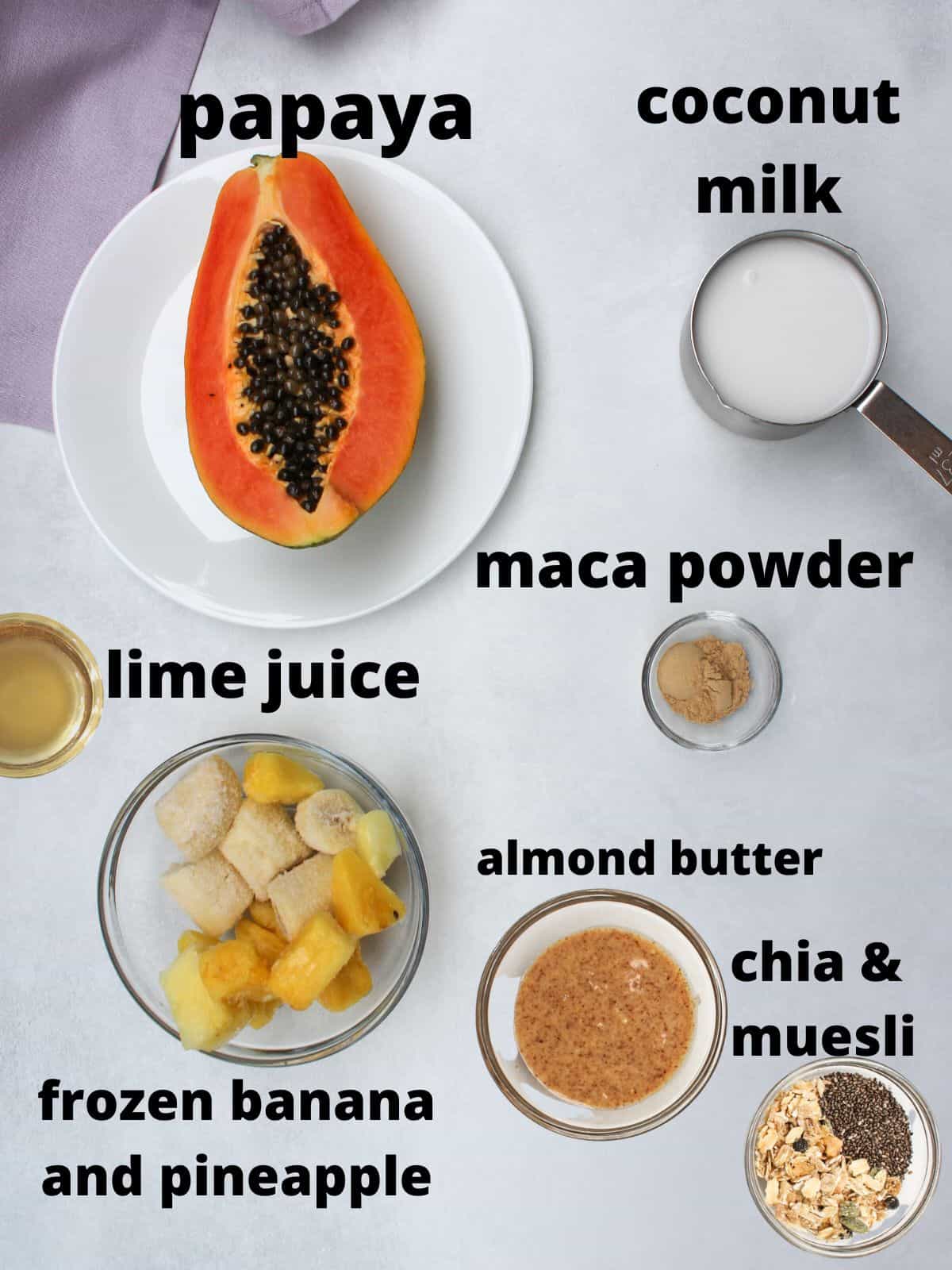 Ripe Papaya Fruit: I used medium-size fresh organic papaya peeled and seeds removed. Ripe papaya will guarantee sweet taste.
Note: you can also use frozen papaya. I always cut fresh papaya and freeze some for later use. This article will teach you the best way to freeze fresh papaya.
Frozen Banana: frozen bananas will add creaminess and sweetness to the smoothie bowl.
Frozen Pineapple: pineapple will add great fresh flavor.
Maca Powder: adding maca powder is optional but recommended if you have some a home. Maca powder has lots of benefits and will add a nutty-sweet and earthy flavor to the smoothie bowl. It matches so well with the rest of the ingredients.
Coconut Milk: any smoothie drink or bowl needs a little bit of liquid. You can use any milk of your choice or even water.
Lime Juice: freshly squeezed lime juice will add a hint of sour taste to the smoothie. It will balance the taste of all the sweet fruits added.
Toppings: to make it a balanced breakfast, you will need to add some nutritious toppings. My favorites are almond butter, oar muesli, and chia seeds. You can add your favorite topping to this papaya smoothie bowl.
See recipe card for ingredients quantities
Instructions
Prepare Ingredients - Wash and cut the papaya in half. Using the spoon scoop out and discard the seeds. Since papaya seeds are edible and have lots of health benefits, you can save the seeds for other usage or purpose. Measure the rest of the ingredients. Using the fork and hands squeeze the juice out of the lime halves.
Load the Blender - Add all fresh and frozen fruits, maca powder, coconut milk, and lime juice to your blender.
Blend - Blend everything on high speed for about 1 minute or until no chunks have remained and you got a smooth, one consistency mass.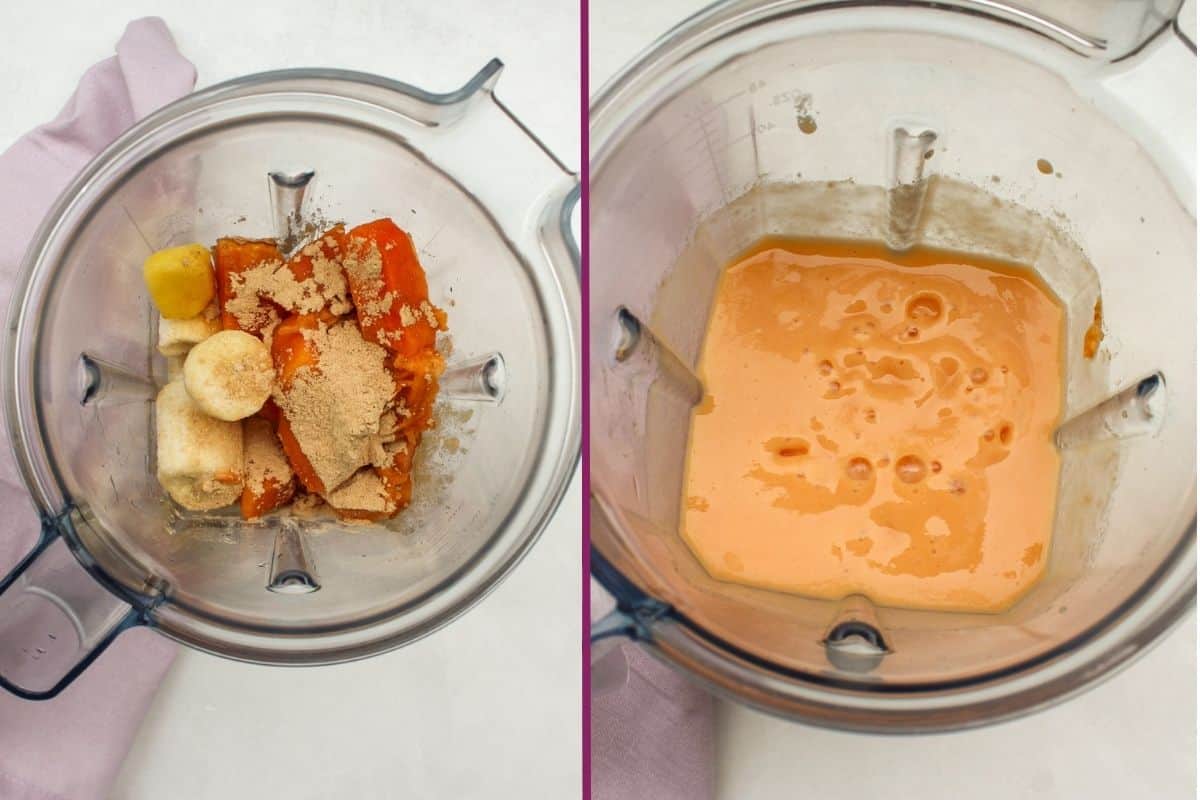 Pour and Add Toppings: pour the content of the blender into a large bowl. Add some muesli, chia seeds, almond butter, and any other chopped fruits of your liking. Enjoy immediately.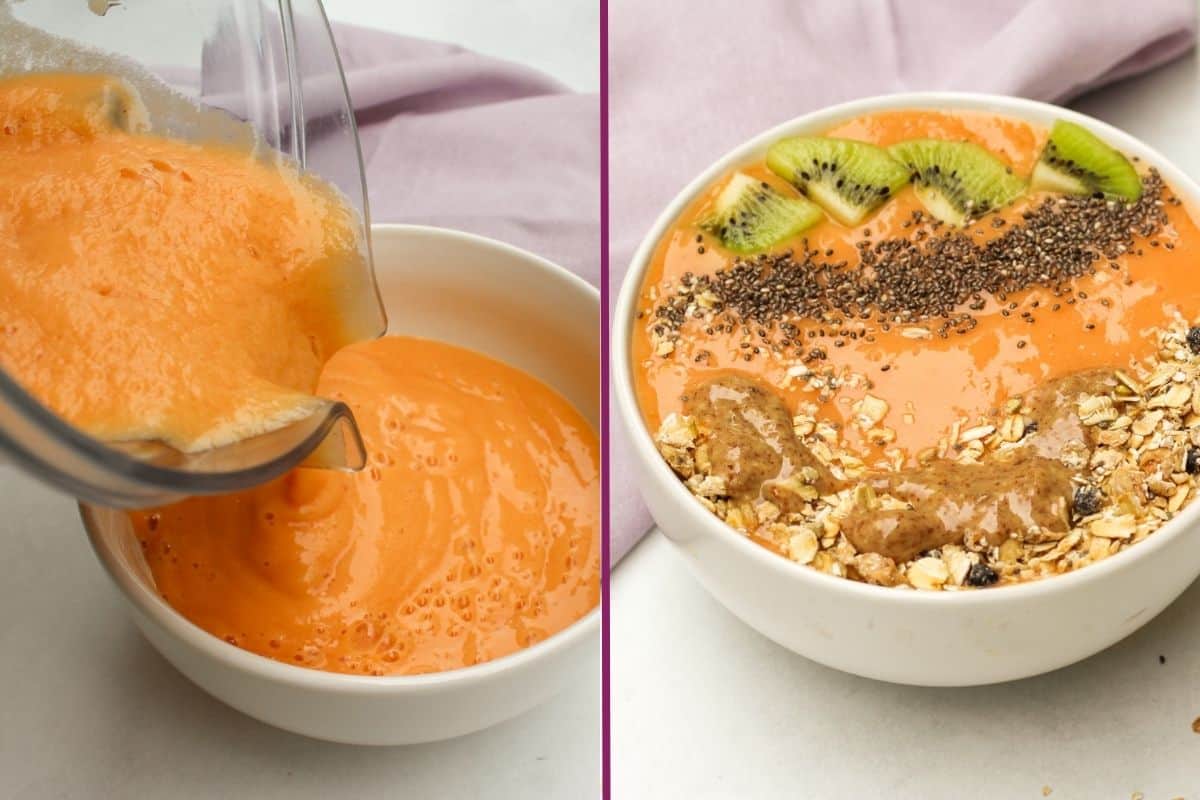 Useful hint: do not discard papaya seeds, but freeze them for later use. Due to their bitter taste, add papaya seeds to your savory dishes blended into sauces or marinades. These seeds are safe to eat and have lots of benefits
Variations
Make it a drink: add an extra ½ cup of coconut milk and turn this papaya smoothie bowl into a papaya drinkable smoothie. This is a perfect breakfast on the go.
Chocolate: chocolate will go well with this smoothie. Add a tablespoon ( or two) of good-quality cocoa powder. Granola and some shaved chocolate will be great toppings here.
Equipment
I used my Vitamix blender to make this papaya smoothie bowl. Since there are no super hard ingredients, you can use any countertop blender or even an immersion blender to make this recipe.
I have not tried this method, but I am positive that you can also use a food processor instead of a blender.
Serving suggestions
This smoothie bowl is a complete meal or snack itself.
Serve it as it is as a light snack or add your favorite toppings to make it a balanced breakfast.
I like to add muesli (or granola), chia or flax seeds, some almond butter (so good here), and any chopped fruits or berries on top.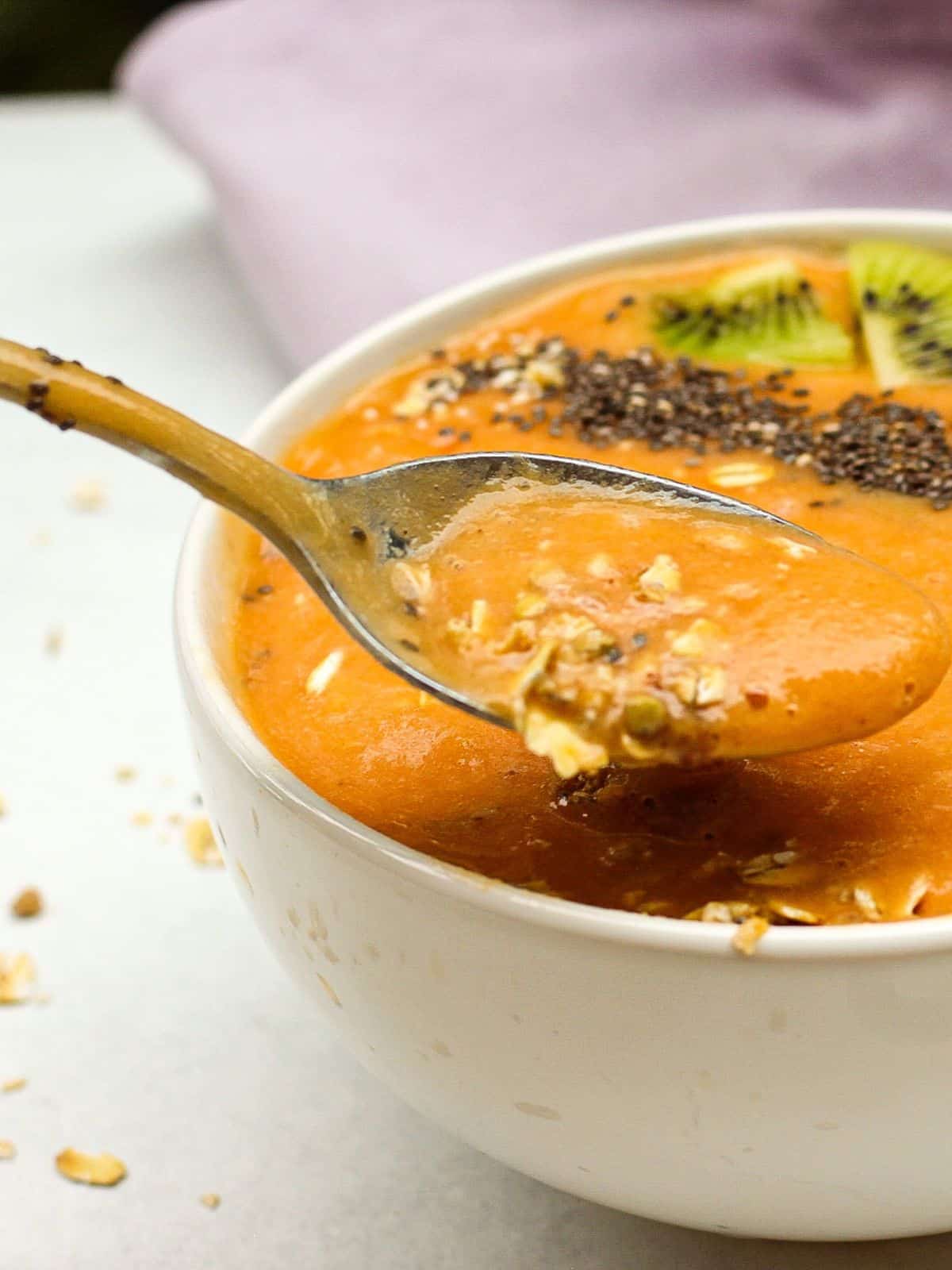 Storage
I strongly recommend enjoying this papaya smoothie bowl right away.
If for any reason you cannot eat it right away, transfer it to a freezer-friendly container or a bag and place it in the freezer. When ready to consume, add the frozen smoothie and a little bit of coconut milk (to blend it easier) back to the blender and process it on high again into a smoothie.
Top tip
Since this papaya smoothie bowl is meant to be thicker than a regular smoothie, do not all the coconut milk right away. Do half and see if the blender is handling. Add more if needed. But the less coconut milk, the thicker the smoothie bowl is.
Common question
How to pick ripe papaya?
-To pick ripe papaya, make sure most of its skin has been turning from green to yellow. If you gently press your finger into the flesh, it will fill soft. Another sign of ripe papaya is its rich sweeter smell compared to the green one.
Can I add papaya seeds to this smoothie bowl?
-Yes, but not all of them. Start with a teaspoon and see if you like the taste. Papaya seeds taste bitter (similar to black pepper). Otherwise, freeze them and use them for savory recipes.
Other smoothie bowls and smoothies
Watermelon smoothie bowl (no bananas)
📖 Recipe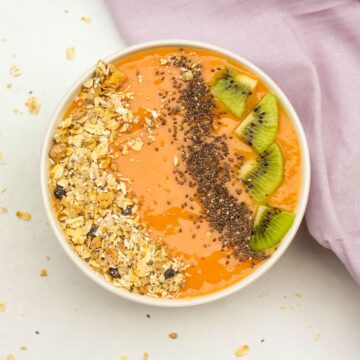 Papaya Smoothie Bowl
If you enjoy having smoothies for breakfast, this papaya smoothie bowl is the perfect start to your day. A delicious fruit smoothie bowl topped with protein-rich almond butter, chia seeds, and muesli will satisfy your hunger and boost energy levels.
Ingredients
1½

cups

cubed papaya

peeled, seeds removed

1

frozen banana

½

cup

cubed frozen pineapple

1

teaspoon

maca powder

2

tablespoons

lime juice

½

cup

unsweetened coconut milk

2

Tablespoons

muesli or granola

1

Tablespoon

almond butter

1

teaspoon

chia seeds
Instructions
Add all papaya, banana, pineapple, maca powder, lime juice, coconut milk to the blender. Blend on high until one consistency.

Pour into the large bowl. Add muesli, almond butter, chia seeds and other chopped fruits on top. Enjoy immediately with a spoon.
Notes
Use a ripe sweet papaya
Freeze papaya seeds for later use
Use other toppings of your choice
Depending on your bender, add as little coconut milk as possible for thicker smoothie.
Use different milk or water instead of coconut milk.
The nutrition facts already include listed toppings.
Nutrition
Serving:
1
g
Calories:
374
kcal
Carbohydrates:
61.2
g
Protein:
8.3
g
Fat:
15.1
g
Sodium:
42.5
mg
Fiber:
10.6
g