Nothing better than a sweet and refreshing watermelon smoothie bowl on a hot summer day. This thick and creamy smoothie bowl is vegan and made without bananas.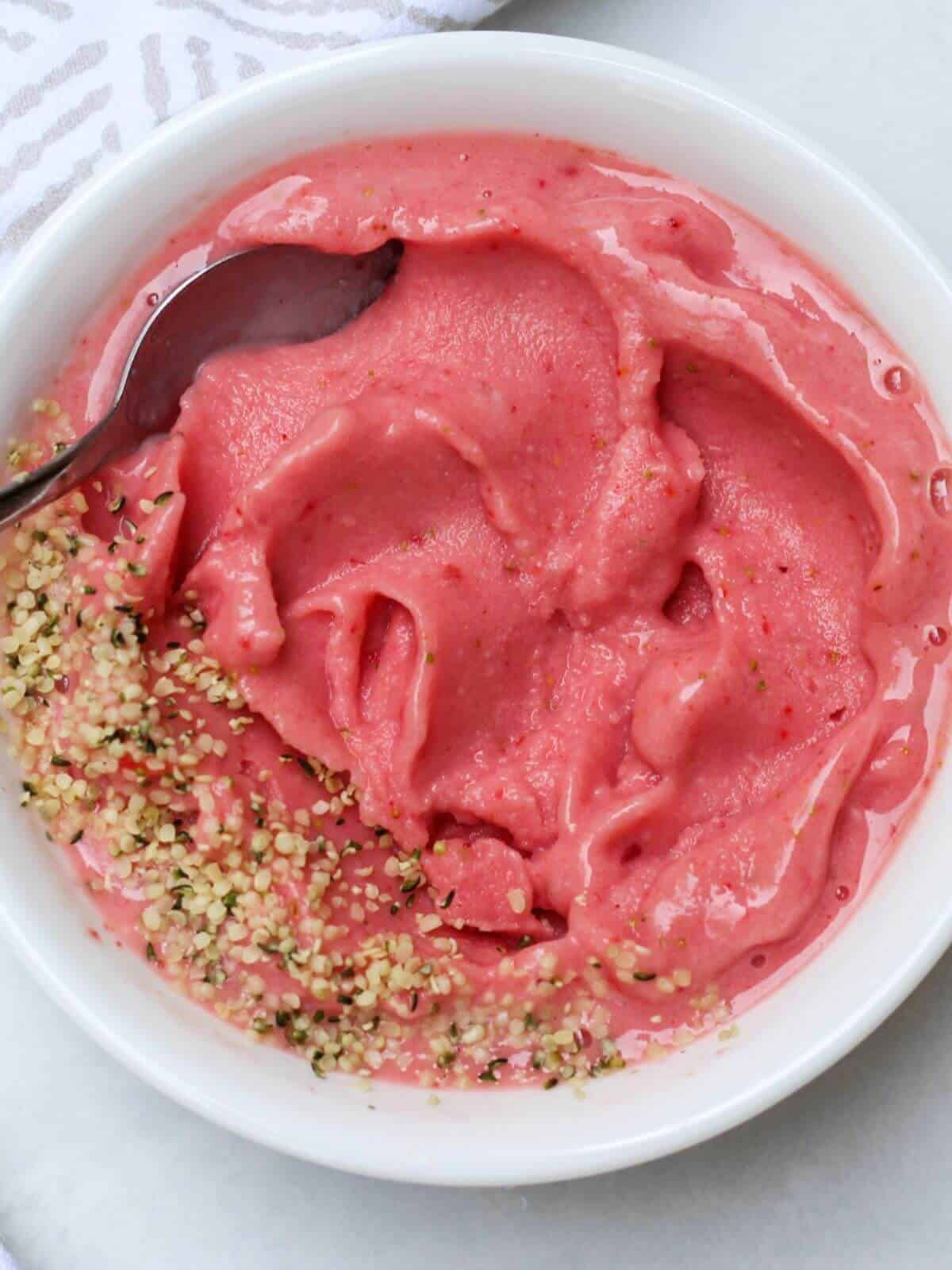 How many times have you cut a huge watermelon and it did not not fit in your biggest Tupperware container? Or even worse, you end up throwing it away after a few days in the fridge, because it just doesn't taste as fresh anymore.
Next time you buy a huge watermelon, freeze chopped-up fruit to make this clean watermelon smoothie bowl. It is so delicious and tastes almost like ice cream that is good for you.
This watermelon smoothie bowl recipe is a must to make, it will refresh and hydrate you on a hot day.
A watermelon smoothie bowl without bananas is one of my favorite smoothies along with this papaya smoothie bowl and a green papaya smoothie.
Jump to:
Why this recipe is so good for you
this strawberry watermelon smoothie bowl is high in vitamin C and A.
It has high water content and will hydrate your body and skin.
It is creamy and sweet without bananas, added sugar or dairy.
Kids will also enjoy it and will ask for seconds.
This smoothie bowl will for sure refresh you and will make you smile.
Add some hemp seeds, granola, and chia seeds to make it a light breakfast.
Ingredients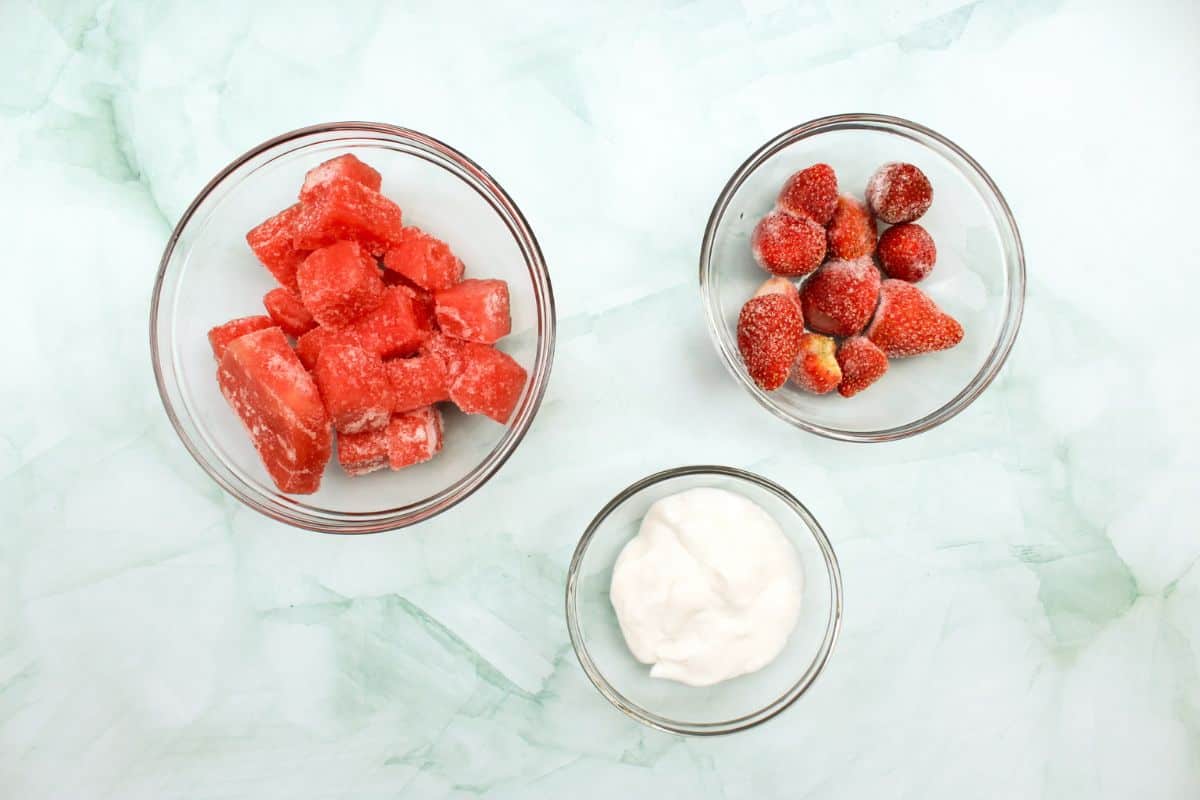 Frozen Watermelon Cubes - next time you buy a watermelon, freeze cubed fruit in freezer-safe bags, so you make this watermelon smoothie at any time. You can use chilled watermelon as well but the smoothie will not be as thick. Chilled watermelon is great for making drinkable smoothies.
Frozen Strawberries - I usually buy already frozen strawberries for my smoothies. It is cheaper and easier. Eat the fresh ones by itself
Plain Coconut Yogurt - good quality plain coconut yogurt will give some sour taste and creaminess. I used Harmless Harvest plain coconut yogurt.
Hemp Seeds (optional) - top the smoothie bowl with some hemp seeds for extra nutrition. You can also enjoy it with some granola, chia seeds, or coconut flakes on top.
How to make it
First, you will need to make sure you have frozen watermelon and strawberries. Take out the frozen fruits and let them thaw at room temperature for 5 minutes. This step will help to blend the frozen fruits easier and will result in a creamier smoothie.
Load all the ingredients into your blender container, starting with coconut yogurt, followed by strawberries and watermelon. The order is important to successfully process frozen fruits.
Now, start blending it on low (about 30% of power) for about 30-60 seconds. When you see that the blades start processing and engaging all the ingredients, increase the speed to 80-90% and blend just until smooth. Do not blend for too long as the smoothie will start melting and will not be as thick.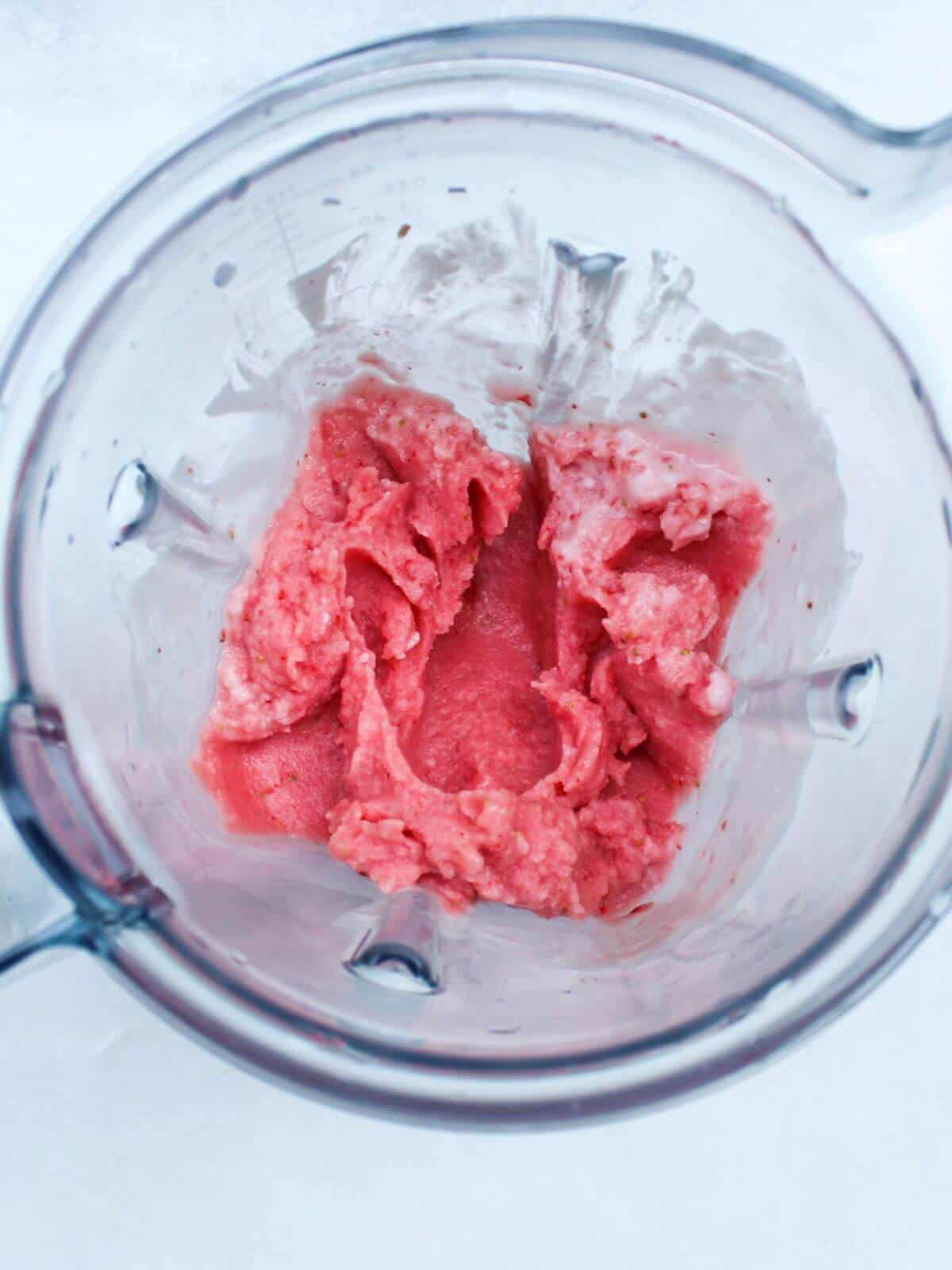 If you have Vitamix, use a tamper to help the ingredients to circulate better in your blender.
The smoothie will be very thick, use the silicone spatula to transfer the content to the bowl.
Top with some hemp seeds and enjoy this refreshing summer watermelon smoothie with a spoon.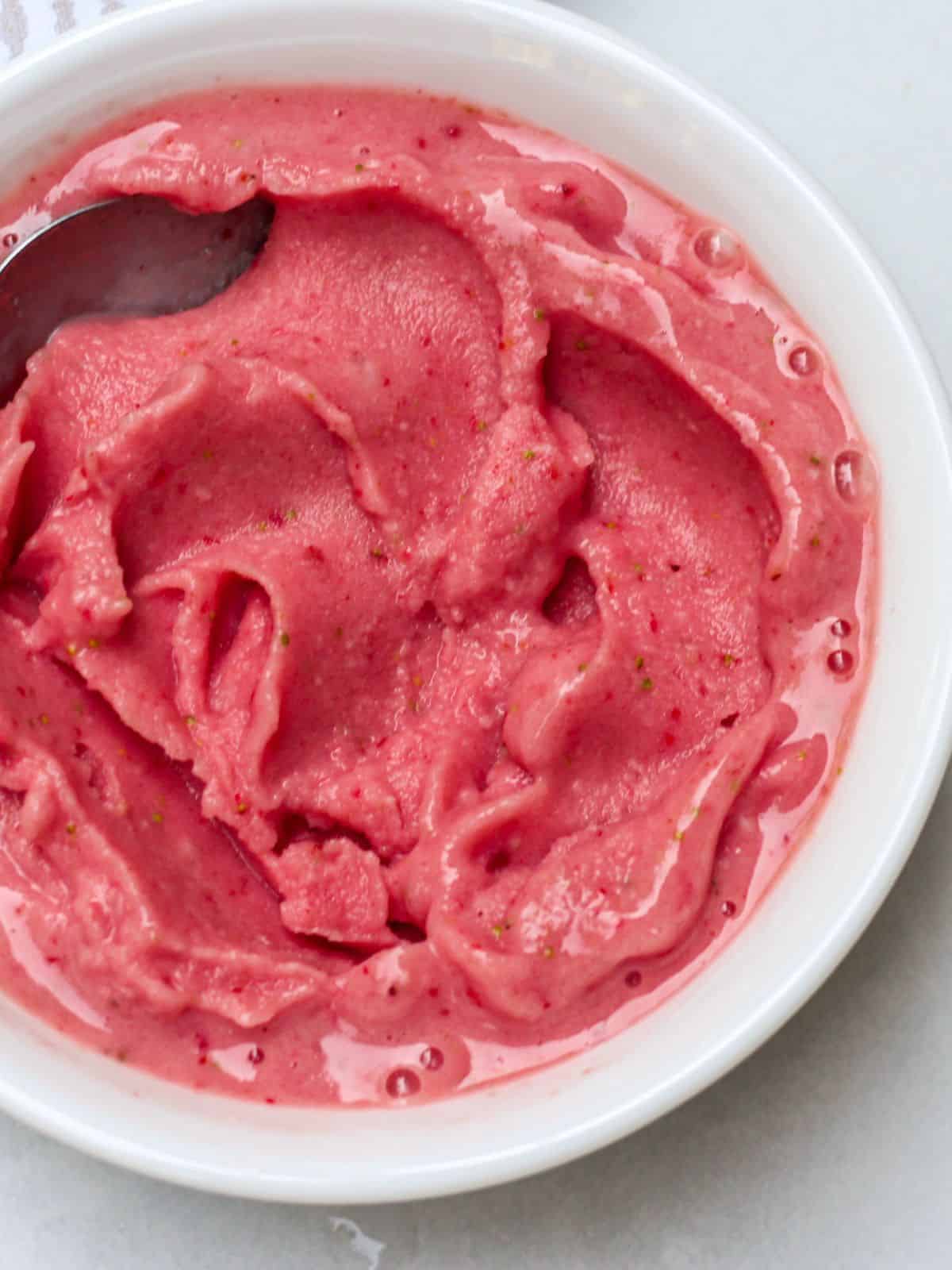 Equipment
The most important piece of equipment to make this smoothie bowl is a blender. We are using all frozen fruits to have the thickest smoothie without adding bananas, so you will need a powerful blender such as Vitamix or Ninja.
If your blender is not handling frozen fruits without much liquid, you can easily use a food processor to blend the fruits.
How to serve
Serve this smoothie bowl as soon as it's blended. The smoothie will start melting fast, so it's better to enjoy it right away.
This watermelon smoothie bowl without bananas is low in calories and if you serve it as breakfast, I recommend adding some hemp seeds and granola on top. You can use any other favorite topping for this smoothie bowl.
Tips for success
Freeze the watermelon ahead of time.
Let the fruits thaw at room temperature for about 5 minutes to prevent the blades from clogging.
First, load the yogurt in a blender and use the tamper (if you have Vitamix) to help the processing.
If you love very sweet smoothies, add a tablespoon of honey.
Common questions
Do I have to use frozen watermelon?
For a thick, creamy smoothie bowl without bananas, I strongly recommend using both frozen watermelon and strawberries. You can buy already frozen strawberries, and place your fresh cubed watermelon in the freezer for at least 2 hours.
Can I use Greek yogurt instead of coconut yogurt?
Yes, plain Greek Yogurt or Kefir will work great for this recipe in place of coconut yogurt.
Is a watermelon smoothie bowl good for bloating?
It all depends on a person's digestion, but in general, a watermelon smoothie bowl can help with digestion and bloating. This smoothie is very light, not loaded with sugar, and has high water content. Added dairy-free coconut yogurt is a source of good bacteria that can improve your digestion and reduce bloating.
📖 Recipe
Watermelon Smoothie Bowl Without Bananas
Nothing better than a sweet and refreshing watermelon smoothie bowl on a hot summer day. This thick and creamy smoothie bowl is vegan and made without bananas. 
Equipment
1 high-powered Blender

1 Measuring Cup
Ingredients
2.5

cups

frozen watermelon cubes

1

cup

frozen whole strawberries

⅓

cup

plain coconut yogurt

1

Tablespoon

hemp seeds (optional)
Instructions
Take out the frozen fruits and let them thaw at room temperature for about 5 minutes.

Add the ingredients to your blender container in this order: yogurt, strawberries and watermelon.

Blend on low for about 30 seconds, switch the blender on high and blend until smooth. Use a silicone spatula to scoop out the thick smoothie into the bowl. Top with hemp seeds and enjoy right away!
Notes
use only frozen fruits.
thaw the fruits for 5 minutes at room temperature before blending.
use a high-powered blender or food processor.
if you have Vitamix, tamper helps a lot to process frozen ingredients.
Nutrition
Calories:
200
kcal
Carbohydrates:
28.5
g
Protein:
3
g
Fat:
4.8
g
Sodium:
19
mg
Sugar:
17.5
g