Buckwheat bread is the easiest gluten-free bread I have ever made. This recipe does not require kneading and it is made with soaked whole-grain buckwheat groats for maximum nutrition.
Jump to:
Buckwheat bread recipe
Are you someone who cannot resist a slice of bread with every meal? Trust me, I get it - I am the same way. My meal does not feel complete without bread. I need bread for my eggs, salads, and soups ... and the list can go on and on.
That's why I had to create a healthier bread that is nutritious, tastes great, and importantly easy to make.
I bake it almost every week and store it in the fridge (or freezer) to help me with eating less wheat bread (which I absolutely love).
This buckwheat bread is made with soaked groats and a few other simple ingredients you probably already have at home. It is yeast-free and you will not need to knead the dough.
The dough is actually more like a batter for this bread because we will use soaked groats and blend them with the rest of the ingredients.
The loaf comes out soft and light on the inside with a slightly crispy crust.
I also like the idea of soaking the groats because, soaking activates the enzymes that are good for digestion and breaks down the phytic acid, that can interfere with the absorption of certain nutrients.
Once cooled down, the bread becomes less crumbly and it is easy to cut into very thin slices. When it's hot, it may be a little crumbly so it's better to make thicker slices (like any other fresh bread).
After trying a few bread recipes made with buckwheat flour, I prefer to use soaked groats to make the bread as it provides a texture similar the wheat bread.
I like to sprinkle some sunflower or pumpkin seeds on top for extra texture and nutrition before baking.
I enjoy it with some butter or ghee while it is still warm. It is great for making avocado toast with some eggs for breakfast.
You can also spread some peanut butter or almond butter or serve it with cheese, fruits, and meats.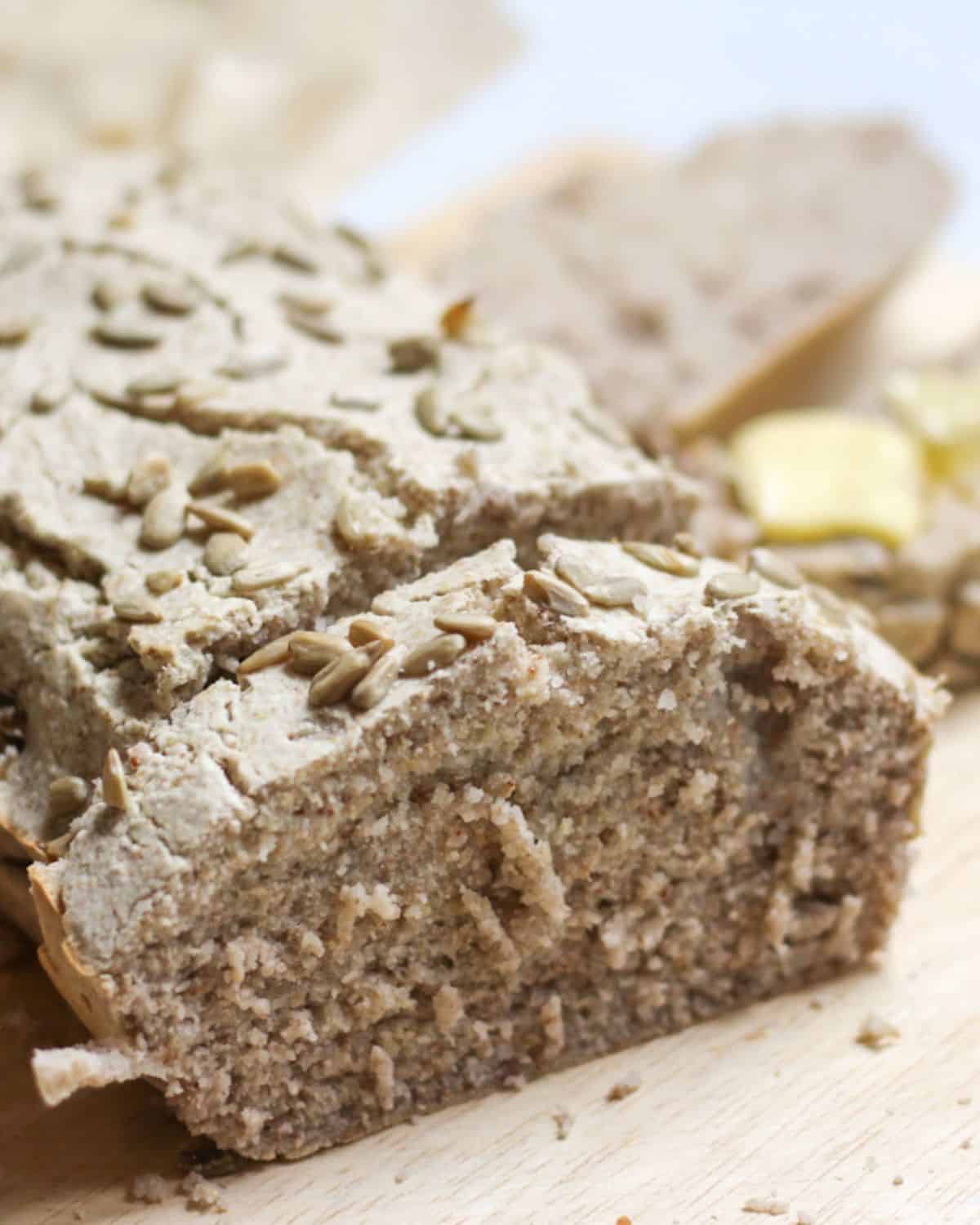 About buckwheat and its benefits
Buckwheat is a gluten-free pseudo-grain that is rich in vitamins and minerals, including Copper, Manganese, Iron, Magnesium, and phosphorus. The groats are a great source of dietary fiber.
You can find "green" or "brown" buckwheat groats. Both are made with a type of hulled grain. Buckwheat husk is edible but it is very tough to digest, so it is usually removed. That's why most of the time you will find hulled groats.
I am very familiar with buckwheat and a variety of ways you can make it, as I grew up eating buckwheat kasha in Ukraine. While rice can be quite pricey, buckwheat is a more popular and affordable grain in Eastern Europe.
In the grocery store, you will find brown and green buckwheat.
Brown buckwheat groats have been roasted for extra flavor or taste. Roasted buckwheat is great as a side dish and it is often called Kasha. It has a nutty flavor and comes out fluffy after cooking.
Green buckwheat is not roasted and often(not always) has a green tint when uncooked. They are called green because they are technically war unprocessed groats. They are more nutritious and delicate. If you cook them as porridge, the groats will become mushier.
To make this bread, you will need green buckwheat, which is the groats that have not been roasted.
Ingredients and substitutions
As promised, below is the list of very simple ingredients you will need to make the most delicious buckwheat bread.
You can find the quantities in the recipe card at the end of this post.
Buckwheat groats - whole buckwheat groats. You can find them online or in the whole foods bulk section. Make sure they are NOT "toasted" or not "kasha" type. Those are great for making fluffy porridge.
Water - filtered room temperature or cold water.
Olive oil - I used extra virgin olive oil. You can also use avocado or sunflower seeds oil.
Agave nectar - to add a little sweet taste. You can use any other sweetener, such as honey or maple syrup.
Apple cider vinegar - adds a light acidity and balances the nutty flavor and slightly bitter taste of buckwheat.
Salt - for the taste. You can also add dried herbs and spices, such as rosemary, thyme caraway, and allspice.
Baking powder - it will help the bread rise.
Sunflower seeds - I sprinkle them on top of the bread before baking, but you can also add some to the batter.
How to make gluten-free buckwheat bread
Soak - pour 2 cups of groats into a large bowl. Pour enough water to cover the goats. Let them soak at room temperature for no less than 4 hours. It is easier to do so overnight.
Rinse - after the groats are soaked, the water will become quite slimy and the grain will become plump and soft. Rinse them very well 3-4 times after soaking them to get rid of the slime. I usually do it in a fine mesh strainer. After rinsing, strain them well.
Blend - In a high-speed blender ( I used Vitamix), add soaked and rinsed buckwheat groats, water, olive oil, agave nectar, apple cider vinegar, baking powder, and salt. Blend it on high speed until one thick consistency. Use a temper if needed, as the mix is quite thick.
Bake - prepare a loaf pan ( I used 0.5x5 inch) by laying it with some parchment paper. Do not skip the parchment paper part, as the loaf will stick to the pan without it, even if you grease it well.
Bake in the preheated to 375°F oven for about 40-45 minutes or until the crust is solid on top and the toothpick inserted in the middle comes out clean.
Cool down - let the bread cool down for about 1- a minute before removing it from the lined loaf pan. Slice it and enjoy.
Recipe tips
Soaking the groats for at least 4 hours is a must if you are using whole grains.
Rinse the groats very well after soaking.
This bread is not supposed to rise as tall as regular bread.
You can slice this bread very thinly once it cools down.
Always line the pan with parchment paper, because it will be impossible to take the bread out. You can see the picture below of how I learned it the hard way.
How to store the bread
Let the bread cool down completely at room temperature. After that, place it in an airtight container or a large plastic bag and store it in the fridge for about 3-4 days.
You can also store it in the freezer for about 3 months. Before freezing, make sure to slice it. When ready to eat, take out a slice of frozen bread and bake, toast, or microwave it.
Frequently asked questions
What is buckwheat bread and what does it taste like?
Buckwheat bread is a wholesome bread made with buckwheat flour or soaked buckwheat groats and other ingredients. Buckwheat bread has a unique nutty and earthy taste with a moist and dense texture. It is hearty and filling.
Does buckwheat bread have gluten?
This recipe is gluten-free as it is made with only buckwheat groats. Some recipes and store-bought loaves may contain gluten, so it is always a good idea to check the ingredients.
Can you freeze buckwheat bread?
Yes, you can freeze sliced buckwheat bread for up to 3 months.
Is buckwheat gluten-free?
Yes, buckwheat is a gluten-free pseudo grain.
📖 Recipe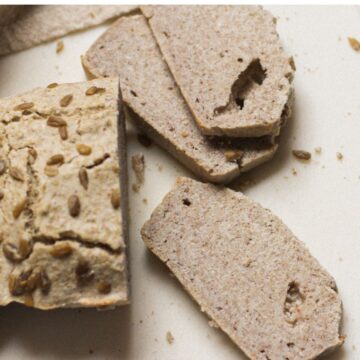 Easy Buckwheat Bread (Flourless, Gluten-Free, Vegan)
Buckwheat bread is the easiest gluten-free bread I have ever made. This recipe does not require kneading and it is made with soaked whole-grain buckwheat groats for maximum nutrition.
Equipment
1 large bowl

1 Measuring Cup

measuring spoons

high-speed blender

loaf pan (9.5x5 inch)

parchment paper
Ingredients
2

cups

green buckwheat groats *see notes

⅓

cup

filtered water

1

Tablespoon

olive oil

1

Tablespoon

agave nectar or honey

1

Tablespoon

apple cider vinegar

1

teaspoon

baking powder

½

teaspoon

salt

1

Tablespoon

sunflower seeds
Instructions
In a large bowl, add 2 cups of buckwheat groats and pour enough water to cover them. Let them soak at room temperature for minimum of 4 hours or overnight.

Rinse the soaked groats thoroughly 3-4 times. Strain the groats well in a fine mesh strainer.

In a high-speed blender (such as Vitamix), combine soaked and rinsed buckwheat, ⅓ cup of water, 1 Tablespoon olive oil, 1 Tablespoon agave nectar, 1 Tablespoon Apple cider vinegar, 1 teaspoon baking powder, ½ teaspoon salt. Process on high until thick consistency is achieved. Use a tamper if necessary, as the mixture will be thick.

Preheat your oven to 375°F. Prepare a loaf pan by lining it with a sheet of parchment paper. Otherwise the bread will stick to the pan. Pour the bread batter into the lines loaf pan. Sprinkle with some sunflower seeds on top.

Bake the bread for about 40-45 minutes or until the crust forms and a toothpick inserted into the center comes out clean. Allow the bread to cool for at least 10 minutes before removing it from the pan. Slice and enjoy!
Notes
Green buckwheat is unroasted buckwheat. Roasted is usually called brown buckwheat or kasha. Baking time - adjust baking time if using a different size loaf pan. Slicing - while the bread is warm, cut it into thicker slices. Once it cools down, you can slice it thinly as it will become less crumbly. All nutrition facts are only estimate and should be used for information purposes only.
Nutrition
Calories:
137
kcal
Carbohydrates:
15.7
g
Protein:
5.1
g
Fat:
2.7
g
Saturated Fat:
0.3
g
Polyunsaturated Fat:
0.4
g
Monounsaturated Fat:
1.4
g
Sodium:
149.6
mg
Potassium:
7.5
mg
Fiber:
1.2
g
Sugar:
2.1
g