Perfect risotto is all about being luscious, creamy, and flavorful. You can achieve all three by employing the right cooking techniques, selecting the right price, and following a handful of practical tips.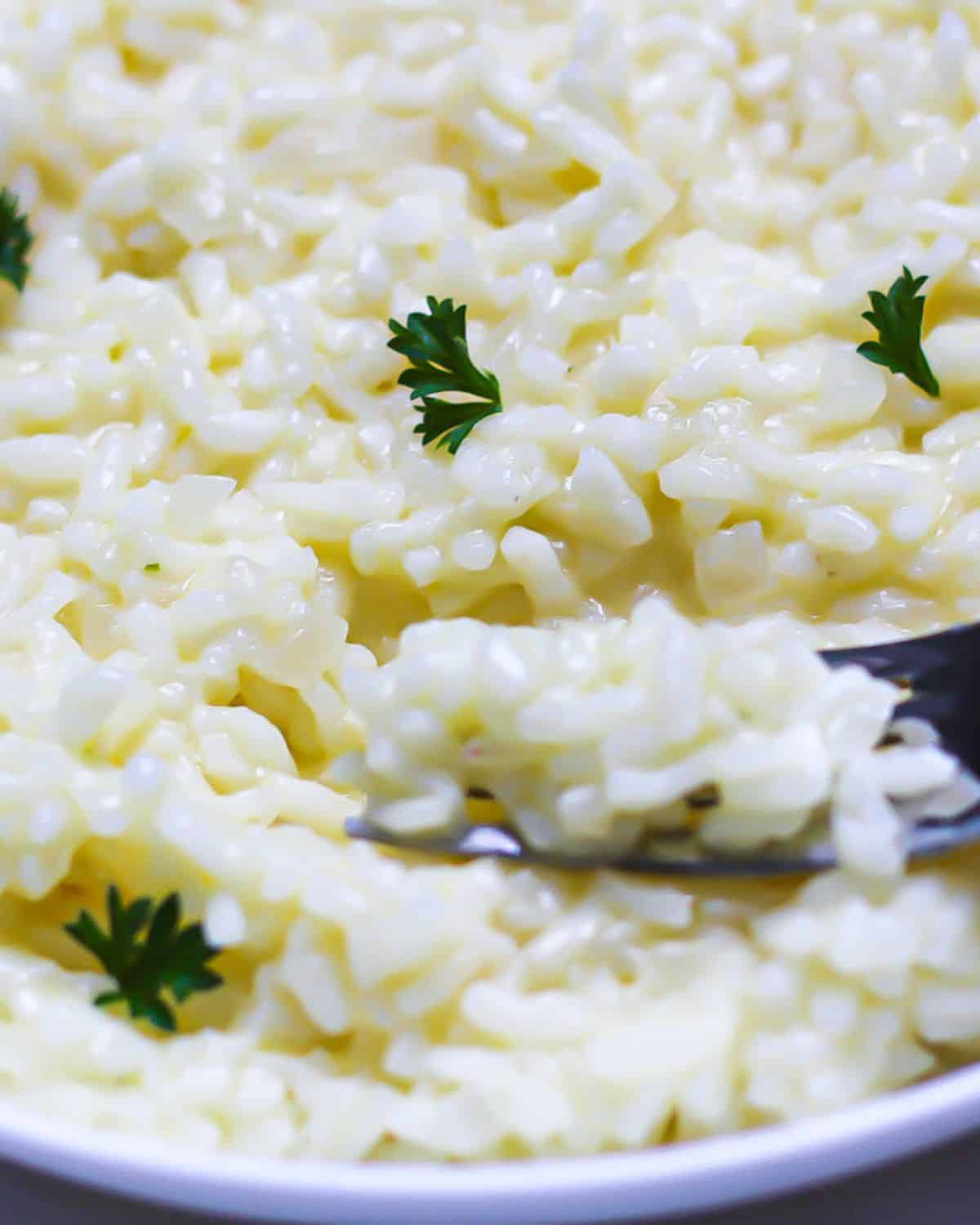 Properly cooked risotto has a creamy texture with a slight chewiness in the center, known as al dente.
Achieving the desired texture requires the right type of rice and a special cooking technique involving slow and steady addition of broth, along with constant stirring.
My rule number one - you should never prepare risotto when in a hurry.
In this post, you will find comprehensive and reliable information that will help you to achieve the best results.
I have prepared risotto over 20 times in the past few months, testing and trying different types of rice, rice alternatives, vegetables, and techniques.
Luckily, my family loves risotto.
This post has a few sections that explain in details all the important nuances.
I did my best to fit in this post everything I have learned about making this Italian classic dish.
If you feel like you already know some of the information, feel free to skip to the one you would like to learn more about using the table of content below.
And scroll down to the very end of the post to find the basic Parmesan risotto recipe card with the ingredients and step-by-step directions.
You can use this recipe to create any other risotto variation by adding different vegetables, mushroom meats, or seafood.
Jump to:
The choice ingredients for the best risotto
It is important to use the right ingredients to make traditional Italian risotto. All recommended ingredients below are available in the US.
Rice
The perfect risotto starts with the right type of rice. Risotto rice is a short-grain rice with a high starch content.
You will not achieve creamy, al dente risotto with basmati, brown, or any other type of long-grain rice.
By the way, only risotto types of rice can be cooked al dente.
The are 4 main types of risotto rice you can find in the grocery store or online: Arborio, Carnaroli, Vialone Nano, or Baldo.
Most of these varieties of rice are specifically cultivated for making risotto.
In the US, I recommend using Arborio and Carnaroli. Although Carnaroli might be a little harder to find, Arborio is always in stock at any grocery store.
As for Vialone Nano and Baldo, you will have better luck finding them online or in international grocery stores.
Keep in mind, these harder-to-find types of risotto rice will be pricier in the USA.
Arborio rice - is the most popular choice. Affordable and easy to find. Arborio is a short-grain rice, plum and has a great ability to release starch and absorb the flavors used in the recipe. It is very easy to overcook Arborio rice and it does not hold its shape well even if it gets slightly overcooked.
Carnaroli rice - is another popular type. Carnaroli rice grains are slightly larger compared to Arborio. It results in longer cooking times. Carnaroli rice holds its shape better without being mushy. It is harder to overcook.
Vialone Nano rice - is popular in the Veneto region, Italy. I have never seen it sold in US stores. Only online.
Baldo rice- is a less-known type of risotto rice, but it is interesting to know that it is a hybrid of Arborio and Stripe rice, grown in Italy and Turkey. With small, short grains that are high in starch, Baldo rice is another great option for making risotto.
If you want to learn more about each type, check out my detailed article about the best types of rice for risotto.
For beginners, I recommend Arborio or Carnaroli rice.
The broth
The broth is another important ingredient for making risotto because high-starch rice absorbs all the flavors that go into the liquid.
Choose between homemade broth or store-bought broth. You can easily make chicken broth at home using whole chicken, chicken legs, or chicken thighs with added vegetables and herbs.
Home-made broth is more flavorful and will add depth of flavor to your risotto.
On the other hand, store-bought broth is more convenient and time-saving.
The type of broth depends on the type of risotto you are making. Chicken broth is always the classic option and you can use to make any risotto.
It is common to match the broth with the type of meat or vegetables used for risotto.
For example, if you are making a seafood risotto, you should use shrimp or other seafood stock.
Vegetable broth is an excellent choice for vegetarian or vegan risotto recipes.
For beginners, I recommend chicken broth.
The perfect base (onions, shallot, garlic, leeks...)
The base of any type of risotto will always include at least one or two ingredients from the below list:
Onions: yellow onions for more aromatic risotto.
Shallots: for a milder and more delicate flavor.
Leeks: for an onion-like flavor with a touch of sweetness.
Garlic: it is optional, but quite often added to the base for extra flavor.
Oil and butter: you can use only extra virgin olive oil or a combination of both oil and butter to saute the above ingredients.
Wine
You do not need an expensive bottle of wine to prepare the risotto.
Chose a bottle of any dry white wine, such as Sauvignon Blanc, Chardonnay, or Pinot Grigio.
And if you do not want to use wine or simply do not have any on hand, you can use dry vermouth, apple cider vinegar, white grape juice, or chicken stock.
Cheese and butter
Freshly grated Parmigiano-Reggiano is the best cheese for risotto because that's what they use in Italy. You can also use quality grated Parmesan cheese.
I recommend adding unsalted butter, so you can control the amount of salt added to the dish.
Adding cold butter and Parmiginao-Reggiano to the cheese at the very end of the cooking process will make the risotto more flavorful and creamy.
Seasonings
At the minimum, you will need to add salt and black pepper. I like to do it as the last step and only after tasting the dish first.
Sometimes, risotto will not need any extra salt, depending if the broth was low-sodium or not.
Other seasonings you may like to add:
Salt and black pepper
Fresh herbs
Garlic powder
Nutmeg
Lemon zest
Red pepper flakes
Risotto cooking techniques
Below is a detailed explanation of each step and how it contributes to achieving the best results.
Heating the broth
The broth needs to be hot to maintain the temperature of the cooking rice. It helps to cook the rice evenly and create a creamy texture.
While you are sauteing and toasting the rice, add the broth to the saucer pan and bring it to a gentle simmer. Keep it on the lowest heat until ready to use.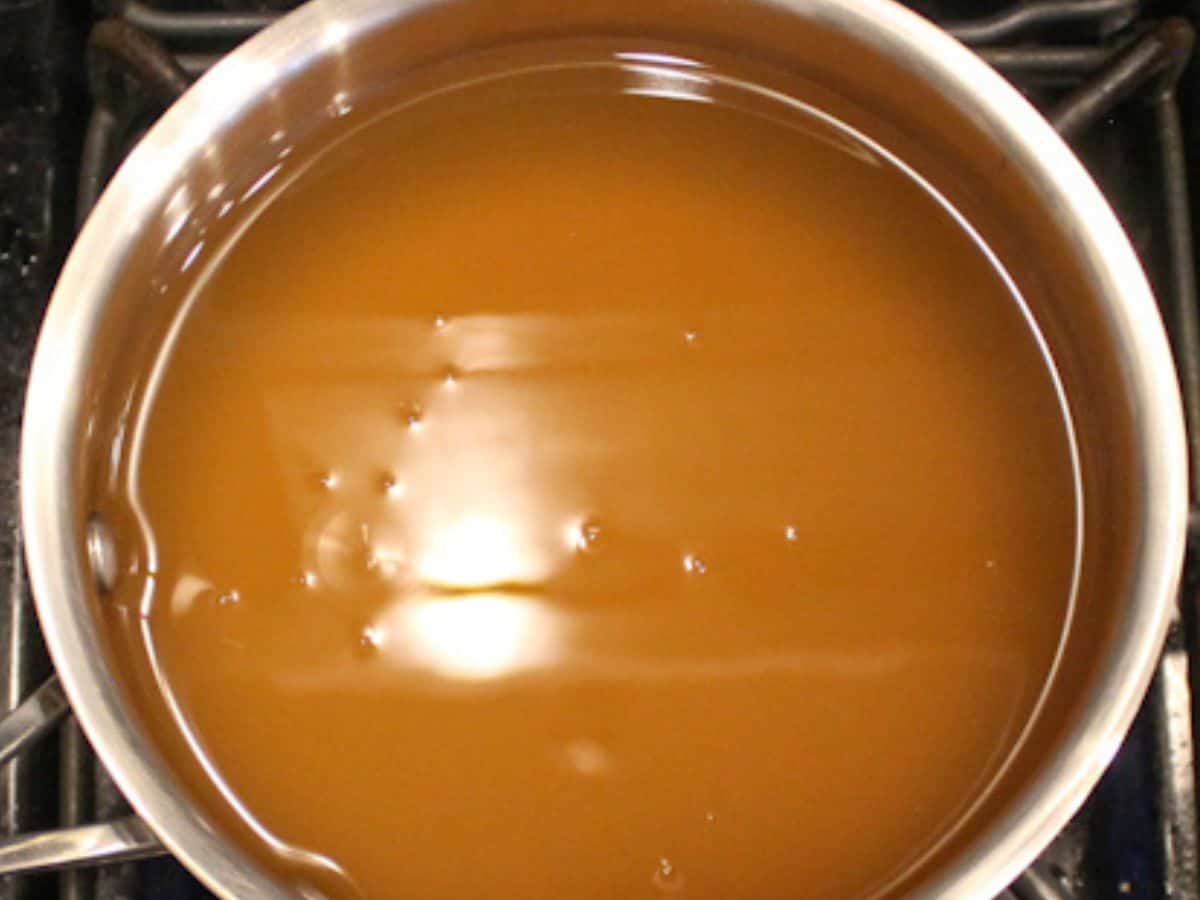 Sauteing
Sauteing forms the flavorful base for risotto.
First, dice the onions (or shallots) finely and fresh garlic (if using). Heat the pan or a pot over medium heat for a minute. Do not make it too hot to avoid burning the onions. Now, add olive oil or a combination of both oil and butter to add richness and more flavor.
Add finely diced onions and garlic. Saute them gently until they become translucent and aromatic, but not browned. This process should take only a few minutes.
Toasting the rice
Toasting the risotto rice before adding any liquid brings out the nutty aroma and helps the grain to absorb the aromatic flavors.
It also creates a protective coating for each grain, which helps a gradual release of starch and prevents the rice from breaking during the cooking process.
In Italy, this process is known as "tostatura".
Add risotto rice, such as Arborio or Carnaroli to the pan. Stir it together with the onions, making sure the rice is coated in oil and butter.
Toast it over low-medium heat until the outer layer starts looking translucent. Be careful not to burn it.
The process should take 1-2 minutes.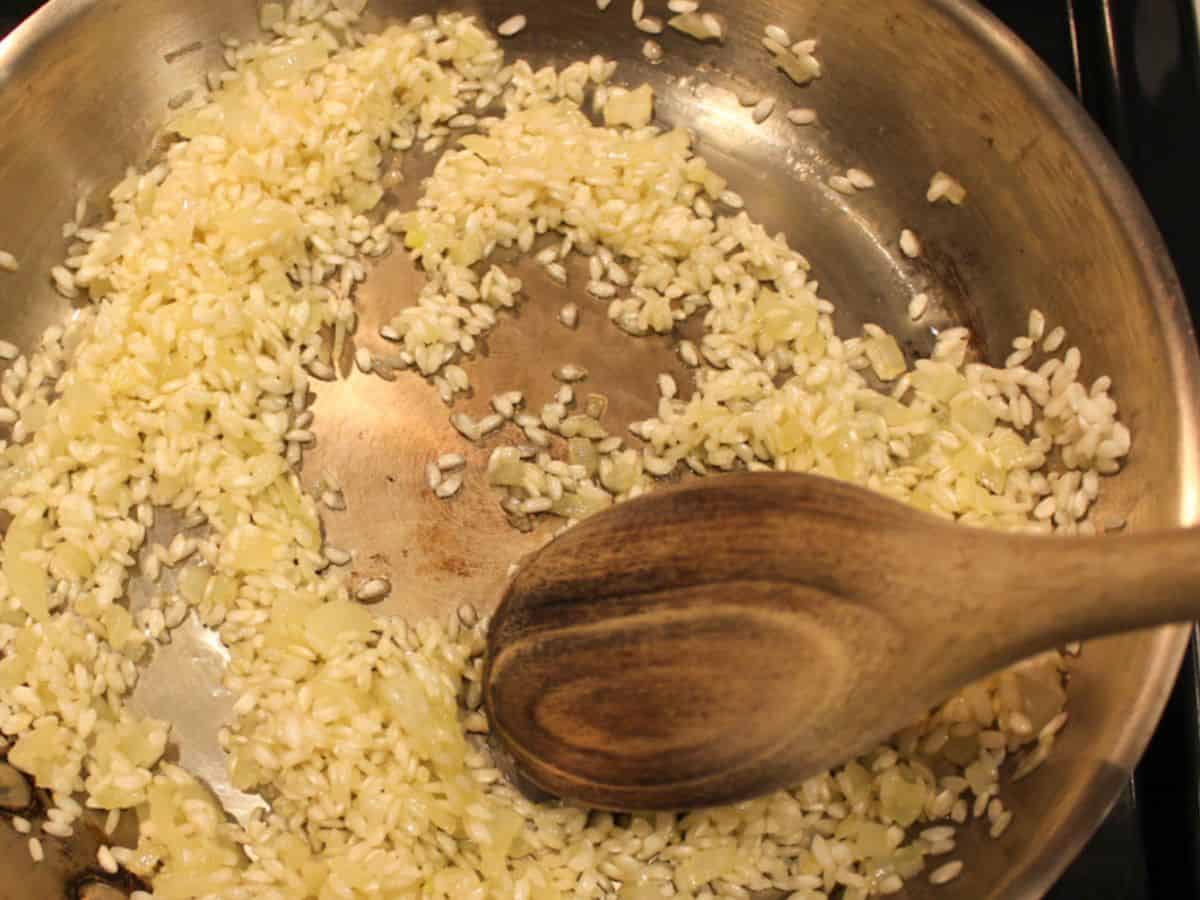 Optional wine
Adding dry white wine to the risotto is a classic way to bring complexity to the dish.
After toasting the rice, add about ½ cup of white dry wine. Let it simmer for about 1-2 minutes over medium-high heat to allow the alcohol to evaporate, while the rice absorbs the wine's flavor. The wine will also deglaze any bits of caramelized onions.
Adding the broth and constant stirring
The gradual addition of broth and constant stirring is a crucial technique in making the perfect risotto.
Once you toasted the rice and the wine has been absorbed, it's time to add the hot broth.
You will need to use a ladle, as it has a perfect amount of broth needed each time to cover the rice in the pan, about ¾-1 cup.
Add one ladle of broth to the pot and start stirring the risotto continuously over medium-high heat.
When most of the it is absorbed, add another ladleful of hot broth. Every time you add more broth, make sure it covers the rice in the pan for even cooking.
Repeat the process of gradually adding the hot broth and continuously stirring until the rice is cooked to creamy al dente texture.
You will have to taste it to ensure it is properly cooked.
The process should take approximately 18-20 minutes for Arborio rice and 21-27 minutes for Carnaroi rice.
Incorporating butter and Parmigiano-Reggiano
Adding butter and grated Parmigiano-Reggiano is the final step in making the creamiest risotto.
In Italy, they this process "mantecarura"
Once the rice is cooked and the broth is absorbed, remove the risotto from the heat.
Add about 1-2 tablespoons of unsalted butter and gently stir it until it melts and evenly distributes.
Grate fresh Parmiginao-Reggiano directly into the risotto. You can add more or less depending on your taste. Stir the risotto gently one more time, so the cheese melts and blends with the rice.
Now, it's time to taste risotto and add more salt and some black pepper if needed. I do it at the end because risotto should not be salty and it is easy to overdo as the broth has salt so as does the cheese.
There is no set time for cooking risotto , but on average it takes me approximately 30-40 minutes to prepare a basic risotto.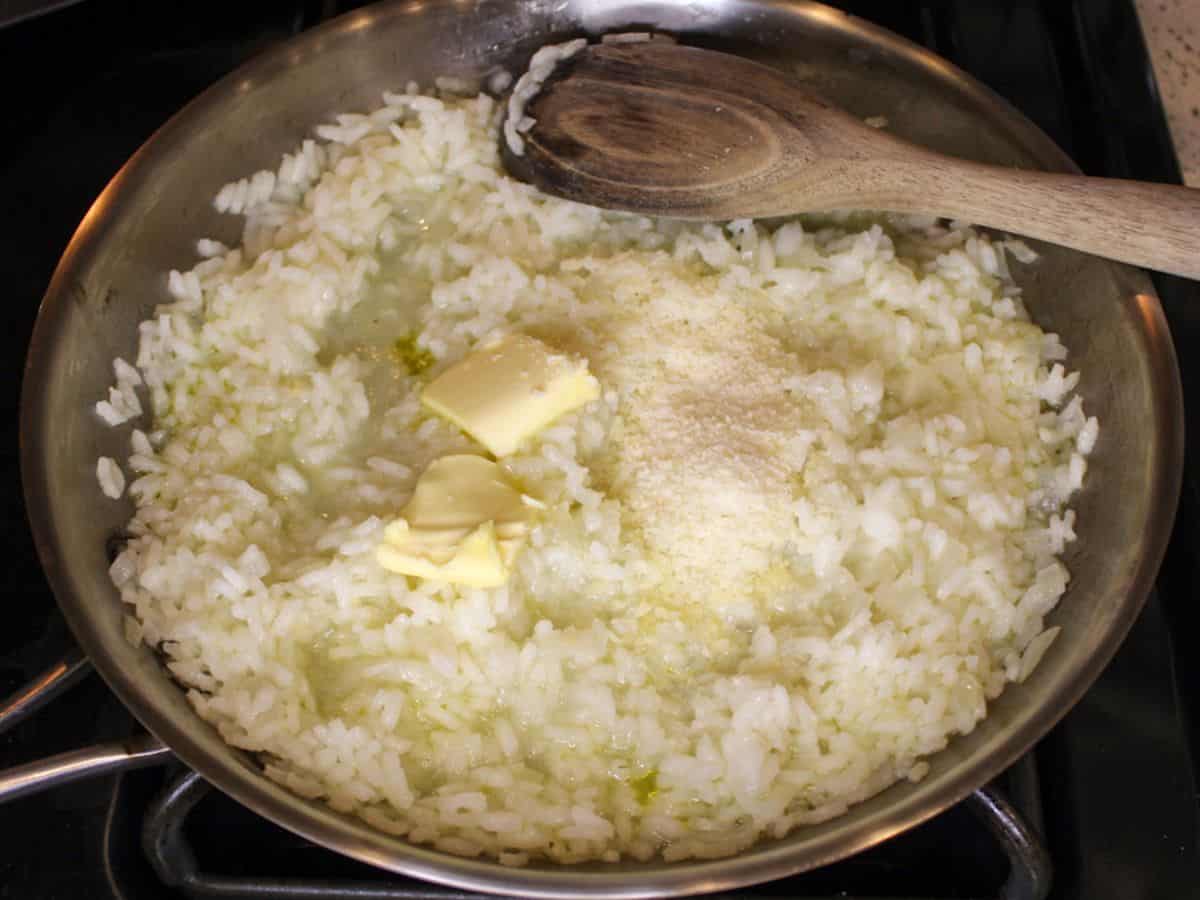 Plating and serving
Serve risotto on shallow and wide plates. Risotto is usually enjoyed with a fork.
I like to garnish plated risotto with some fresh herbs, extra Parmesan cheese, black pepper, or lemon zest.
You should cook about ½ (as a side dish) - ¾ (as a main course) cups of dry risotto per person.
When the risotto has with mushrooms, seafood, or meat, it becomes a filling main course. You can serve it with a side of green salad or garlic bread.
This basic Parmesan risotto is great as a main dish or a side dish. It pairs well with grilled meat, fish, or vegetables.
As for wine paring, I recommend sticking with dry white wines, like Pinot Grigio or Sauvignon Blanc (you can serve the same wine you used for deglazing).
For meat-based or mushroom risotto, choose medium-bodies red wine such as Merlot or Sangiovese.
Essential tools for risotto success
Heavy-bottomed pan or a pot
Risotto spoon ( has a whole in the middle), silicone spoon, or wooden spoon - for gentle stirring
Saucepan - for warming the broth.
Grater - for grating the cheese
Tips
Use the right type of short-grain rice (Arborio, Carnaroli, Vialone Nano, or Baldo).
Never rinse risotto rice before cooking.
Don't be lazy to heat the broth for evenly cooked and creamy rice. (speaking from experience!).
Constant stirring is important for releasing the starch and creating a creamy texture.
Always taste risotto to ensure the rice is properly cooked and seasoned to your liking.
Making ahead of time
I do not recommend making risotto ahead of time, especially if you are going to serve it to your guests.
Reheated risotto does not taste as good as the fresh one.
But, if you really need to do so, you can precook the risotto just until the rice is partially cooked and still crunchy.
Then, cool it down quickly by transferring it in a cold container and placing it in the fridge.
When ready to serve, quickly finish it by putting it back on the stove with extra broth and the rest of the ingredients.
That is the way some of the restaurants are able to cut down the overall cooking time.
Save the leftovers (what to do with leftovers risotto)
You can store the risotto leftovers for about 2-3 days in the fridge, in an airtight container.
When reheating in the saucepan or microwave, use about ¼ cup of water or broth per one cup of cold risotto.
Once it is hot, add extra butter, grated Parmesan, and pepper to bring up the fresh taste.
Instead of reheating risotto, try using it to make one Italian street food, such as Arancini or Suppli.
Risotto variations
Now, that you know all the secrets, tips, and tricks on how to make the basic risotto, try experimenting by making these delicious variations:
Frequently asked questions
What is the best rice for making risotto?
The best rice for making risotto is short-grain rice with a high starch content. Chose between Arborio, Carnaroli, Vialone Nano, or Baldo.
Should you rinse risotto rice before cooking?
No, you should never rinse risotto rice before cooking. Rinsing will away some of the starch that is important for making a creamy risotto.
Why my risotto is too bland?
To avoid bland risotto, make sure to use the aromatics such as onions, shallots, and garlic to make the base. It is also important to use a flavorful and rich broth. In the end, add grated Parmesan, butter, freshly ground black pepper, and some fresh herbs like parsley or basil.
Why is my risotto crunchy?
If your risotto is crunchy, it means the rice is still undercooked. You can fix it by adding more broth and cooking it longer until creamy and slightly al dente in the middle.
How to know when the risotto is done?
The best way to tell if the risotto is done is to taste it. Perfectly cooked risotto rice is creamy but will have a slight resistance in the middle (a bite) without being too crunchy or hard.
📖 Recipe
How to Make Perfect Risotto (Beginners Guide)
Perfect risotto is all about being luscious, creamy, and flavorful. You can achieve all three by employing the right cooking techniques, selecting the right price, and following a handful of practical tips.
Equipment
1 saucepan

1 large pan or pot

1 risotto spoon or wooden spoon

1 ladle

1 cheese grater
Ingredients
1½

cups

Arborio or other risotto rice

4-5

cups

low sodium chicken broth

½

cup (optional)

dry white wine

1

small onion or shallot, finely chopped

2

garlic cloves, minced

½

cup

grated Parmigiano-Reggiano

3

Tablespoons

butter

to taste

salt, pepper
Instructions
Heat the broth. In a medium saucepan, heat 5 cups of chicken broth and keep it on the lowest heat throughout the whole cooking process.

The saute base. In a large pan or a pot, heat 1 Tablespoon of olive oil and 1 Tablespoon of butter over medium heat. Add chopped onion and minced garlic. Saute for about 2-3 minutes over medium heat until translucent and aromatic (but not browned!)

Toast the rice. Add 1½ cups of Arborio rice to the pan and stir it to coat the grains. Toast the rice over medium heat for about 2 minutes.

Add the wine (optional). Pour in ½ cup of dry white wine and cook it over medium heat, stirring constantly until the wine is absorbed and alcohol evaporated.

Add the broth and stir. Begin adding the hot chicken broth, one full ladle at a time, so the rice is covered each time. Stir the rice continuously over the medium-high heat. Let the broth to be almost absorbed before you add more. Continue the process until you use almost all broth (you may need more or less) and the rice is creamy but still has a slight bite in the middle. The process will take about 18-25 minutes.

Add butter and cheese. Once the rice is cooked, remove risotto from the heat. Stir in 2 tablespoons of butter and ½ cup of grated Parmigiano-Reggiano.

Taste and season. Taste the risotto, add some salt and pepper to taste. Serve and enjoy!
Notes
Rice – Arborio or Carnaroli are one of the most popular type of risotto rise. Cooking time - the whole process should take between 30-40 minutes. All nutrition facts are only estimate and should be used for information purposes only.
Nutrition
Calories:
367
kcal
Carbohydrates:
35.1
g
Protein:
17.5
g
Fat:
14.4
g
Cholesterol:
12
mg
Sodium:
345
mg
Fiber:
2.5
g
Sugar:
1.5
g