Got leftover mashed potatoes in your fridge? Try these crispy air-fried potato croquettes. Creamy mashed potato balls stuffed with cheddar cheese, coated in breadcrumbs, and air-fried until golden brown. Perfect for a light lunch or a fun side dish.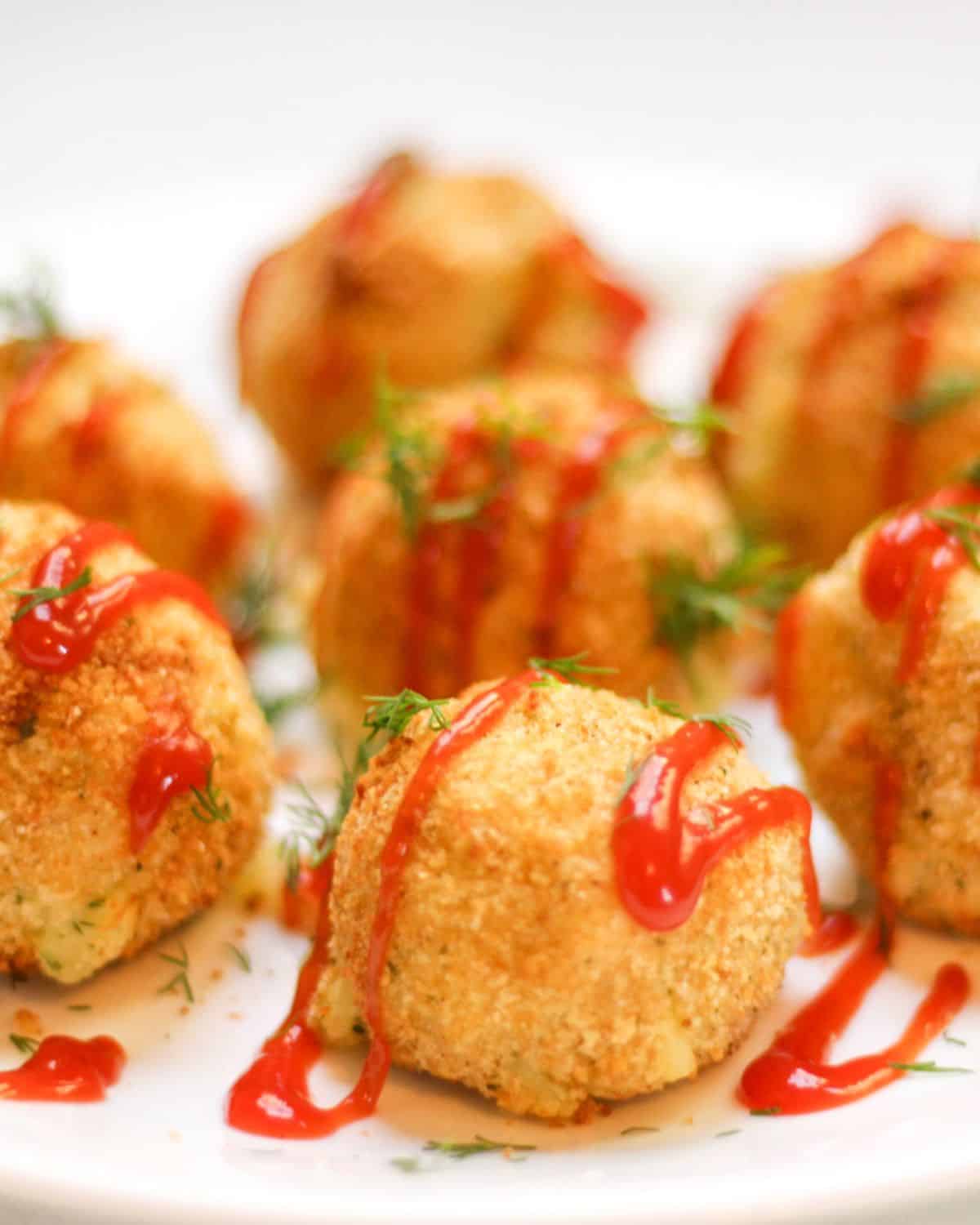 I am not exactly a fan of reheated mashed potatoes, they just don't quite hit the spot as the fresh ones. But I would always stash some in the fridge just to toss them in the trash a few days later until I bought my air fryer.
I think, since I got my air fryer, I got a little bit more creative with repurposing my leftovers. It is so easy and quick to use and clean.
Just like how I transform leftover risotto into fancy arancini, now my go-to move is making these air fryer potato croquettes with my mashed potato leftovers.
Mashed potato croquettes come out crispy on the outside, incredibly creamy on the inside, and with a delightful surprise in the form of melted sharp cheddar as you take a bite.
Jump to:
Ingredients
You can find a full list of ingredients with the measurements in the recipe card at the end of this post.
Mashed potatoes: you can make fresh ones or use leftover potatoes. They should be seasoned with salt and any other seasoning to your liking.
Cheddar cheese: I had a block of cheddar that I cut into one-inch cubes. You can cut up a regular cheese stick or mix in some shredded cheese into the potatoes.
Fresh dill: I love how dill pairs with potatoes. In Ukraine, dill is always added to potato dishes, so it is my favorite combo. But if you do not like dill, you can use fresh parsley. green onions or other fresh herbs you like. Fresh herbs add a fresh taste and bright look to the croquettes.
Flour: I used all-purpose flour as the first coating layer for the balls. The flour will ensure the egg sticks well and the whole breading does not fall off.
Egg: one or two eggs, whisked. If you have only one egg, and more than 1 cup of potatoes add a few tablespoons of water to the eggs to increase the volume.
Breadcrumbs: I used Italian breadcrumbs. Plain or even panko breadcrumbs work well too.
Onion powder and black pepper: you can also add paprika, garlic onion, and any dried herbs as well.
Salt: add salt to taste to the mashed potatoes if they are not seasoned yet.
Cooking spray: olive oil or avocado oil cooking spray to coat the basket and for the croquettes. If you do not have oil spray, just brush a little oil on top of each ball before cooking.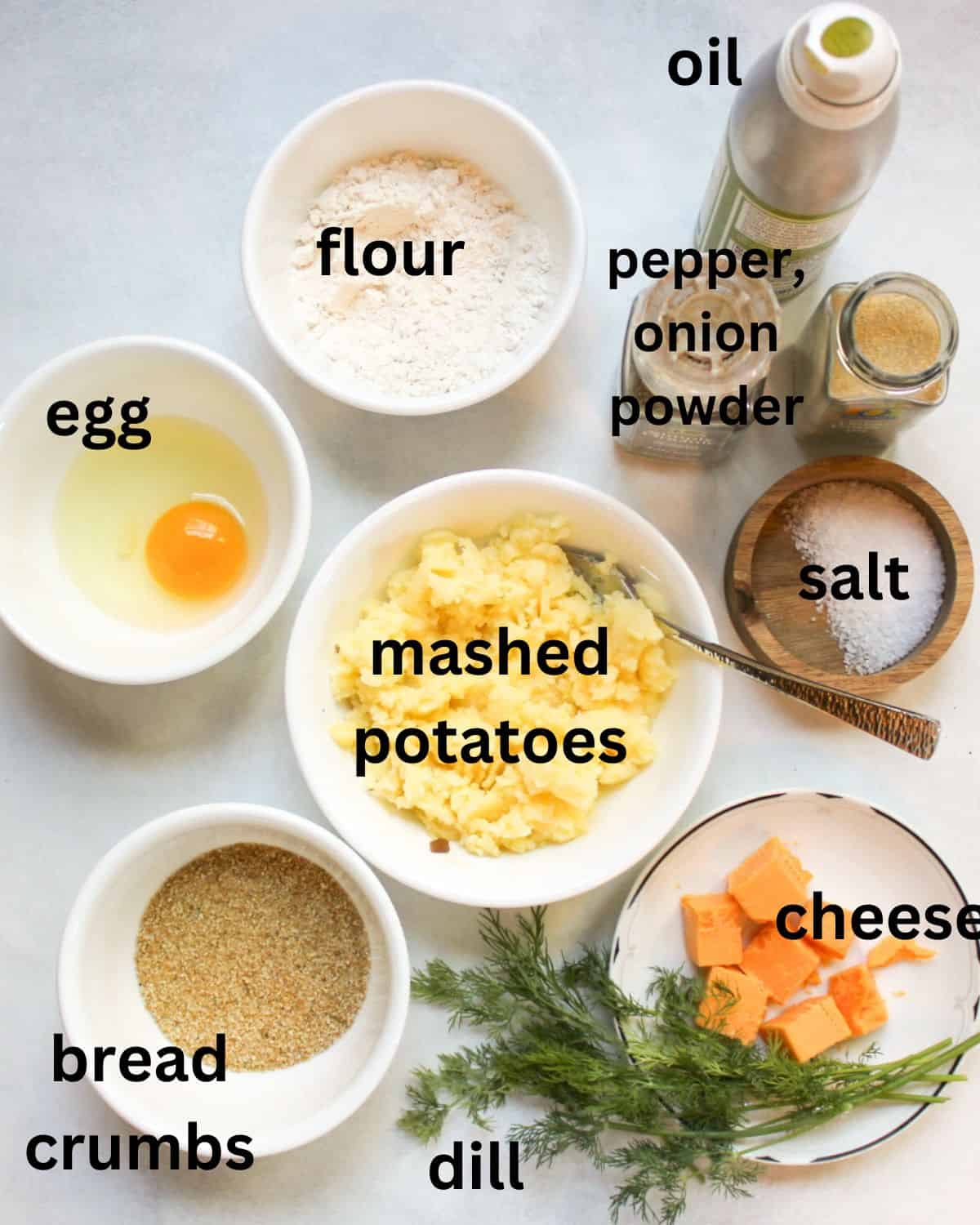 How to make it
Assuming you already have seasoned cooled-down mashed potatoes. In a large bowl, add mashed potatoes and chopped fresh dill, mix well to combine. If you do not have the potato leftovers, peel and cut the potatoes into cubes and boil them in water for about 20 minutes or until tender. Drain the water, mash them, and add salt and buttermilk. Cool them down completely, add fresh herbs, and mix.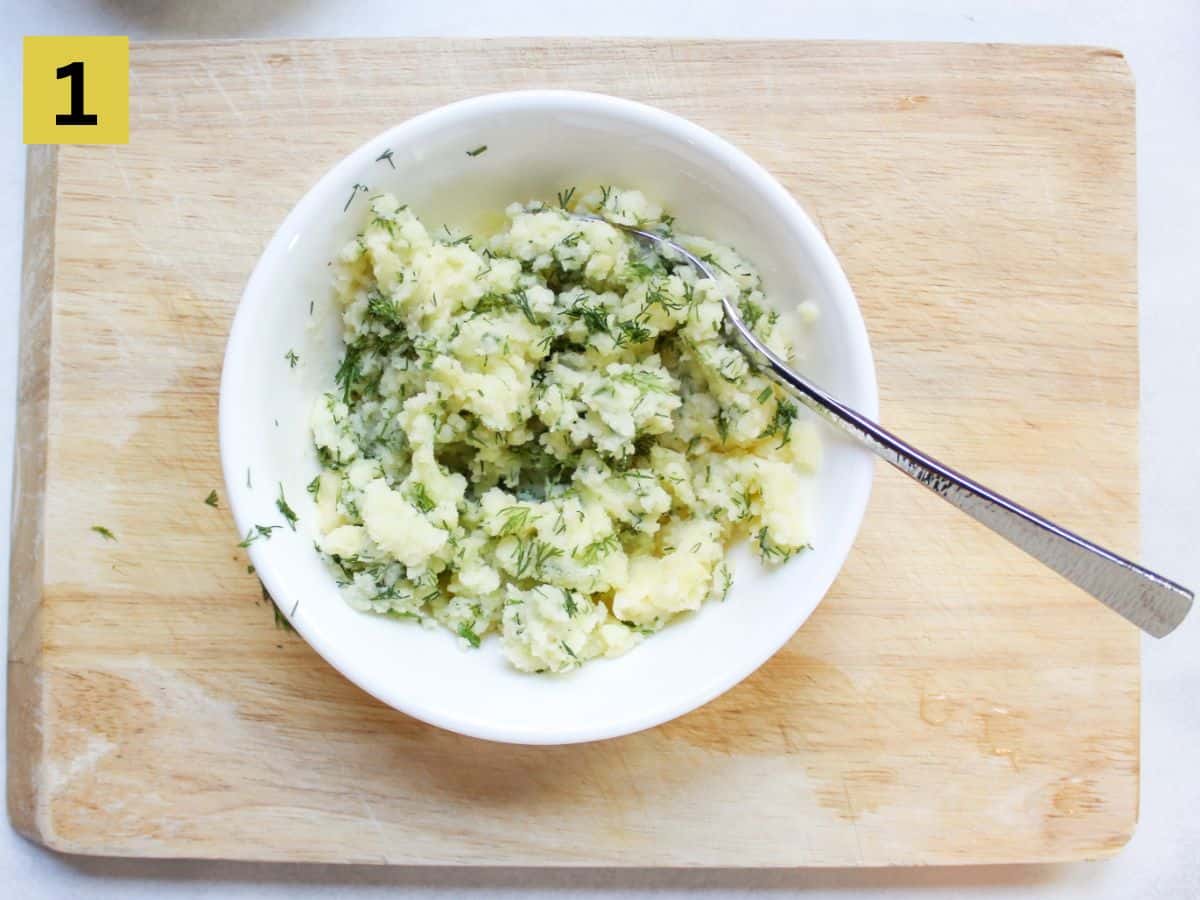 Using a small ice cream scoop or a spoon, take a portion of the potato mixture in your hand and flatten it in your palm. Create a small, thin disk.
Place a cube of cheddar cheese in the center of the disk on your hand. Carefully fold the edges of the mashed potato disk over the cheese to seal and cover it completely, Gently shape it into the ball and roll it between your hands until it is smooth and even. Make sure there are no openings and cracks.
Place it on a plate or other flat surface. Repeat the process with the remaining potatoes and cheese. I was able to make 7 golf size balls with about 1 cup of mashed potatoes.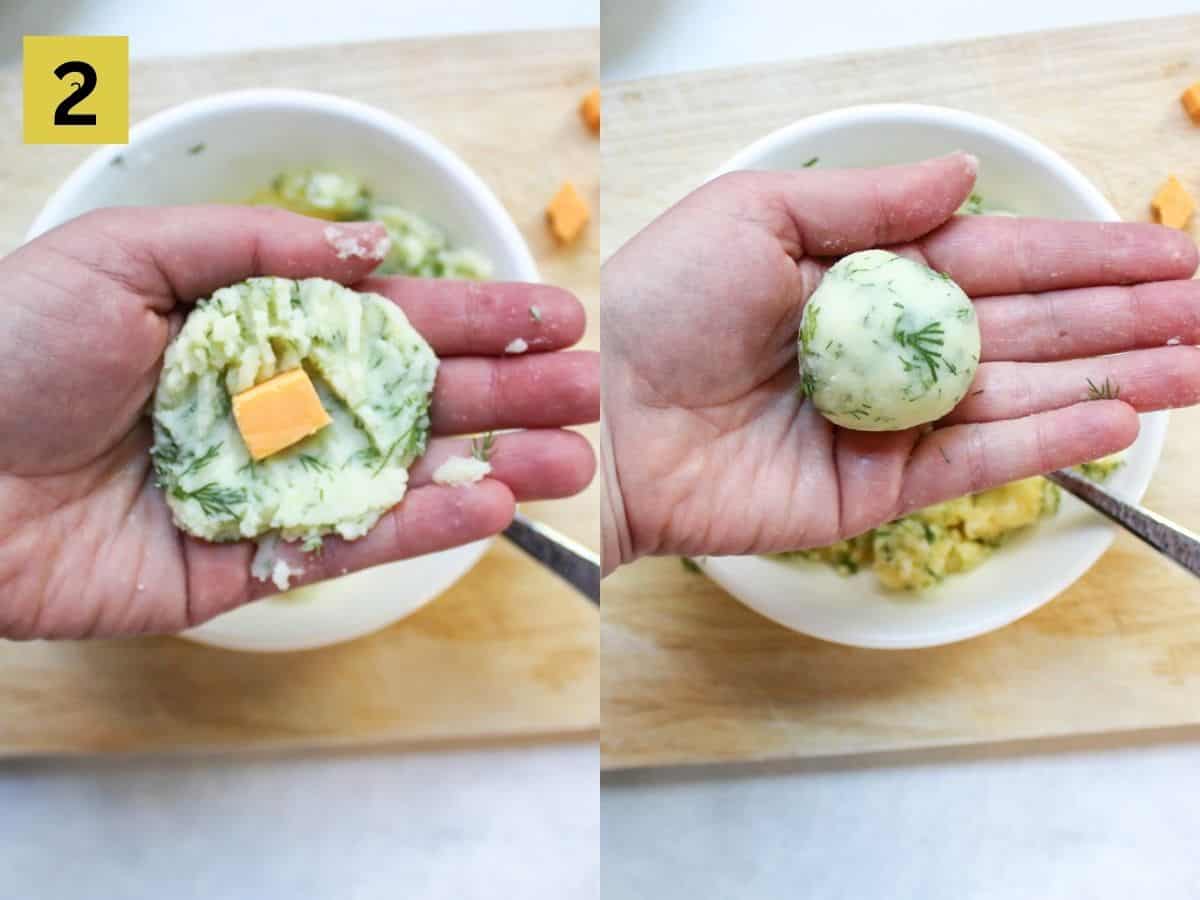 Prepare the breading station by arranging three bowls on a countertop or table. In the first bowl, put all-purpose flour, in the second bowl, place beaten eggs, and in the third bowl, combine the breadcrumbs, black pepper, and onion powder. Line them up in the order of flour, eggs, and breadcrumb mixture for an easy breading process.
Now, take a potato ball and roll it gently into flour, shaking off any access. This step helps the egg wash adhere to the potato ball. Next, deep the floured potato ball into the beaten egg, ensuring it is evenly coated. And last, roll it into breadcrumbs, pressing them gently to stick better.
Place breaded croquettes onto the cutting board lined with some parchment paper. Repeat the process with the rest of the croquettes. During the breading process, I like to rinse my hands after each ball.
If you have time, chill breaded croquettes for about 20-30 minutes in the fridge. Chilling them helps the coating set and can prevent them from bursting during the cooking process.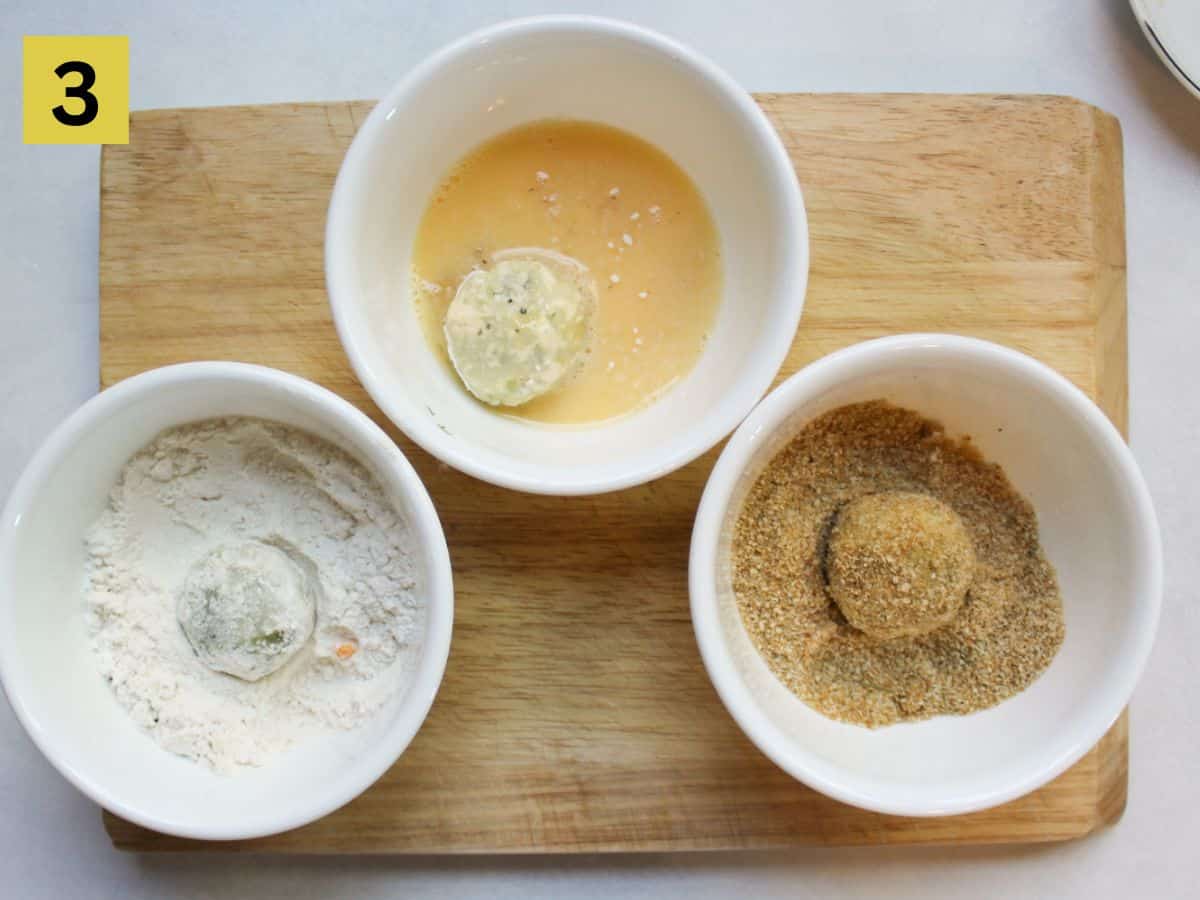 Spray the air fryer basket with a cooking spray. Arrange the croquettes in a single layer in a basket and spray them lightly with the oil for better browning. Air fry at 390 F degrees for about 4-7 minutes or until they are golden brown. No flipping is needed. Serve hot and enjoy with ketchup or other dipping sauce,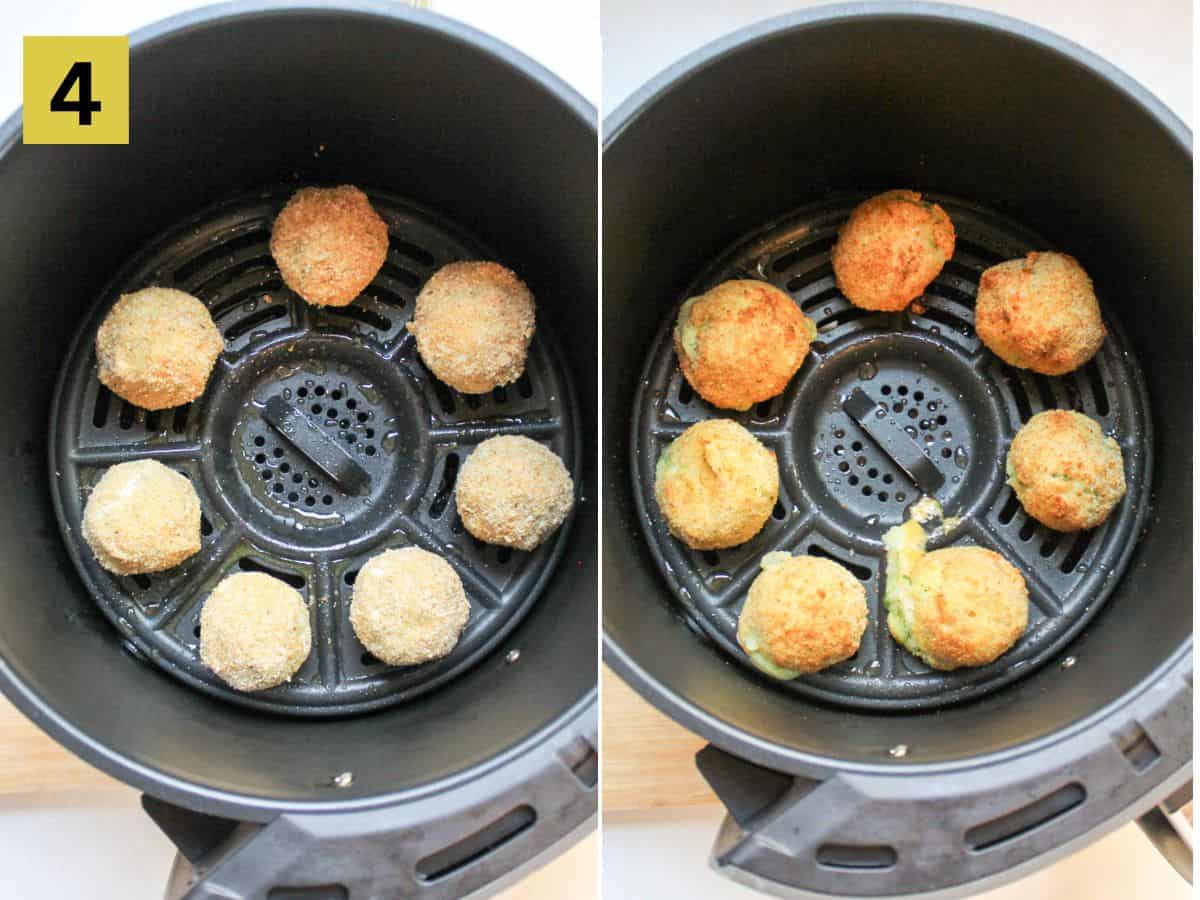 Recipe tips
After making this recipe a few times and asking a few of my friends to test it as well, I would like to share a few tips that may help you as well:
Use cold mashed potatoes: Ideally, you want to use one day of leftover mashed potatoes. I tried using fresh, warm potatoes and the mixture was too sticky and hard to form in a ball.
Cooking spray: I like to spray some on top of the croquettes, it will make them crispier and look golden brown.
Chill: If you have time, place the uncooked croquettes in the fridge for about 20-30 minutes to chill. I have noticed that chilling them helps firm up the potato mixture and they are less likely to burst and crack during cooking.
Serving ideas
They make for an excellent side dish to complement any main course. Last week, I served them with these quick cast iron chicken wings and some homemade blue cheese dip. It was a perfect meal our whole family enjoyed.
These homemade croquettes are also a perfect finger food for your guests. They are kid-friendly and easy to enjoy. You can accompany them with ketchup, sour cream, or garlic aioli.
Variations
You can make a lot of variations by adding different ingredients, spices, and cheese. Below are the few I have tried myself:
Bacon: add some cooked bacon bits to the mashed potato mixture. Bacon makes everything better.
Herbs: you can use other chopped fresh herbs, such as fresh parsley, green onions, cilantro, and sage.
Garlic: add about ½ teaspoon of garlic powder to mashed potatoes.
Parmesan: swap half of the breadcrumbs for grated Parmesan cheese and you will have a delicious cheesy crust.
Frequently asked questions
​Can I cook it a different way if I do not have an air fryer?
Yes, you can deep fry the croquettes in hot oil or even bake them on a baking tray lined with parchment paper.
What types of potatoes are best to use? 
You can choose any potatoes you usually use for mashing. It includes russet potatoes, Yukon gold potatoes, or Idaho. 
Can I freeze these potato croquettes?
Yes, you can freeze breaded, uncooked potato croquettes for up to 3 months. When ready to enjoy, air fry or bake them from frozen adding about 5-10 minutes 10-12 minutes to the cooking time. 
How to store
Because we used leftover mashed potatoes, the croquettes are best to enjoy right away while they are hot and fresh.
But if you have a few left, you can store them in the fridge in an air-tight container for 1 to 3 days depending on how long you had leftover mashed potatoes sitting in the fridge before making the recipe.
As a note, according to USDA, cooked potatoes will last in the fridge for 3-4 days.
More air fryer recipes
📖 Recipe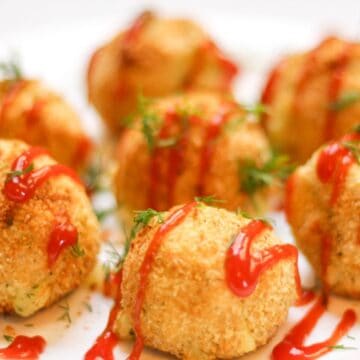 Mashed Potato Croquettes In Air Fryer
Got leftover mashed potatoes in your fridge? Try these crispy air-fried potato croquettes. Creamy mashed potato balls stuffed with cheddar cheese, coated in breadcrumbs, and air-fried until golden brown. Perfect for a light lunch or a fun side dish.
Equipment
3 medium bowls

1 Air fryer
Ingredients
1

cup

leftover mashed potatoes, seasoned

¼

block

sharp cheddar cheese, cut into 1 inch cubes

1

tablespoon

fresh dill or parsley, chopped

¾

cup

all purpose flour

1

large egg, whisked

¾

cup

bread crumbs, Italian or plain

¼

teaspoon

onion powder

¼

teaspoon

black pepper

as needed

salt

if the potatoes are not seasoned
Instructions
In a large bowl, mix mashed potatoes with chopped fresh dill. If starting from scratch, boil cubed potatoes until tender, mash with butter, milk, salt, coll completely and add fresh herbs.

Scoop potato mixture with an ice cream an ice cream scoop or a spoon. Flatten in your hand into a disk and place a cube of cheddar in the middle. Fold the edges to seal, and shape into a smooth even ball. Repeat with the rest of the potatoes and cheese.

Set up three shallow bowls - flour, beaten eggs, and a mix of breadcrumbs, black pepper, and onion powder.

First, roll a potato ball in flour and shake off any access. Dip in an bowl with whisked egg, coating the ball completely. Lastly, roll it in breadcrumbs, pressing gently to ensure it is evenly coated. Place breaded croquette on a parchment-lined board. Repeat with the rest of the balls.

For better results, chill breaded croquettes for 20-30 minutes in the fridge.

Preheat air fryer for about 5 minutes. Spray the basket with some cooking spray. Place croquettes in a single layer and lightly spray them with oil on top. Air fry at 390°F for 4-7 minutes until golden brown. No flipping requires, unless you see that they are cooking unevenly.

Enjoy hot with ketchup or your favorite dipping sauce.
Notes
Potatoes: For the fluffiest and flavorful croquettes, choose starchy potatoes like Russets or Yukon Golds. Air fryer: for this recipe I used Ninja XL air fryer and my temperature was set to 390°F. Cooking in batched: if you make croquettes for a crown and need to cook them in batches, keep the cooked ones warm in an oven preheated at 200°F. Child-friendly modifications: use milder cheeses like mozzarella, and shape the croquettes into smaller, bite-size balls. Serve with ketchup of marinara sauce.
Nutrition
Serving:
2
ea
Calories:
276
kcal
Carbohydrates:
33.8
g
Protein:
10.9
g
Fat:
10.8
g
Saturated Fat:
4.1
g
Polyunsaturated Fat:
0.4
g
Monounsaturated Fat:
1.6
g
Trans Fat:
0.4
g
Cholesterol:
79.4
mg
Sodium:
569
mg
Potassium:
266
mg
Fiber:
1.4
g
Sugar:
1.1
g