Duck in oven bag is a great alternative for your holiday feast. This juicy, flavorful, stuffed with apples and prunes duck will impress your guests and family. It's easy to prepare, and it's sure to be a centerpiece on your holiday table.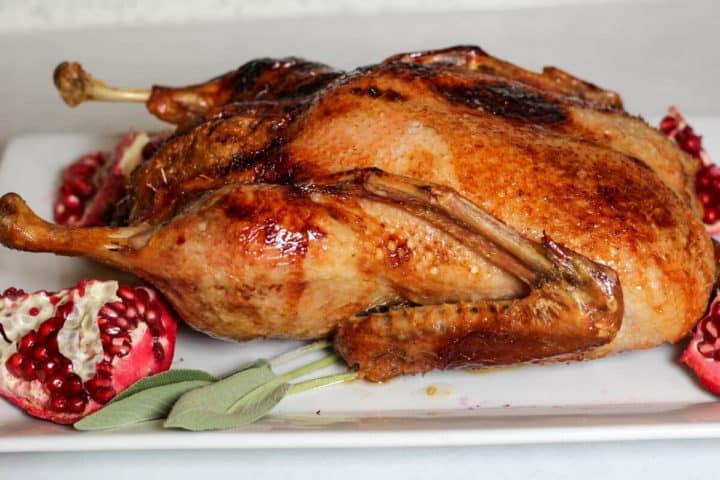 We usually enjoy this duck cooked in oven bag on Thanksgiving, Christmas, and Easter. I buy a frozen bird and keep it in my freezer for a special occasion or a holiday. It takes only 2 days on average to thaw it in the fridge. A roasted whole duck is a perfect bird for a small family feast. Keep in mind, if you have over 5 guests, you may need to cook 2 birds.
Jump to:
Why you will love this easy duck recipe
-it's great for a small family holiday meal. You will not be tired of eating the leftovers for the next week (cause there will be no much), like when you make a whole turkey. A duck usually weighs between 4-6 pounds.
-this roast duck recipe is a perfect alternative main dish for Christmas, Easter or Thanksgiving.
-this easy roast duck recipe does not require flipping the bird, changing temperatures, brining, or basting.
-your roast pan will remain mostly clean because the duck is cooked in a parchment oven bag.
Ingredients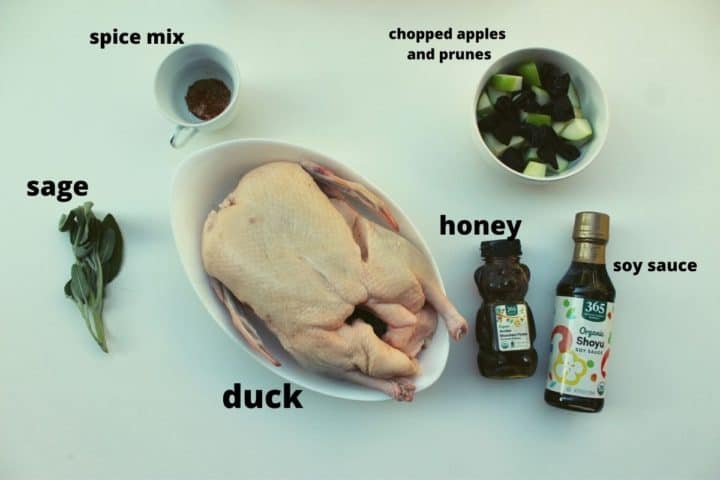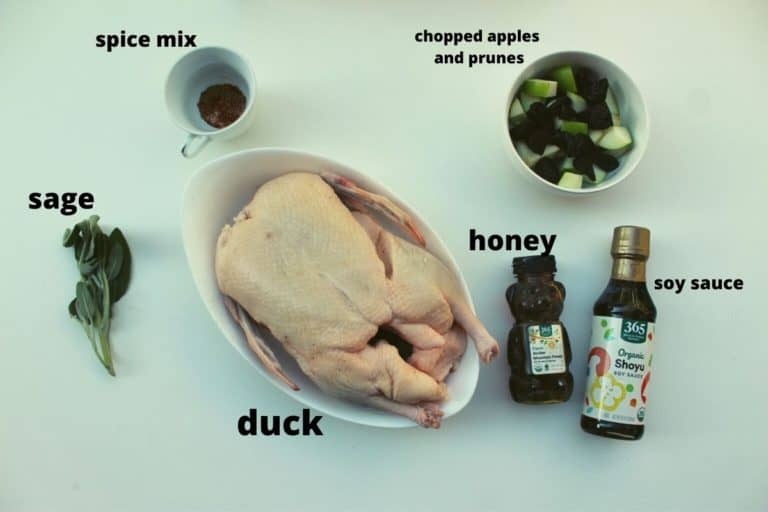 Whole Duck: frozen duck is usually available in the United States. If you find fresh duck, it's even better.
Salt: you will need salt to rub the whole duck.
Spice Mix: I make my own by using garlic powder, coriander, paprika and black pepper. You can also use other spices of your choice.
Green Apple: cubed and cored for stuffing.
Dates: dates are optional, but they give a nice aroma and sweetness.
Fresh Sage: just a few whole twines for stuffing.
Soy Sauce and Honey: you will need both for glazing the duck. Glazing will make the skin crispy and golden.
Equipment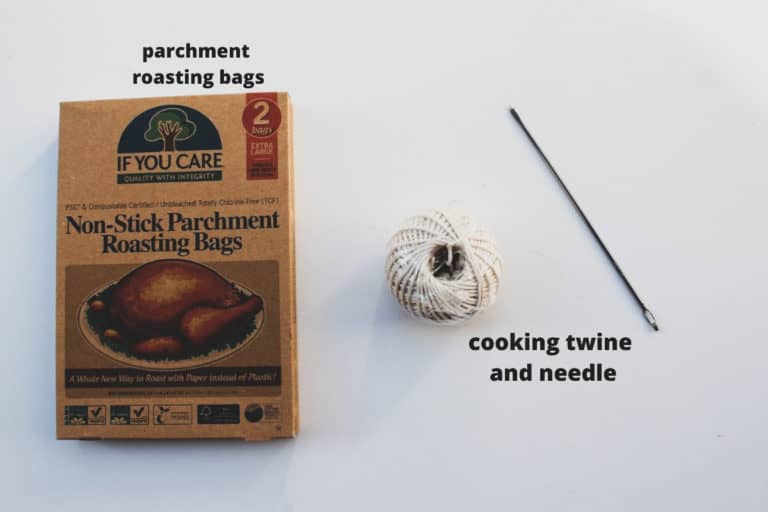 You will need glass deep dish, cutting board, knife, measuring spoon, small bowl for the spice mix.
Besides the above items that are easily found in almost every kitchen, you will need a few special items to make this baked whole duck:
Large Parchment Bags: I found mine at whole foods, but I am sure you can order those online. Of course, you can use more common plastic baking bags, but I try to avoid cooking in plastic or foil whenever possible.
Cooking Twine and Needle: you will need it to close the opening to prevent the stuffing from falling out.
How to cook a duck in oven bag
1. Take the thawed duck out of the fridge. Remove the neck and any giblets and save them for another use. Dry the duck as much as you can inside and out, using paper towels. Rub the duck all over with salt and some into the cavity. Mix the equal parts of the spices. Repeat the rubbing process with the spice mix. he duck aside on the counter to rest.
2. Preheat oven to 375 F Degrees. Cube and core the apple. Stuff the duck with apples, dates, and some fresh sage. Using twine and a needle saw the cavity so apples and dates are not falling out.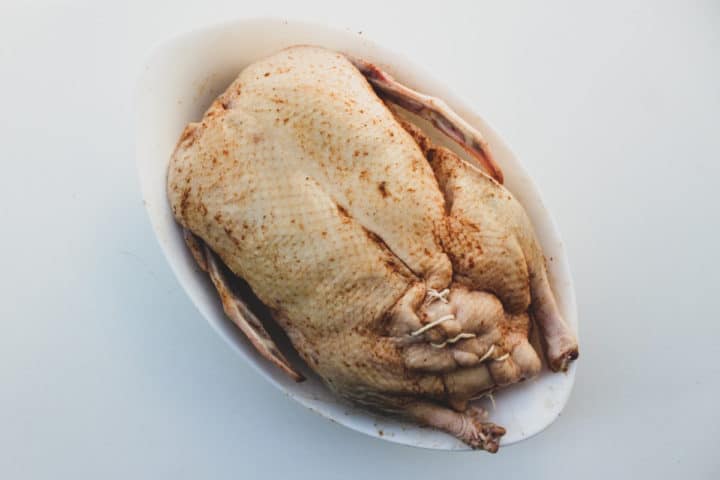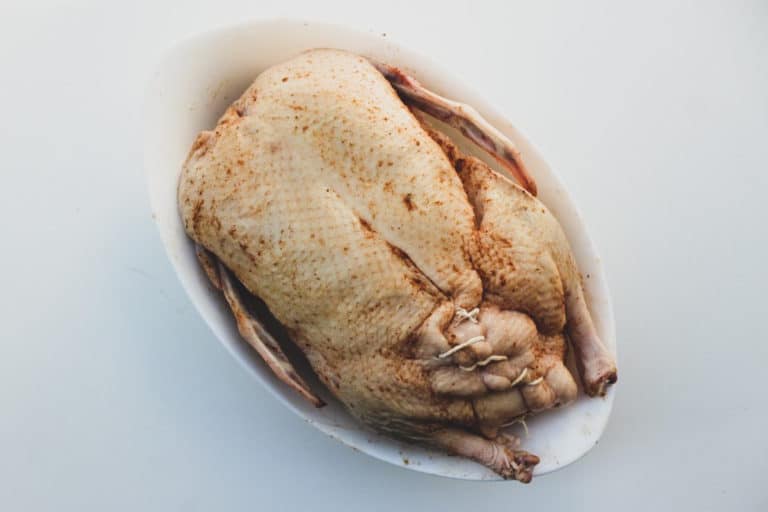 3. Lay the parchment bag in your baking dish. Make sure to follow the instructions on your parchment bags packaging. Mine instructed to keep the seam up. Place the duck inside the center of the parchment paper (breast up). Seal the open end by folding it tightly as many times as possible and tucking any hanging paper inside the pan.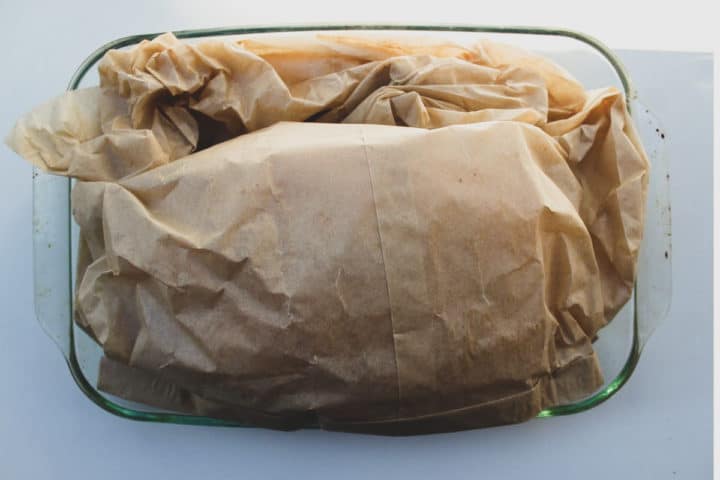 4. Place the duck in the oven (center rack). Bake it for 2 hours or until the juices run clear and the temperature reaches 165 Degrees. The breast may remain slightly pink.
5. Take out the duck of the oven. Cut and open the parchment paper, so only the bottom of the duck remains in the bag. I used kitchen scissors to do so, since my bag was huge. Drain most of the fat in a separate container for later use. Ducks fat can be stored in the fridge, and it is great for cooking. In a separate bowl mix soy sauce and honey until combined. Rub the mix all over the skin. Do not forget about legs and wings.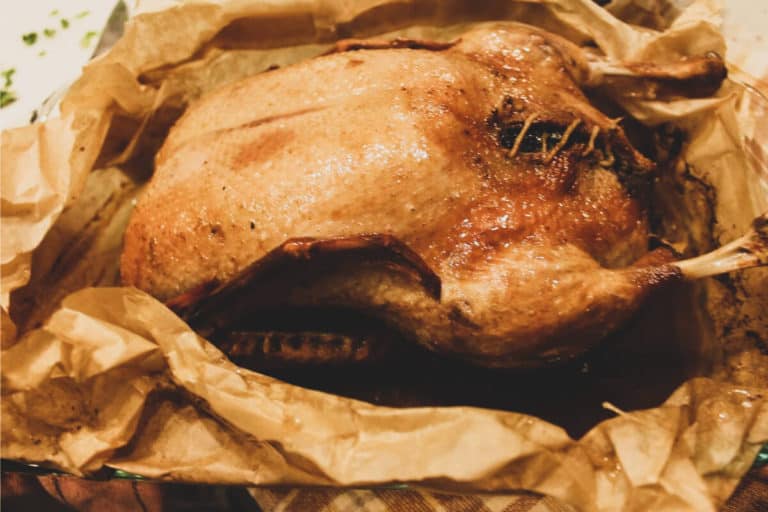 6. Place the bird back in the oven for 30-40 minutes until the skin becomes beautiful and golden.
7. Let the duck stand for 10-15 minutes before carving. You can also save the fruit stuffing and serve it alongside meat.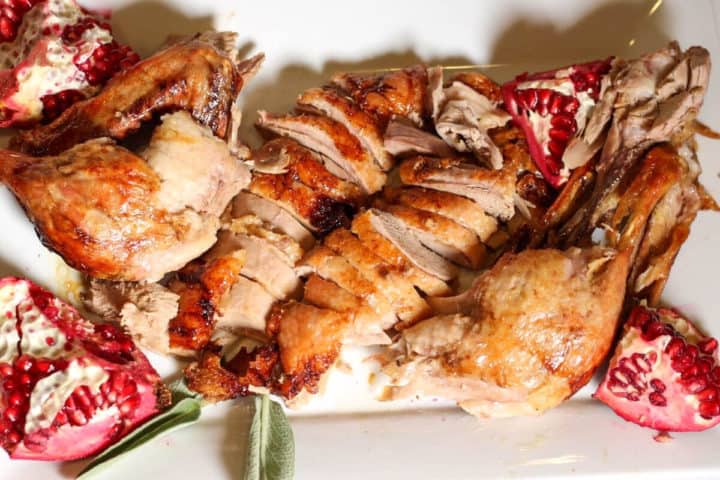 Roasted duck serving suggestions
serve the holiday roast duck with traditional bread stuffing and cranberry sauce.
mashed potatoes, potato wedges, duck fat fries, or even Truffle Oil Sweet Potato Fries.
grilled asparagus or steamed broccoli.
spring mix salad with some citrus dressing.
Storing and reheating
Refrigeration: store the leftovers (if any left) in the fridge by placing the meat in an airtight container. The meat will remain fresh in the fridge for about 3 days. Reheat in the microwave or oven.
Freezing: there are usually not so many leftovers. If you happen to have some duck meat left, that you know, will not be used within 3 days, it's better to freeze it. The easiest way is to place the meat (no bones) in a freezer-friendly zip-lock bag and keep it frozen for about 2 months.
Recipe variations
you can experiment with different spices and herbs.
stuff the duck with some fresh oranges instead of apples and dates.
if you do not want to use baking bags, bake your duck on a regular roast pan, just cover the duck with foil tightly until it's time for the glaze.
Other family favorite holiday recipes
Frequently asked questions
Can I bake frozen duck?
Yes. I do not recommend baking duck straight from the freezer. The skin will be not as crispy and the baking time will be twice longer. But I used this recipe to bake still slightly frozen bird, just had to add extra 30-40 minutes and the duck was still delicious.
How to thaw a frozen duck?
Place the frozen duck in an unopened container on a tray or baking dish and thaw it in the fridge for 2-3 days depending on the size. Allow at least 24 hours for every 4 pounds of duck. Do not refreeze it and cook within 2-3 days after thawing.
Faster way to defrost a bird is on the counter, submerged in cold water, changing the water very 30 minutes.
Where can I buy a duck for roasting?
Our local Whole Foods usually sells whole frozen ducks in the frozen meats section. You can also purchase it online from a few farms such as Joyce Farms or Maple Leaf Farms.
Is roasted duck healthy?
Yes! Duck meat is a great source of protein. It contains more fat and calories but also more vitamins compared to chicken meat.
How long does it take to cook a whole duck?
The rule of thumb is to bake the duck for 40-50 minutes per one kilogram of weight. The duck is cooked when the skin is golden and crisp, the juices run clear and the thickest part reaches an internal temperature of 145°F.
How does duck meat taste?
Duck meat is very flavorful and fattier. Its taste can be compared to a red meat steak.
📖 Recipe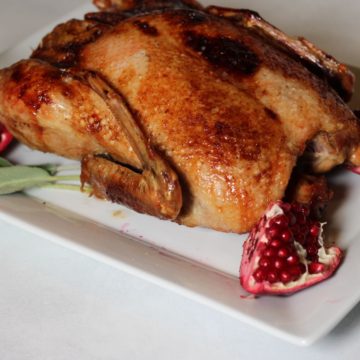 Duck in oven bag
Whole roasted duck in the oven is a great alternative for your holiday feast. This juicy, flavorful, stuffed with apples and prunes duck will impress your guests and family. It's easy to prepare, and it's sure to be a centerpiece on your holiday table.
Equipment
Measuring spoon

Deep baking dish

Roasting parchment paper bag

Cooking twine and needle
Ingredients
1

whole duck (5-6lb)

thawed, giblets removed

1

cored and cubed granny smith apple

8

whole prunes

1

teaspoon

salt

2

twines of fresh sage

½

teaspoon

paprika

½

teaspoon

garlic powder

¼

teaspoon

coriander

¼

teaspoon

black pepper

1

Tablespoon

soy sauce

1

Tablespoon

honey
Instructions
Preheat oven to 375 degrees F. Pat dry the thawed duck really well. In a small bowl, add paprika, garlic powder, coriander and black pepper. Rub the salt and spice mix all over the duck and inside the cavity.

Fill the cavity with chopped apples, dates and some sage. Using the cooking twine and needle, saw the cavity.

Lay the parchment bag in the deep baking pan (seam side up). Place the duck in the middle of the bag. Roll up the end of the bag to seal it and tuck any hanging sides of the bag inside the pan.

Bake for around 2 hours or until internal temperature reaches 165°F. Remove the duck out of the oven (breast up). Cut to open the top of the bag. You can tuck the parchment paper under the bird to expose the skin or remove the bag completely. In a separate bowl, mix soy sauce and honey. Rub the glaze mix all over the duck skin.

Bake the bird for another 30-40 minutes or until the skin is golden and crispy. Let the duck rest for at least 10-15 minutes before serving. Enjoy!
Notes
*duck is fully cooked when internal temperature reaches

165°F

. Chicken breast may remain slightly pink.
*save the drippings and fat for later use.
*garnish the cooked duck with some pomegranate and sage for a holiday look.
*prick the ducks skin with the knife for crispier skin.