Ukrainian Christmas uzvar is a traditional Ukrainian winter drink made with dried fruits, sugar, and spices. This moderately sweet fruit compote is one of the 12 dishes served on a Christmas Eve Dinner.
Jump to:
☕What is uzvar
Uzvar (pronounce as oozvar] is a traditional Ukrainian Christmas drink made with dried fruits and berries: apples, apricots, plums, raisins, and sour cherries. It is popular not only in Ukraine but in other countries of eastern Europe.
The fruit combinations may vary depending on the region and the harvest of that year. These fruits and berries are usually air dried under the hot sun during the summer months.
Uzvar is a variety of Kompot Fruit Drink, which is made with fresh fruits and berries during summer time.
Ukrainian Christmas uzvar is one of the traditional 12-dish dinner recipes prepared to serve on Christmas Eve.
Christmas Kutia (wheat berry pudding with poppy seeds gravy) is another ceremonial dish on a holiday table.
These two dishes have a special meaning for the Christian Orthodox population in Ukraine during the Christmas holidays.
Uzvar has a symbolic meaning of respecting the wintertime when nature is sleeping and people are getting ready to celebrate the awakening of the spring.
Although compote uzvar drink is a holiday drink, it is good to make on any day during those long winter months, when there are not so many seasonal fruits available. This moderately sweet and sour fruity drink is great to enjoy warm or chilled.
In addition, uzvar is rich in a lot of vitamins and minerals: Vitamin A, B, C, Potassium, and Phosphorous. It is super hydrating and so much better than any commercial juice.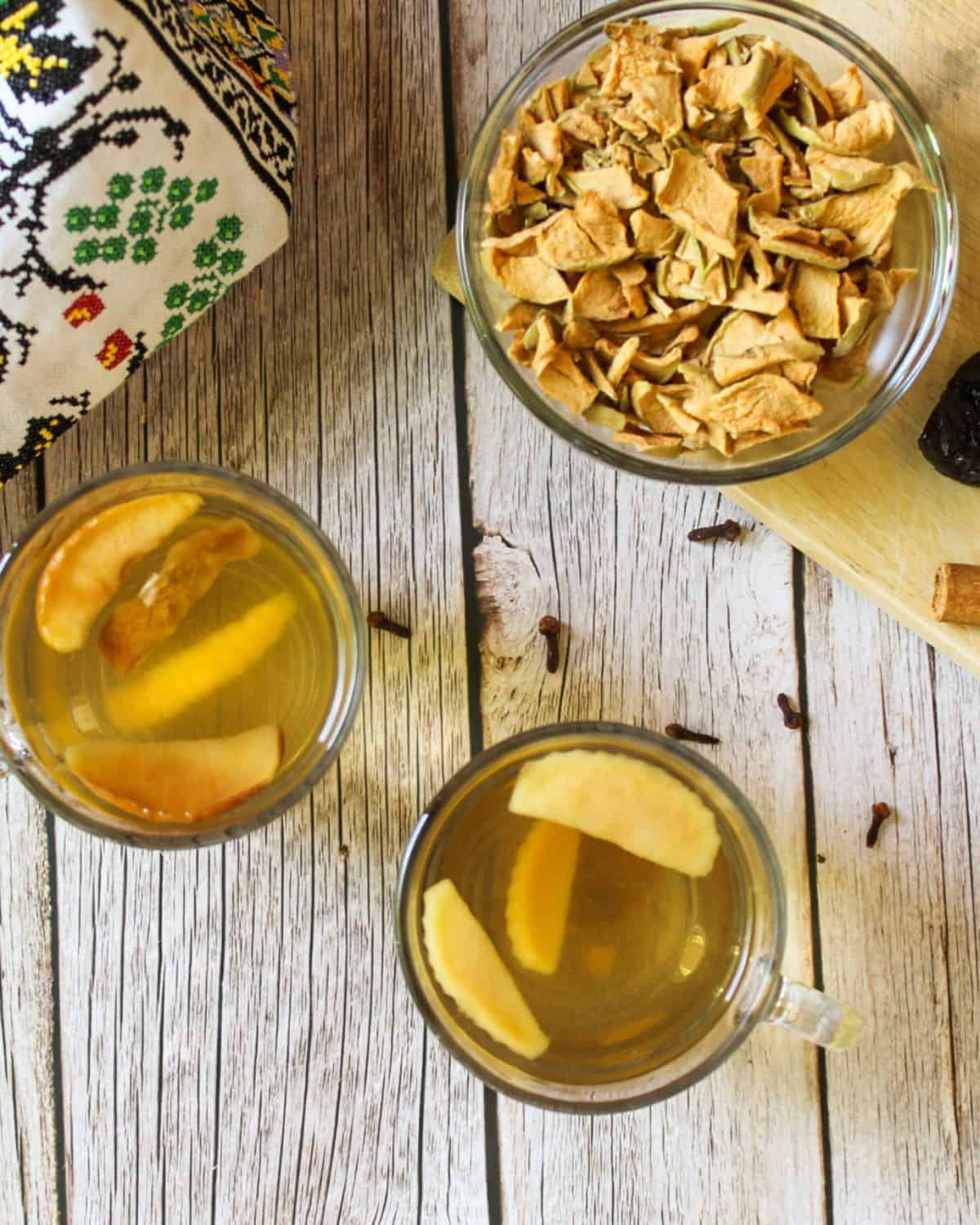 ⭐Why you will love this recipe
Better than juice - it is sweet without adding sugar, and rich in vitamins, minerals and fiber from dried fruits.
Great warm or cold - cozy and comforting when enjoying warm, and refreshing straight from the fridge.
Aromatic - nothing smells better than simmering dry fruits and spices on a winter day.
Easy to make - only one pot and no chopping required.
Time-proven recipe - this is how my mom made uzvar every year. I only added some spices to my recipe as they were not widely available or affordable in Ukraine when I was growing up.
🍎Ingredients notes
Dried apples - you will need softer and chewy dried apples. Do not use apple chips, they are not as aromatic. I found perfect chewy dried apples at the local Whole Foods Store.
Note: If you cannot find dried apples, use sliced fresh apples.
Dried apricots - Turkish dry apricots without adding sugar or oil are the best.
Prunes - same as apricots, check the package to make sure there is no other ingredients other than plums.
Golden raisins - or any kind of raisins will work great.
Cinnamon stick (optional) - you will need only one cinnamon stick. If you do not have any, skip it.
Whole cloves (optional)- just a few cloves for a nice flavor. You can easily skip this spice and use only dried fruits.
Honey - always add just a little bit of honey to taste or skip it at all. After resting, the drink will be already sweet with only fruits. You can also use sugar instead.
Filtered water - you will need about 6 cups of water for the amount of fruits in this recipe. Add extra fruits if using more water
See the recipe card below for ingredient quantities.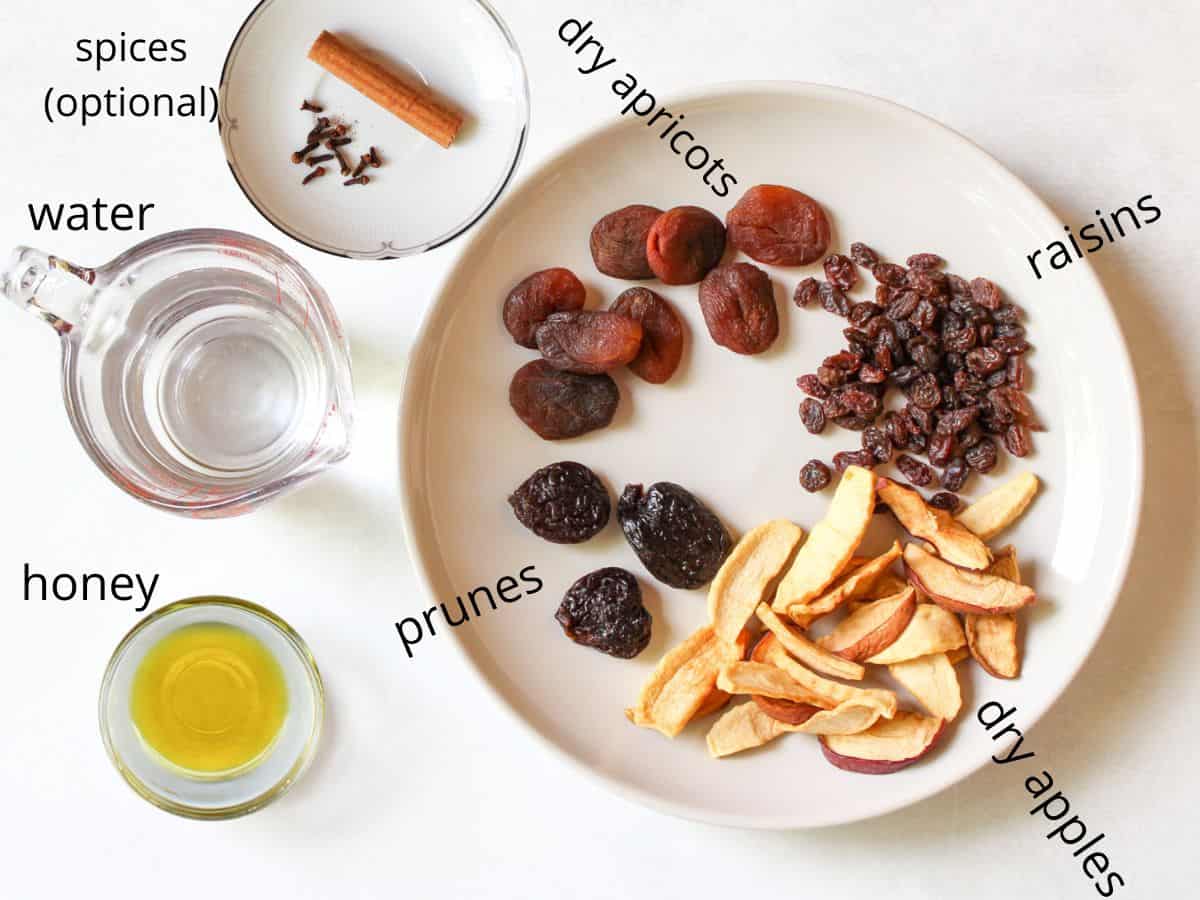 ⏲️How to brew uzvar
Rinse and soak the fruits: measure the dried fruits and add them to a large bowl. Fill the bowl with cold water and soak the fruits for at least 15 minutes. Using a colander, drain the water and rinse the fruits again under running cold water.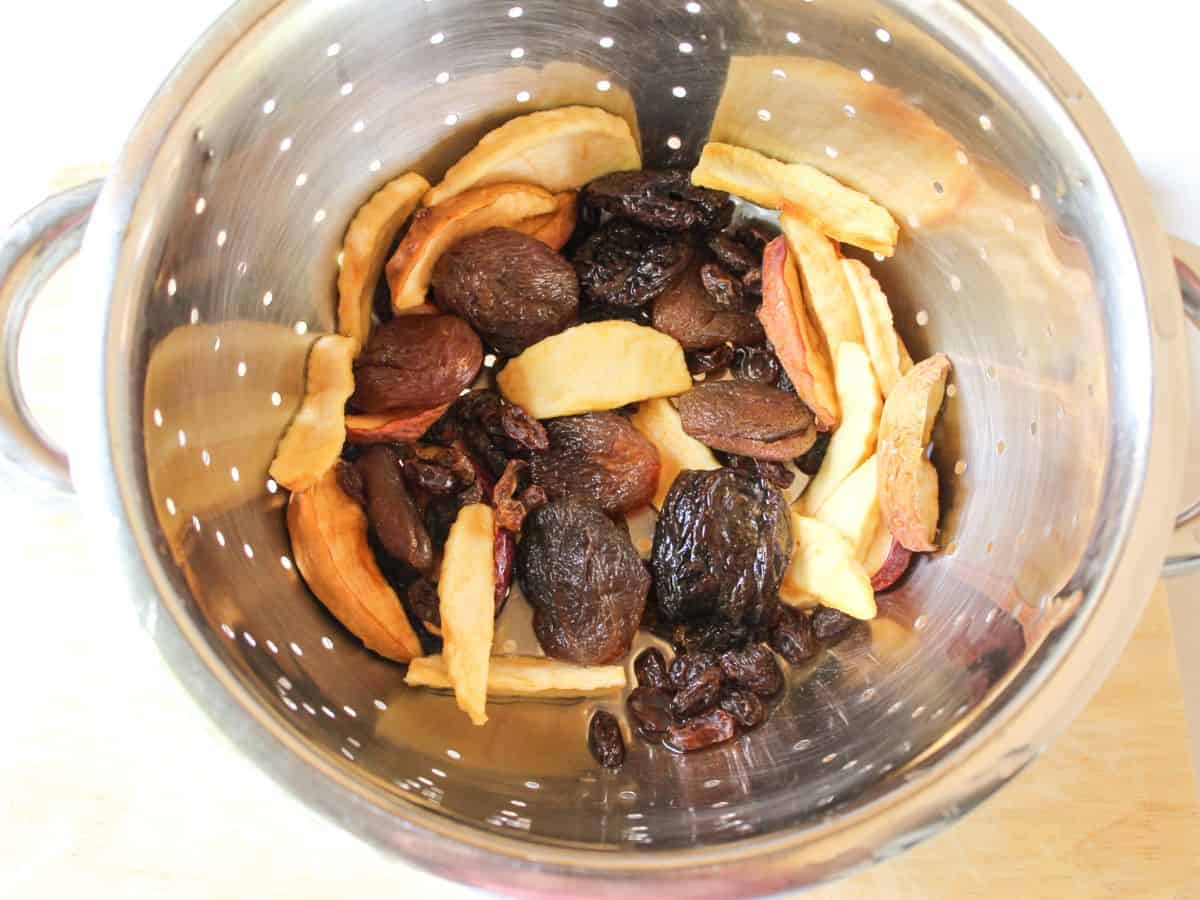 Boil: in a large pot, pour water, and add all dried fruits, cinnamon sticks, and cloves. Cover and bring it to boil. Simmer on low heat for about 10 minutes.
Rest: turn off the heat, and let it sit covered for at least 30-60 minutes for a more aromatic drink. Taste it and add a little bit of honey to your liking. You can strain it or serve it with fruits. Enjoy warm or chilled.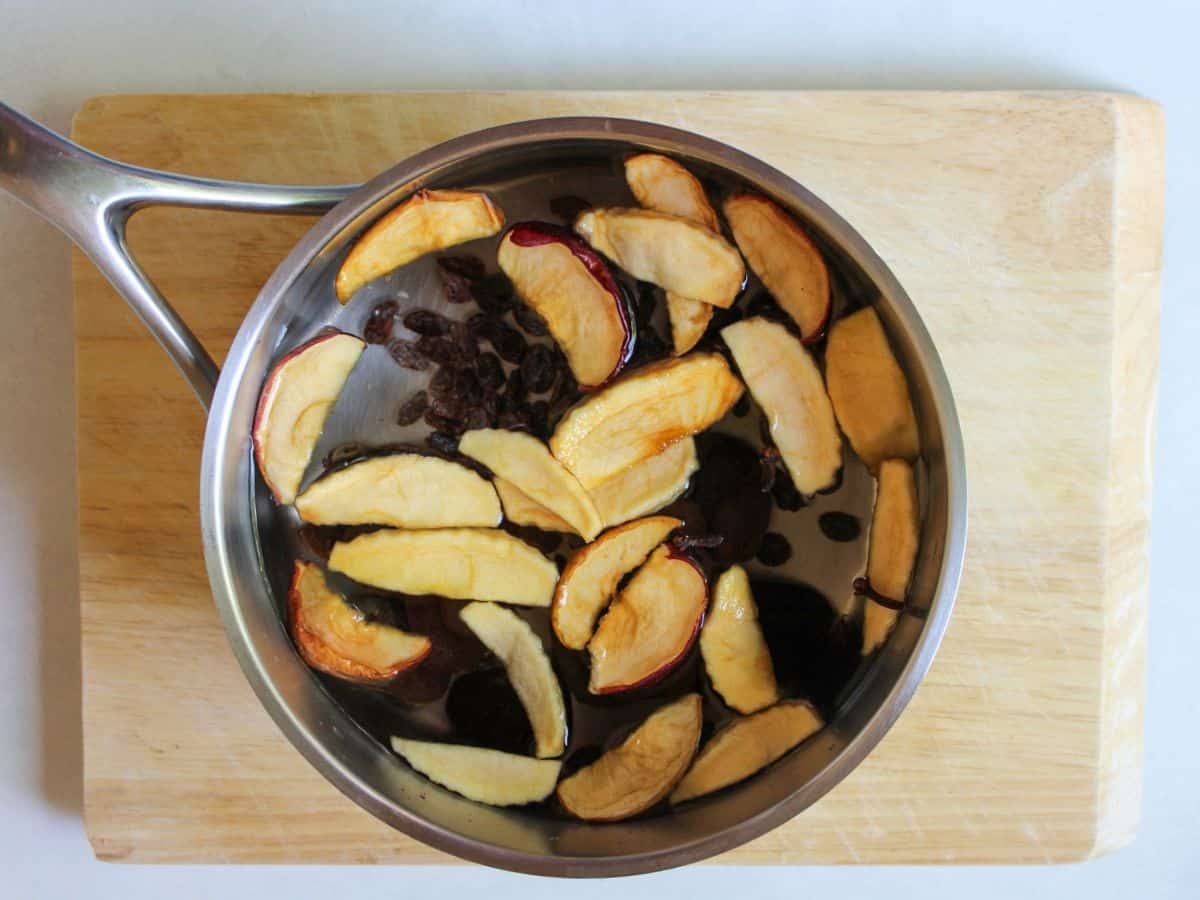 💭Tips for success
important! Use dry fruits with no additives such as oils, and sweeteners.
you can use homemade dehydrated fruits.
the amount of each type of fruit can be adjusted by preference.
always rinse dried fruits in cold water.
use filtered water.
spices are optional, but they add nice winter flavors.
let uzvar rest covered for at least 30 minutes before serving.
🥤Serving
Traditionally, this Christmas fruit compote is served chilled in a beautiful clay or a glass pitcher.
Sometimes, stewed fruits may be served separately in a large bowl along with the rest of the holiday dishes.
You can enjoy it warm (like tea) or chilled (like juice) during the winter months of the year.
After the drink rests, you can strain it to separate the fruits or keep the fruits. The fruits will taste soft but very delicious.
Uzvar is moderately sweet and will perfectly match any meal of the day.
🌡️How to store
Hot Uzvar can be kept on the stove for about 2 hours. Once it gets to room temperature, store it in the fridge in a large mason jar or a pitcher with the lid.
It will stay fresh for about 5 days when properly stored in the fridge.
📖Recipe variations
Other Fruits: you can use other fruits such as dried sour cherries, and dried pears.
Spicy: put 5-8 whole peppercorns (do not crush them), a few bay leaves, and star anise into the pot.
Citrus-y: add orange or lemon peel (only two-three peels not to make it bitter) and a juice of half of the lemon.
Herbs: a long time ago, they used to add mint, camomile, nettle and other herbs to the pot.
🥘Other Ukrainian Christmas traditional dishes
📖 Recipe
Ukrainian Christmas Uzvar
Ukrainian Christmas uzvar is a traditional Ukrainian winter drink made with dried fruits, sugar, and spices. This moderately sweet fruit compote is one of the 12 dishes served on a Christmas eve dinner.
Equipment
1 large pot with the lid

1 medium bowl
Ingredients
50

grams

dried apples

100

grams

dried raising

50

grams

dried apricots

5-6

each

prunes

1

each

cinnamon stick (optional)

3

each

whole cloves (optional)

1

Tablespoon

honey (or more by taste)

6-7

cups

filtered water
Instructions
In a medium bowl, add dried fruits and pour water to cover. Soak for at least 15 minutes. Drain and rinse under running water in a colander.

In a large pot, add drained fruits, water, cinnamon stick and cloves. Bring it to boil, cove and simmer on low heat for about 10-15 minutes.

Turn off the heat and let it rest covered for at least 30 minutes before serving. Add honey to taste. Enjoy warm or chilled.
Notes
use dried fruits with no added oils or sweeteners.
add more or less fruits by personal preference.
you can skip spices.
let uzvar rest covered for at least 30 minutes before serving.
taste it before adding honey, fruits by itself give a lot of sweetness.
Nutritional facts are for information purposes only, and not to be considered medical advice.
Nutrition
Serving:
1
cup
Calories:
52
kcal
Carbohydrates:
11.4
g
Fiber:
1.4
g
Sugar:
10.5
g