This easy German beet salad is a perfect go-to side dish to any meal. You can make it with tangy or creamy dressing depending on the main dish you are serving.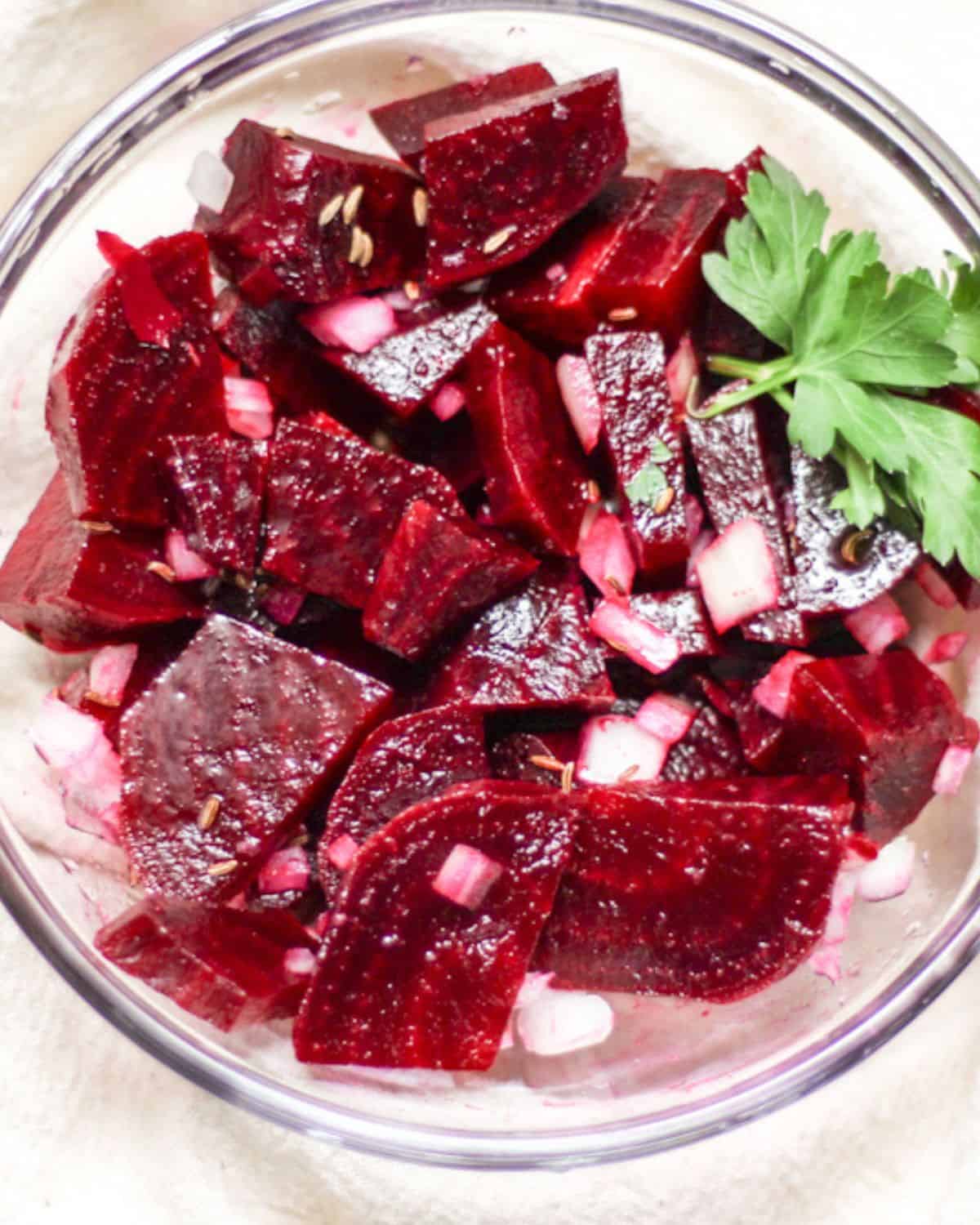 About this beet salad recipe
I have spent a lot of winters in Europe and learned to appreciate the beets as one of the to-go vegetables during the colder months. Even when greens and fresh vegetables may not be widely available during cold European winters, as a lot of people rely on their gardens, it is not an excuse to skip a salad.
I have tried this salad in Germany a lot of times, but you may also see it in a lot of other European countries, each with its twist on dressings or spices. Some use vinegar-based dressing, and some like making it creamy using sour cream.
What I like about this German salad is that if you have beets, you most likely have the rest of the ingredients to complete this recipe. It is an easy and delicious way to include nutritious beets in your diet.
In Germany, they often use distilled vinegar for the dressing. I prefer apple cider vinegar because it has better flavor, has less acidity, and has more health benefits. You can also make it with a creamy dressing to go with leaner meats, such as chicken or fish.
General recipe information
Names and spellings: rote beete salat (translates as red beet salad), Rote Rüben salat, German beet salad
Cuisine: German, European
Key ingredient: beets
Main spices: caraway seeds
Course: side dish, starter
Difficulty level: Easy
Ingredients
You can find the ingredients quantities with directions in the recipe card below.
Beets: whole red beets. I recommend cooking them by yourself for better taste and avoid the store-bought cooked ones whenever possible.
Onion: yellow or red onion. You can soak diced onion in cold water or vinegar if it is too strong.
Vinegar: distilled or apple cider. You can also use lemon juice.
Oil: I like to use olive oil. But avocado or sunflower seed oil works too.
Caraway seeds: these small, crescent-shaped seeds that come from the caraway plant have a unique flavor. They add earthy, nutty, and similar to the anise flavor to the salad. Caraway seeds are popular in German cuisine and are used in many dishes.
Salt: add to taste.
Black pepper: optional but adds a little spicy notes to the salad, especially if you skip the raw onion.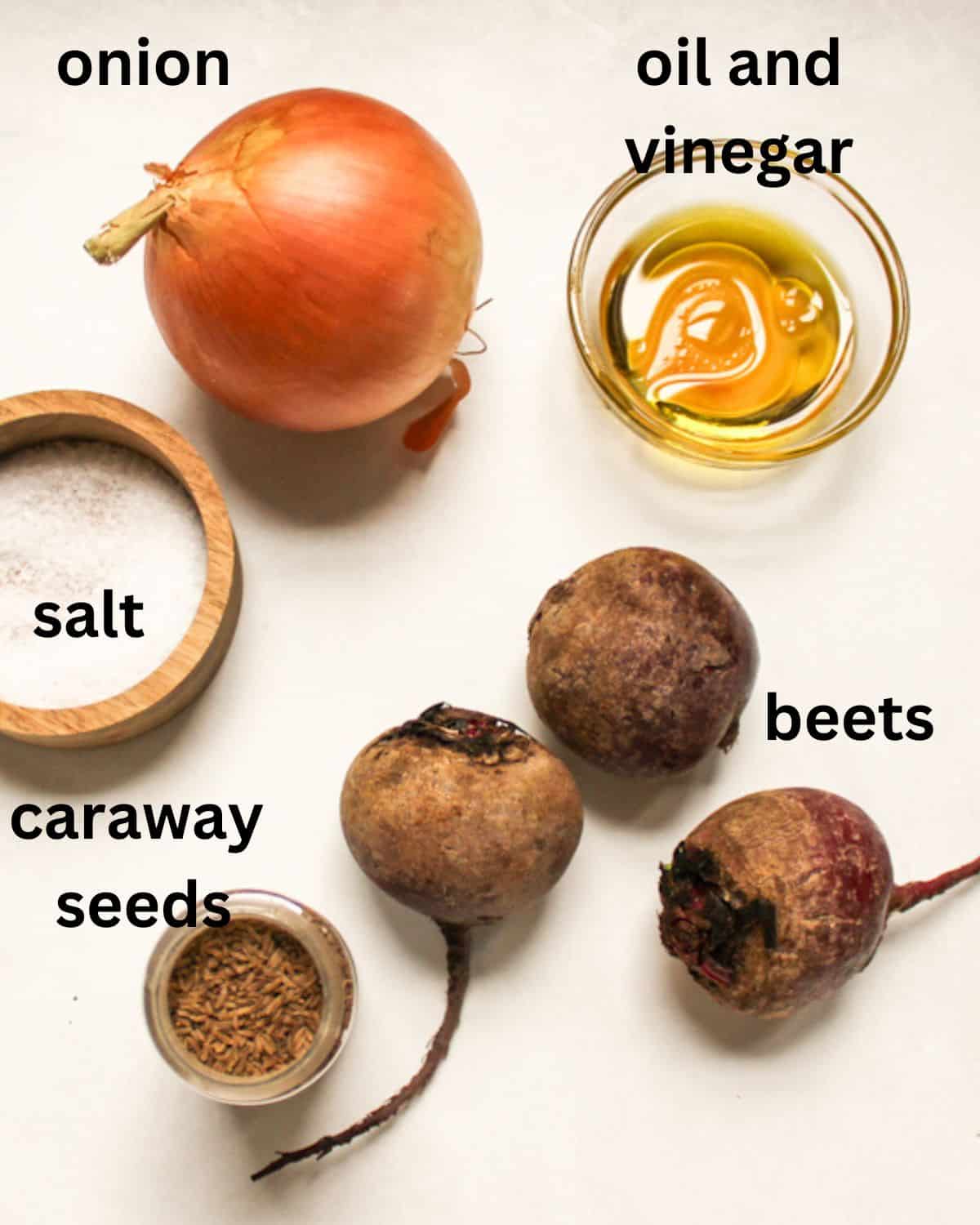 Substitutes
Dressing ingredients: instead of mixing oil with vinegar you can use lemon juice instead. Some also like to add a pinch of sugar to balance the sour taste, especially if the beets are not sweet enough (it can happen depending on the size of the beets and how it was grown).
Caraway seeds: if you do not have the seeds or do not like the taste, you can use fennel seeds, dill seeds, or celery seeds instead.
Onion: if you do not enjoy raw onion, use chives or green onions instead.
How to make German beet salad with vinegar dressing
1). Cut off the green ends if present and wash the roots well to remove any dirt. Place the beets in a large pot and fill it with water, so they are fully submerged. Bring the pot to a boil, turn the heat to low-medium, and let them cook for about 30-40 minutes or until they are tender. Check by inserting the fork in the biggest beet. If it goes in easily, they are ready.
Remove the beets from hot water and let them cool down. Once cooled down (they can remain warm inside), peel the beets using your hands or a knife. If you have food-grade gloves, wear them to avoid staining your hands.
It takes time to cook whole beets, but I do not recommend boiling them cubed as they will lose their color and sweetness.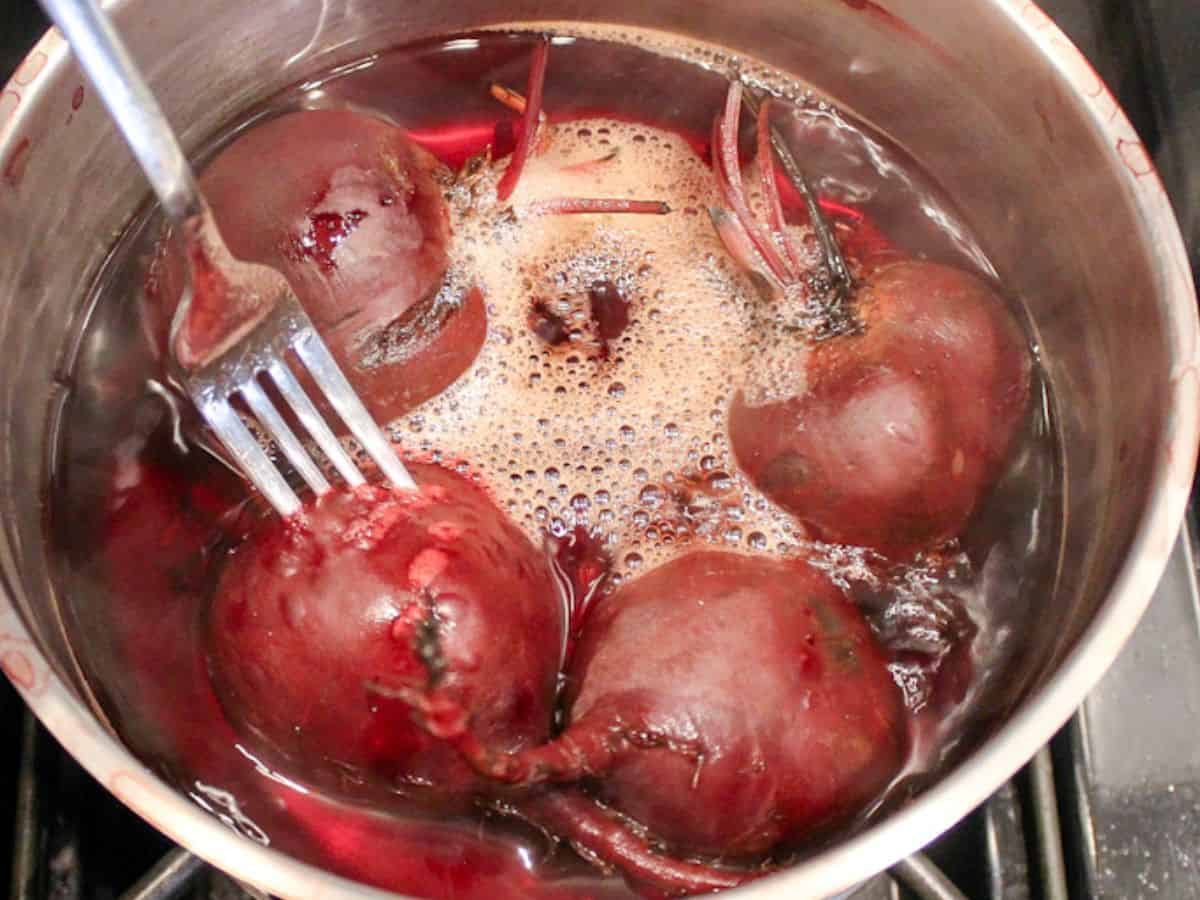 2). I had small beets, so I simply cut them into 4 equal pieces and then cut each piece into rough slices. You can also cut beets into small cubes, but I like larger pieces better for this salad. Peel the onion and dice it finely. To avoid dragon breath afterward, soak the diced onion in cold water or a little bit of apple cider vinegar.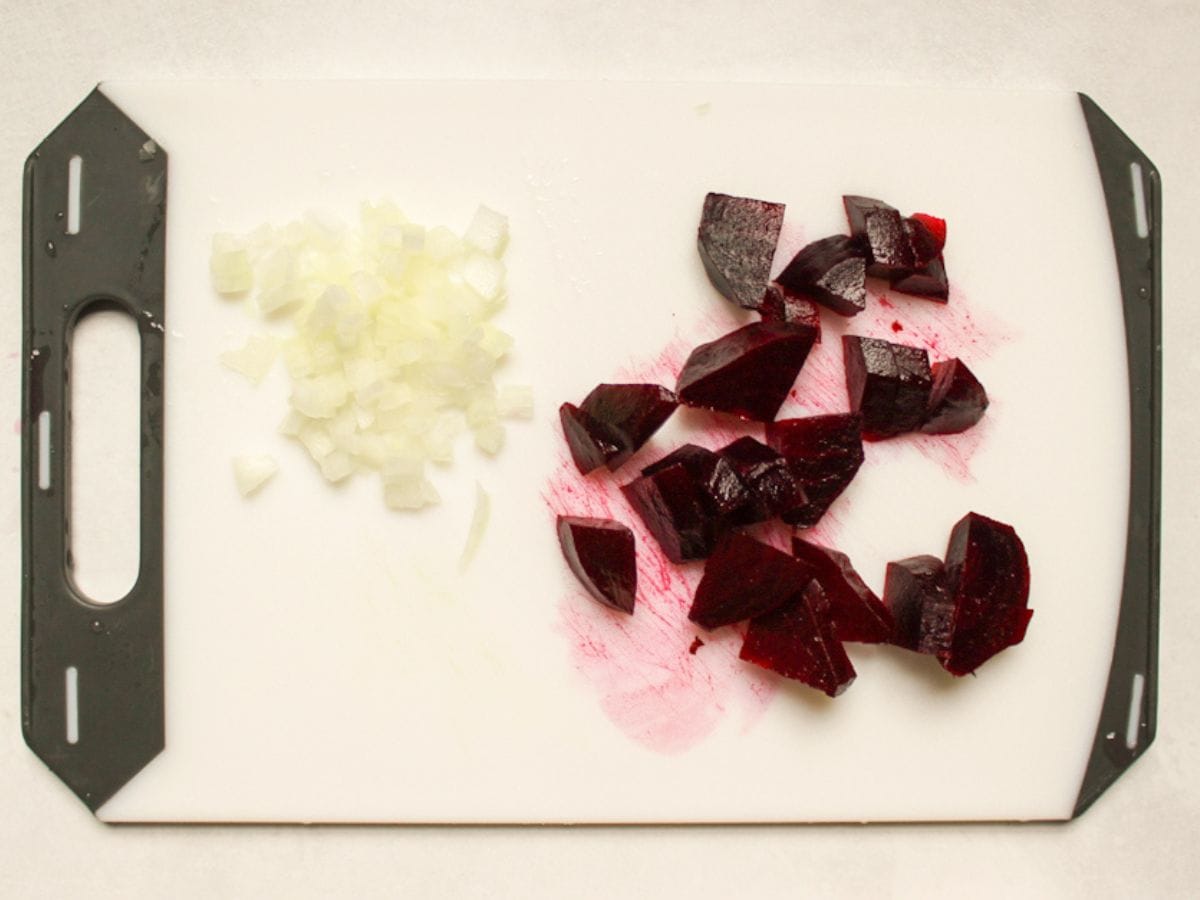 3). In a small bowl, combine apple cider vinegar, olive oil, and ¼ teaspoon of salt. Mix the dressing using a whisk until they form a thicker, one-consistency mixture. The dressing is ready.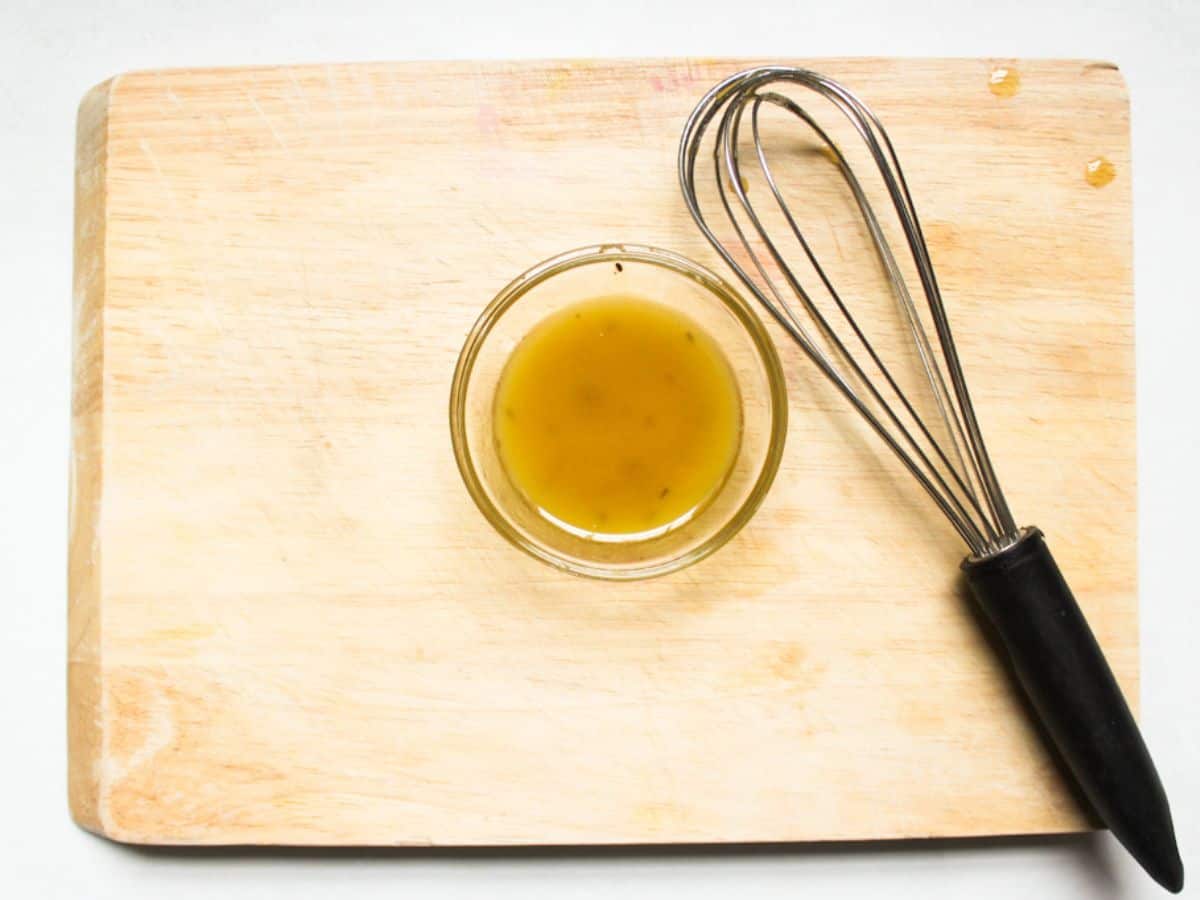 4). Add the beets, onions, and a sprinkle of caraway seeds to the large bowl. I like to crash the seeds with my fingers to make them more aromatic. Pour the dressing over cubed beets and onions and stir the salad with a spoon to ensure the beets are evenly coated. You can taste a salad and add more salt, black pepper to your liking. You can serve it right away or refrigerate it for a few our to let it marinate.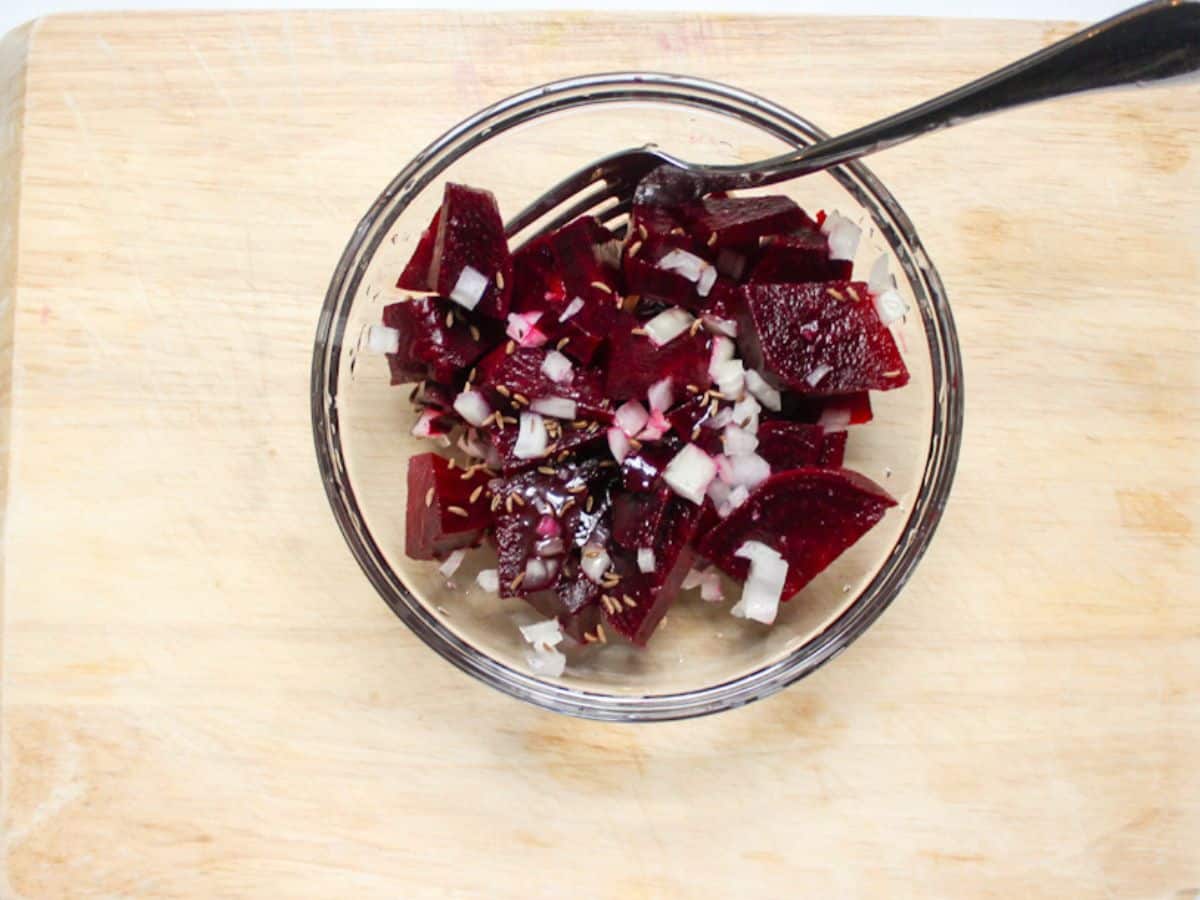 How to make it with creamy dressing
Depending on the region, you may find different versions of German beet salad. In the Northern parts of Germany, they prefer tangy beet salad with vinegar dressing.In the Bavaria region, this salad might be made with creamy dressing.
I like both bariations, but I think that the tangy version goes better with red meat, bratwurst, and potatoes. Creamy one goes better with just leaner meat, such as chicken or fish.
Simply whisk the following dressing ingredients to make a creamy beet salad:
½ cup mayonnaise
2 Tablespoons sour cream
1 teaspoon white wine vinegar or apple cider vinegar
Finely chopped fresh dill (optional)
¼ teaspoon salt, and black pepper (adjust to taste)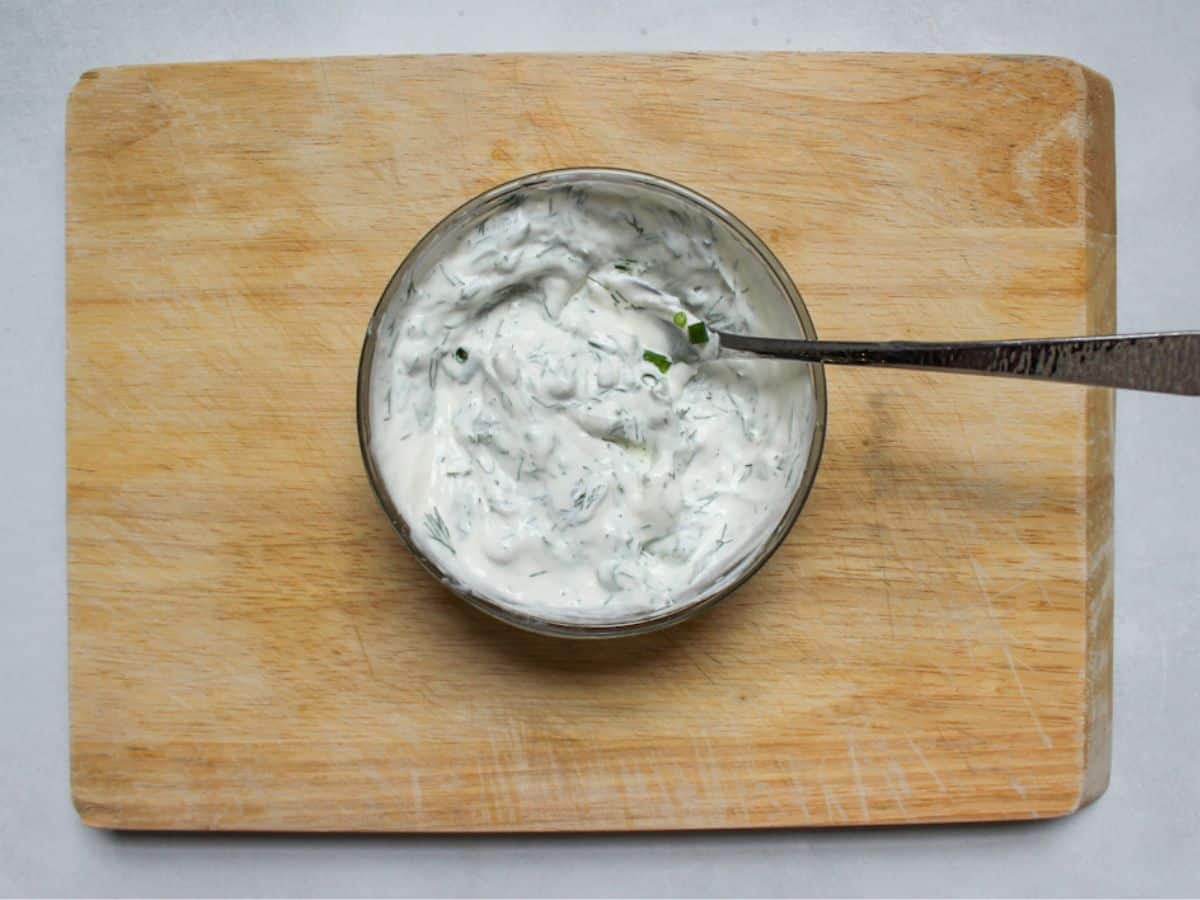 Serving
As a side dish: besides serving this salad alongside German main dishes, such as schnitzel, sausages, and roast pork, you can serve it with chicken, pasta, risotto, and more.
As an open-face sandwich: the creamy version is a great topping for an open-face sandwich on rye bread. You can top it with smoked salmon, herring, hard-boiled eggs, and chives.
In grain bowls: you can use the salad leftovers to make nutritious grain bowls with buckwheat, millet, rice, or quinoa, and the choice of protein.
Potluck or Barbecues: Rote beet salat is a great dish to bring along for a potluck. It's refreshing, easy to pack, and pairs well with grilled meats.
Recipe tips
I like to use small or medium beets because they are usually sweeter.
You can boil the beets ahead of time and store them in the fridge for up to 3 days.
If the beetroot is not sweet after cooking, you can add a little bit of sugar to the dressing to balance the vinegar.
if you make it for guests, consider soaking the onions in cold water to get rid of a strong, spicy taste. Or use chives instead.
The tangy version is great for heavier main dishes, while the creamy one pairs better with lighter meals and leaner meats.
Variations
Creamy: serve it with the creamy dressing made with mayo, sour cream, vinegar, sugar, and salt. ( the creamy dressing recipe is included in the recipe card as well).
Seasonal ingredients: in summer, you can add fresh herbs, such as parsley, dill, and cilantro.
Additional ingredients: some variations of this salad may include pickles, hard-boiled eggs, feta cheese, or horseradish for a spicy kick.
Frequently asked questions
How to cook beets for the salad?
You can boil whole beets until tender or wrap them in aluminum foil and bake them for about 40 minutes at 400°F. You can also cook whole beets in your pressure cooker.
Do I need to peel the beets?
The beet's skin is edible, but I prefer to peel it after boiling whole beets, as it may create too much chewy texture in the salad.
Can use golden beets to make this salad?
Yes, you can easily use golden beets, they are less earthy and sweeter compared to the red ones. (But if you use golden beets, the name of the salad in German will be "Gelben Beete Salat").
More European and Asian recipes with beets
📖 Recipe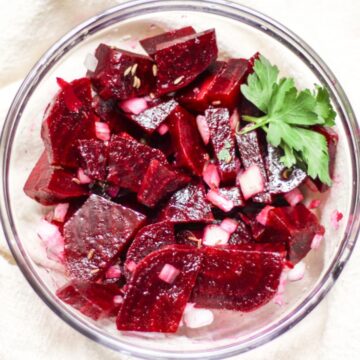 Easy German Beet Salad (Rote Beete Salad)
This easy German beet salad is a perfect go-to side dish to any meal. You can make it with tangy or creamy dressing depending on the main dish you are serving.
Equipment
1 Whisk

1 small bowl

1 medium bowl
Ingredients
4

small or medium beets, scrubbed and washed well

½

small onion

4

Tablespoons

olive oil

1

Tablespoon

apple cider vinegar

¼

teaspoon

salt, adjust to taste

¼

teaspoon

caraway seeds, crushed with fingers

¼

teaspoon

black pepper, adjust to taste
Creamy dressing
½

cup

mayonnaise 

2

Tablespoons

sour cream

1

teaspoon

white wine vinegar or apple cider vinegar

¼

teaspoon

teaspoon salt, and black pepper
Instructions
Boil or roast whole beets until tender, about 30-40 minutes. Let them cool down.

Peel the beets and slice or cube them (up to your preference). Finely dice the onion.

In a small bowl, whisk 4 tablespoon olive oil, 1 tablespoon apple cider vinegar and ¼ teaspoon salt until emulsified.

In a medium bowl, add sliced red beets, diced onion, crushed caraway seeds. Pour the dressing over the salad and mix it well until each beet slice is well coated. You can serve it right away or chill it in the fridge for a few hours. Enjoy!
Creamy dressing
In a bowl, add ½ cup mayo, 2 tablespoon sour cream, 1 teaspoon apple cider vinegar, salt and pepper. Whisk to combine.

Use it instead of vinegar based dressing to make creamy German beet salad.
Notes
Beets: use small or medium beets for salads, as they taste sweeter. Onions: if you do not like raw onion, use chives instead. Dressing: vinegar based dressing goes better with starchy sides and heavier meats, such as pork or beef. Creamy one pairs well with seafood, chicken or turkey.
Nutrition
Calories:
178
kcal
Carbohydrates:
13
g
Protein:
2
g
Fat:
13.5
g
Sodium:
252
mg
Fiber:
4
g
Sugar:
9
g