Enjoy these freshly made waffles without milk as a quick breakfast, brunch, or snack. Perfectly crispy on the outside and fluffy on the outside, these waffles are dairy free and take only about 20 minutes to make.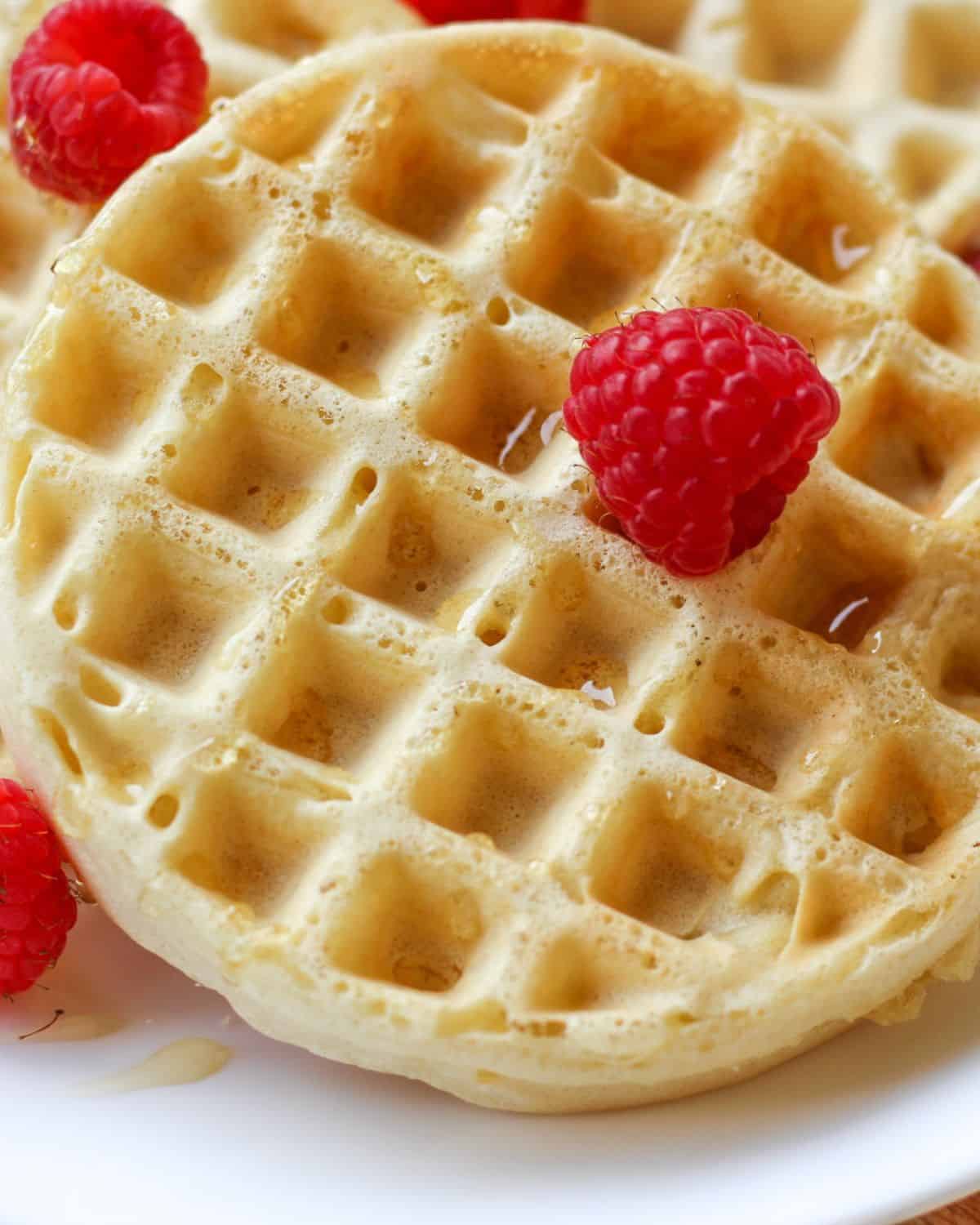 Jump to:
Waffles without milk recipe
Whether you follow a dairy-free diet or simply do not have milk at home, these waffles without milk recipe is a great option to enjoy your favorite breakfast food.
Made with simple ingredients, these dairy-free waffles are a perfect breakfast idea for a busy morning. They can be prepared ahead of time and stored in the freezer for up to 3 months.
You can make them gluten-free by replacing wheat flour with home-made oat flour.
You may also like our dairy-free pancakes recipe.
Here is why you will love this recipe:
Quick and easy: it is very easy to make the batter and takes only a few minutes to bake them in a waffle maker.
Healthy: they are made with simple ingredients compared to store-bought waffles.
Freeze well: save your time by freezing them for an easy breakfast or a snack.
Fun: waffles are great to serve for entertaining with different toppings options and sides. They also make a fun experience for kids.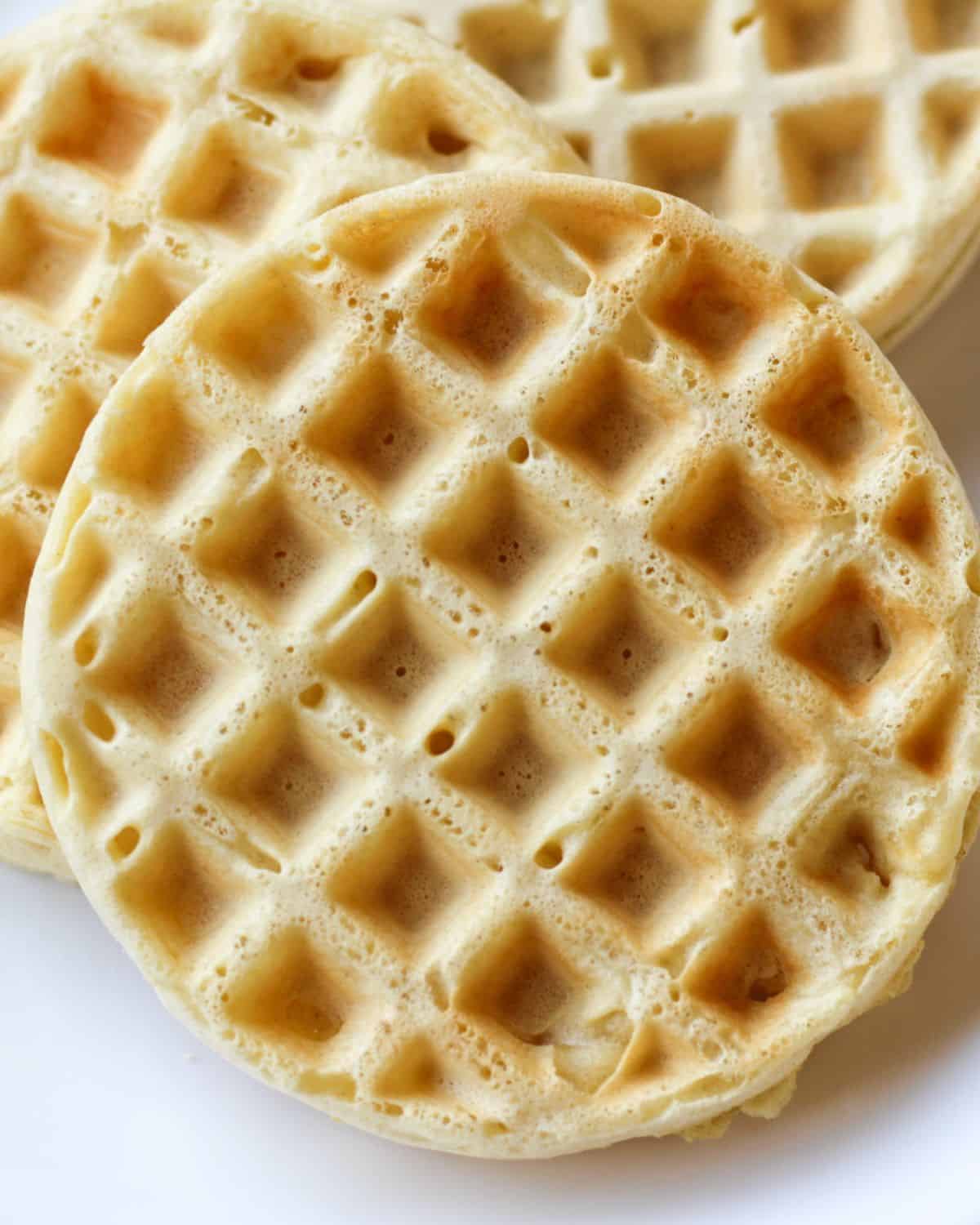 What is the best substitute for milk in waffles?
The ideal substitute ingredient for milk has to be the same thickness (or close), have no sweeteners or flavors (or you will need to adjust the amount of sugar), and preferably have some fat content.
For this recipe, I used only filtered water in place of milk. I wanted to prove that you do not need any milk to make waffles that will taste as great as traditional ones.
So, if you do not have any milk at home, you still can make your favorite breakfast food.
Besides water, there are a lot of other dairy-free substitutes for cows milk that can be used to make a perfect waffle batter:
Almond milk: unsweetened plain milk or vanilla flavored.
Coconut milk: use light coconut milk sold in a carton box. It will add a light coconut flavor to your waffles.
Oat milk: it will add extra sweetness to the batter.
Soy milk: another popular milk alternative with the same consistency and neutral taste.
Plain yogurt or kefir (dairy-free or cow's): same as cows fermented products, dairy-free kefir or yogurt will add tanginess to the batter and will make the waffles even fluffier.
Ingredients notes
See the recipe card at the end of the post for the ingredients' quantities.
Flour: I used all-purpose flour. You can use whole wheat or even a gluten-free blend.
Baking powder: baking powder will make them extra crispy ad light.
Salt: for taste.
Sugar: I used cane sugar, but you can substitute it for some coconut sugar or even agave extract.
Eggs: cold or room temperature eggs. You can also use an egg replacer or flax egg instead.
Water: water works great to make waffles. But you can use any plant milk as well.
Oil: I always add some olive or avocado oil to my dairy-free eggs. It helps to create a golden crispy exterior while keeping them soft and fluffy inside. Additionally, olive oil can add a nice flavor to the waffles.
Vanilla extract and cinnamon: they add extra flavor but are optional.
Cooking oil spray: some waffles have a great non-stick surface and will not require it, especially when you add some to the batter. But I always recommend greasing the waffle iron to prevent the waffles from sticking.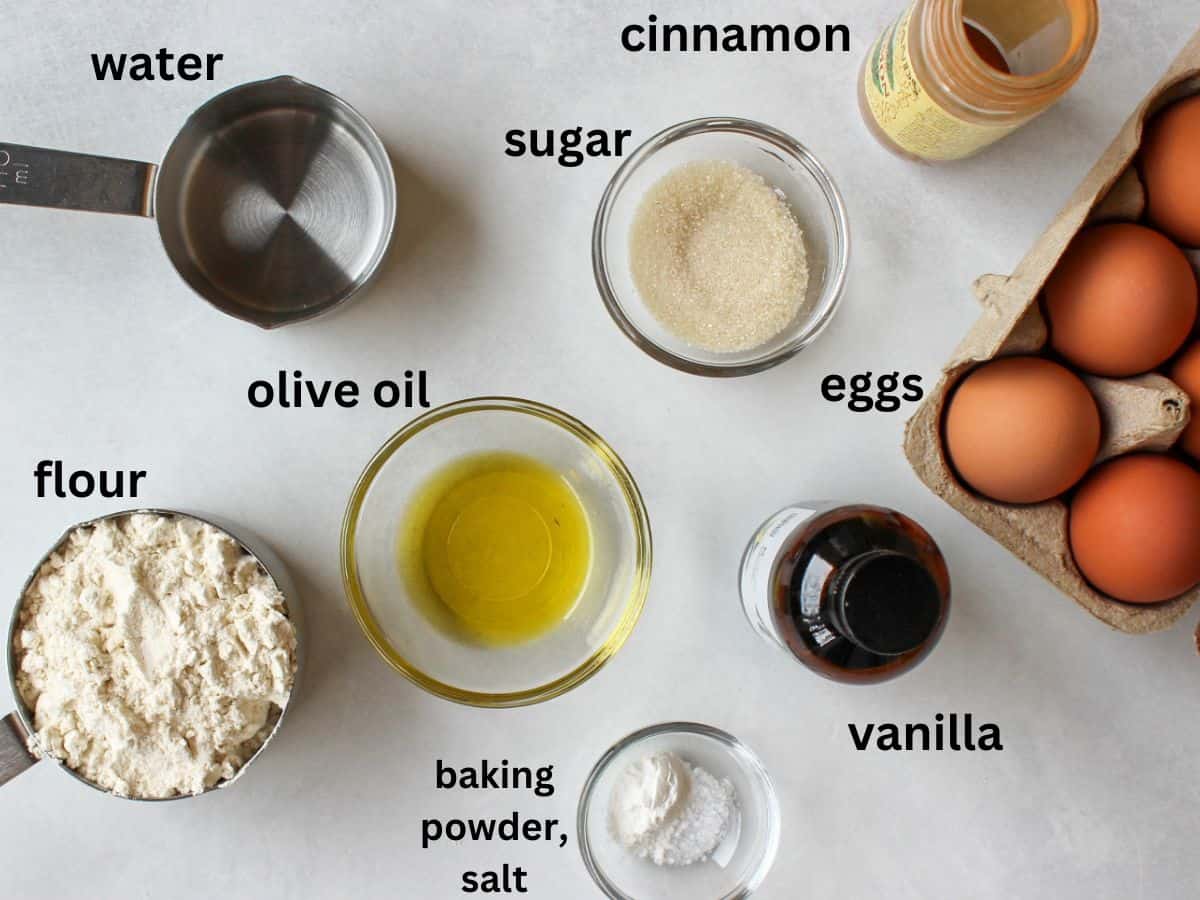 How to make dairy free waffles
Below are the 4 easy steps to make this recipe.
Step 1. In a medium mixing bowl, add measured flour, baking powder, salt, sugar, and cinnamon. Whisk to combine.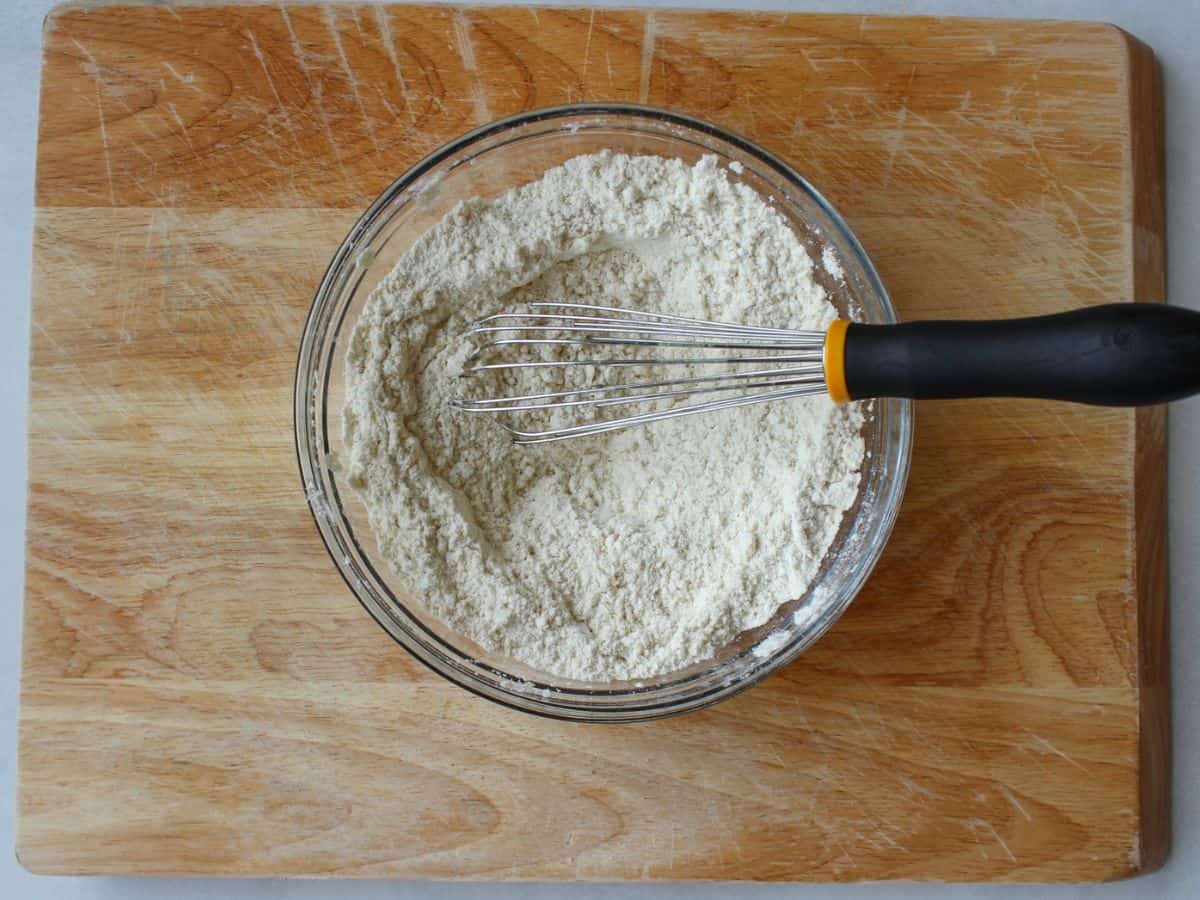 Step 2. In a second mixing bowl, add an egg, water, olive oil, and vanilla extract. Whisk until combined.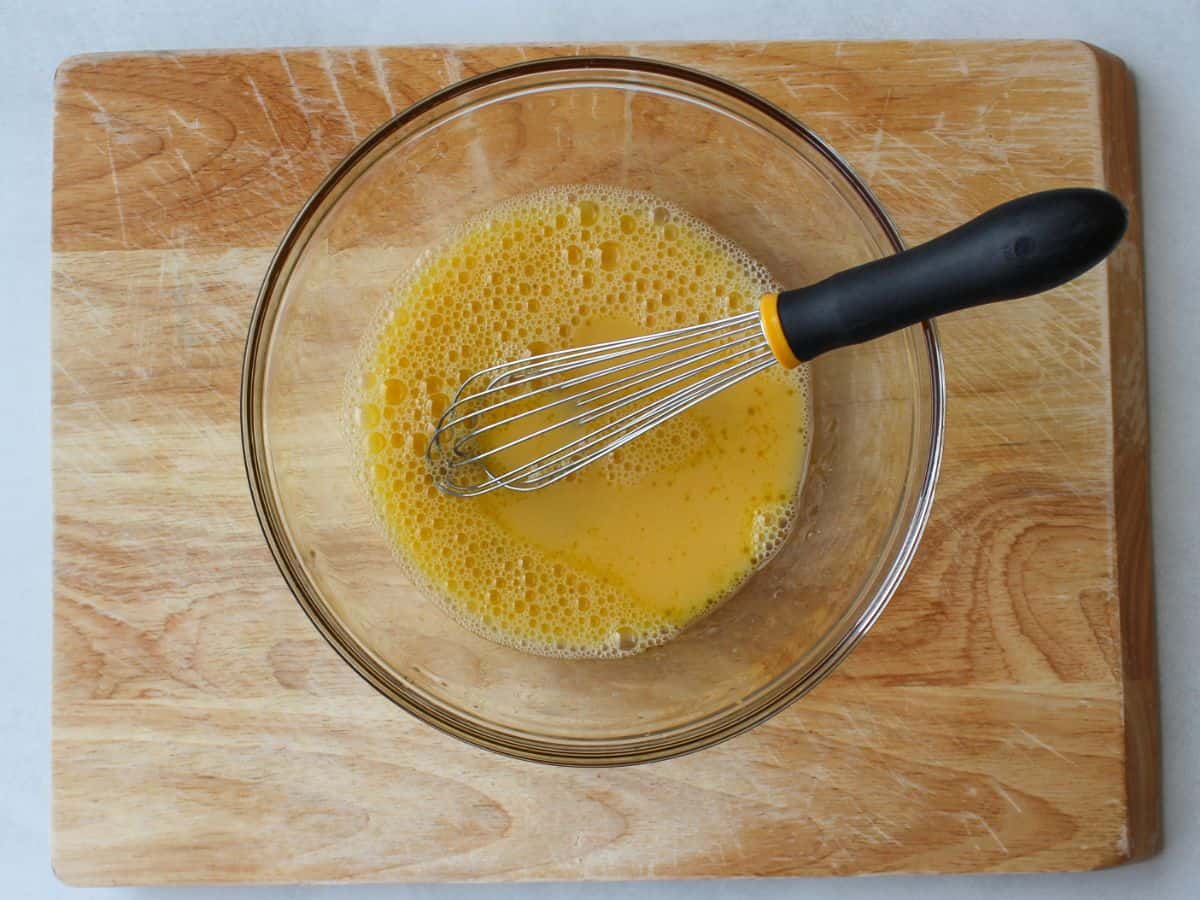 Step 3. Slowly add dry ingredients to the wet ingredients. Mix the batter just until all ingredients are combined.
Helpful hint: if the batter is too thick, add another tablespoon of water.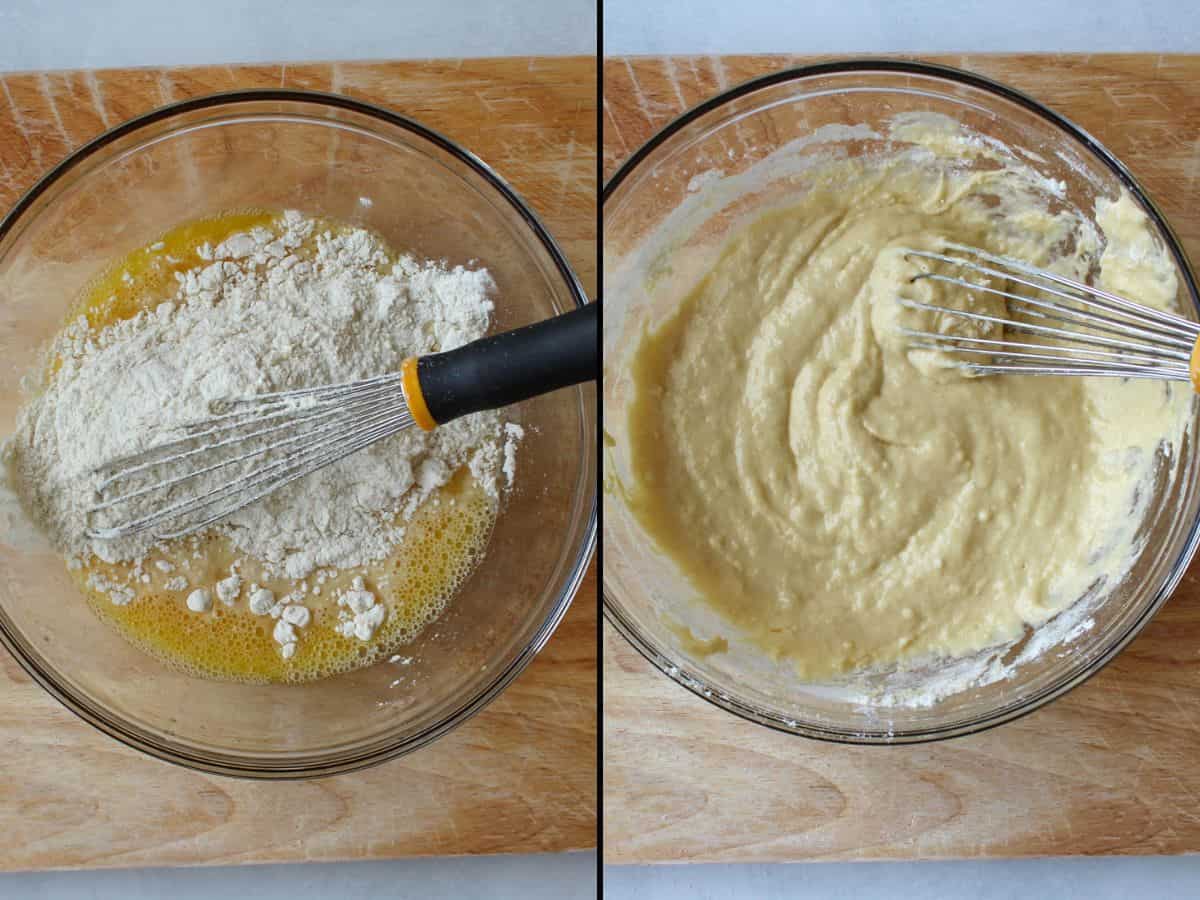 Step 4. Grease and preheat the waffle maker. Pour the batter onto the hot waffle iron. Close the lid and cook the waffles for about 2-3 minutes (follow your waffle iron manufacturer's instructions) or until they are slightly browned and crispy.
Food safety tip: you can use your kitchen instant thermometer to make sure the waffles are fully cooked. The internal temperature should reach at least 165F.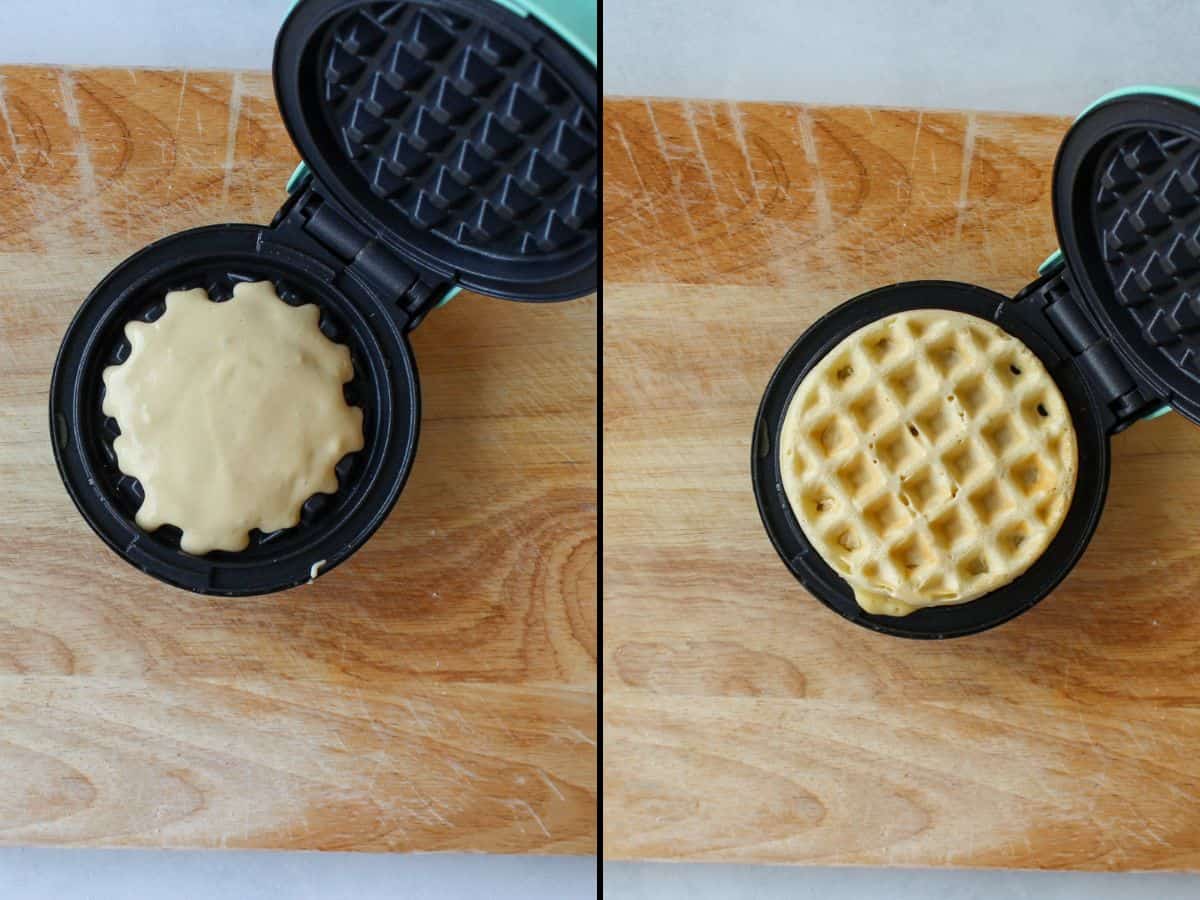 Recipe tips
Always mix dry and wet ingredients separately.
Mix the batter just until all the ingredients are combined.
Waffle batter should be thick but pourable sour cream consistency, similar to the pancake one.
You can adjust it's consistency by adding more water or flour.
Preheat the waffle maker well for crispy waffles and even cooking.
All waffle makers are different and may require different cooking times.
Depending on the size of your waffle maker, make sure to use the right amount of batter so it does not overflow.
The waffles are cooked when they become golden brown and crispy on the outside.
This recipe makes about 6 mini waffles or 4 regular-size ones.
How to store or reheat
These dairy-free waffles taste best when fresh, but you can refrigerate the leftovers in an air-tight container for up to 3 days or up to 3 months in the freezer.
Reheat thawed overnight waffles in a toaster or the oven at 400°F for about 4-5 minutes. You can also use an air-fryer to save time.
If you reheat them in the microwave, they will lose their crispiness.
Special equipment
Preparation: you will need two medium mixing bowls, a measuring cup, measuring spoons, and a whisk (or a fork).
Cooking: I used my Dash mini waffle maker for this recipe. If you use another type of waffle maker, follow the manufacturer's instructions for the best results.
Handling: to prevent the surface from scratching, I use silicone tongs to remove waffles once they are cooked.
Toppings and serving ideas
These dairy-free waffles taste great on their own, but to make it a complete meal, try adding sweet or savory toppings.
Sweet:
Honey or maple syrup: this is a classic way to serve waffles.
Powdered sugar: adds some sweetness and a beautiful look especially if you add some fresh berries.
Fresh fruit and berries: you can add any fresh or frozen fruits. Fruit preserves and jams also pair well with waffles.
Ice cream: add a scoop of your favorite ice cream and maybe some chocolate sauce to make a delicious and light dessert.
Savory:
Meats: bacon, ham, smoked salmon.
Eggs: poached, boiled, or scrambled eggs.
Vegetables: a great way to use any vegetable leftovers you have in the fridge. You can also add sliced avocados, fresh tomatoes, or cucumbers.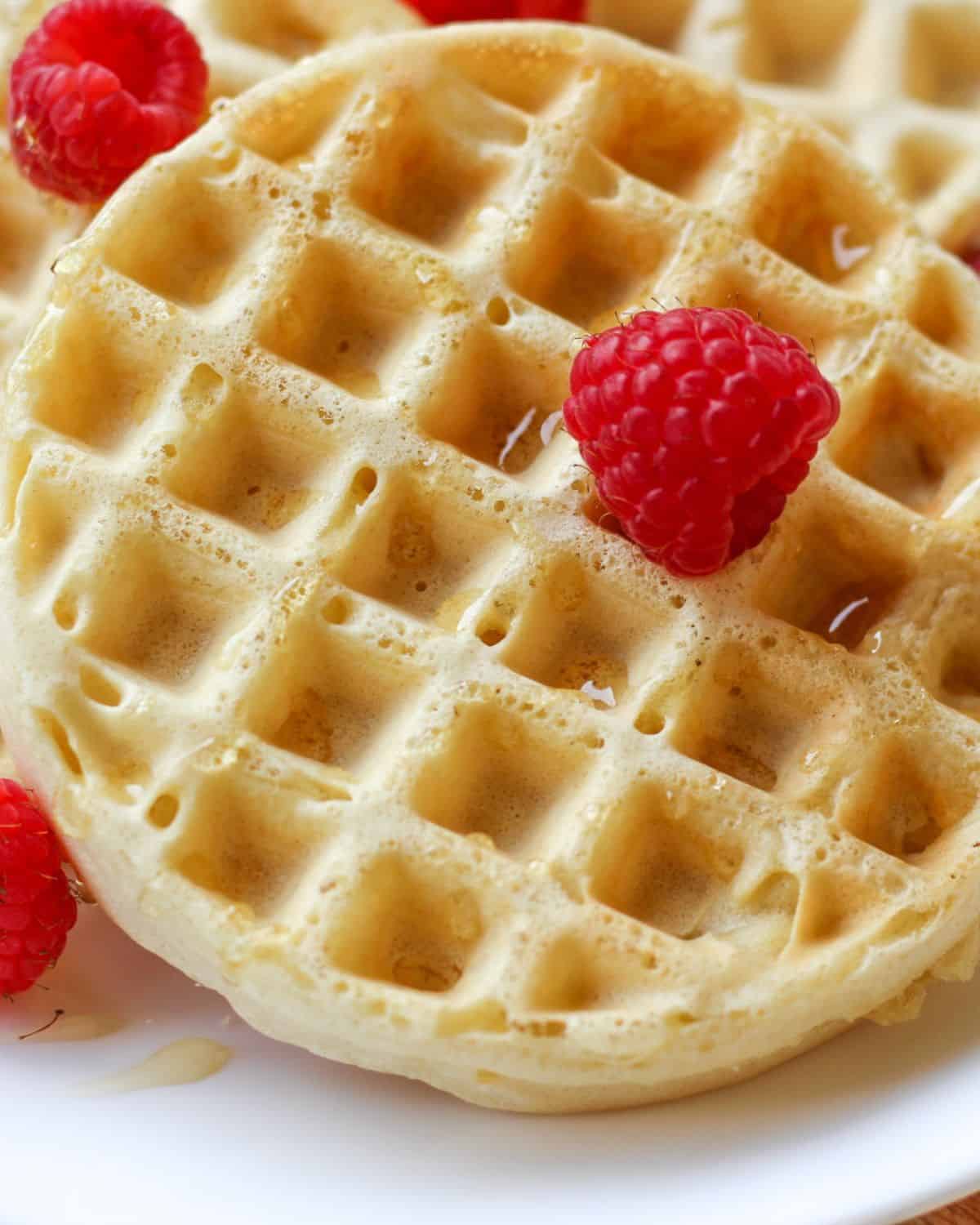 Sweet or savory add-ins
I like to change things up by adding sweet or savory add-ins to the waffle batter. Great idea for kids to try food with new colors, flavors, and textures.
Below are our favorites:
Berries: frozen or fresh blueberries, raspberries, or chopped-up strawberries.
Chocolate chips: the most popular one in our home, as my son loves chocolate in everything.
Chopped nuts or nut butter: finely chopped walnuts or pecans will add some crunchy texture while a tablespoon of nut butter will make waffles creamy and rich.
Spices and extracts: cinnamon, nutmeg, vanilla, or almond extract can be added to the batter for more flavor.
Cheese: make it savory by adding a handful of shredded cheese to the batter.
Frequently asked questions
Can I make these waffles vegan?
Absolutely! You can make a flax egg by mixing one Tablespoon of flax meal and 3 Tablespoons of water. Let the mix sit for 5 minutes and add it to the batter in place of one egg.
How long homemade waffle batter can be stored in the fridge?
You can store this waffle batter for at least 2 days in the fridge.
Other dairy-free breakfast ideas
📖 Recipe
Dairy Free Waffles: How to Make Waffles Without Milk
Enjoy these freshly made waffles without milk as a quick breakfast, brunch, or snack. Perfectly crispy on the outside and fluffy on the outside, these waffles are dairy free and take only about 20 minutes to make.
Equipment
1 waffle iron (mini or regular size)

I used mini one

2 medium mixing bowls

1 Measuring Cup

measuring spoons

1 whisk or a fork

1 tongs
Ingredients
1

cup

all-purpose flour

1

teaspoon

baking powder

1

Tablespoon

cane sugar

¼

teaspoon

cinnamon

optional

⅛

teaspoon

salt

1

ea

egg

or a flax egg

½

cup + 1 Tablespoon

filtered water

2

Tablespoons

Olive oil

½

teaspoon

vanilla extract

optional
Instructions
In a medium mixing bowl, combine 1 cup of flour, 1 teaspoon baking powder, 1 tablespoon sugar, ¼ teaspoon cinnamon, ⅛ teaspoon salt.

In a second bowl, add 1 egg, 1 cup plus 1 tablespoon of water, 2 tablespoon olive oil and ½ teaspoon vanilla extract. Whisk the ingredients well until combined.

Add dry ingredients to the we ones, stirring until combined.

Grease and preheat the waffle iron with a non-stick oil spray.

Using a large spoon, pour the batter into the the waffle iron. Close the lid and cook for about 2-3 minutes or until the waffle is slightly browned and crispy on the outside.

Serve right away with your favorite topping. Enjoy.
Notes
Use water or plant-based milk to make dairy-free waffles.
Make sure to lightly grease the waffle iron to prevent the waffles from sticking.
I used a mini waffle maker to make the recipe.
The nutrition facts are for informational purposes only.
Nutrition
Serving:
2
ea
Calories:
271
kcal
Carbohydrates:
36.1
g
Protein:
6.4
g
Fat:
11
g
Sodium:
121
mg
Fiber:
1.1
g
Sugar:
4.4
g