Baked stuffed bell peppers filled with ground beef, rice, carrots and onions, then baked in a delicious sauce until tender. A nutritious balanced meal that is tasty and easy to make on any day of the week.
This stuffed bell peppers recipe is inspired by Ukrainian cuisine. My grandma used to make the best stuffed bell peppers, and I almost recreated her recipe. But her recipe was better because she used to bake them in a unique masonry oven, that burnt wood. The meals that came out those oven were so so delicious.
We enjoy this meal all year round, but it's mostly popular during the fall and winter months.
Jump to:
Why you will love this recipe
It's a complete and balanced meal. You get protein, carbs and veggies. No need to worry about making anything else.
Cook a big batch and you can have dinners ready for 2-3 nights. These peppers reheat super well and remain juicy.
The peppers turn out tender and soft (guaranteed!).
Perfect for younger and older kids. Mild spices, high-quality protein, and vegetables make these bell peppers kid friendly.
This is healthy and affordable meal.
Despite the longer cook time, the recipe is super easy to make.
Ingredients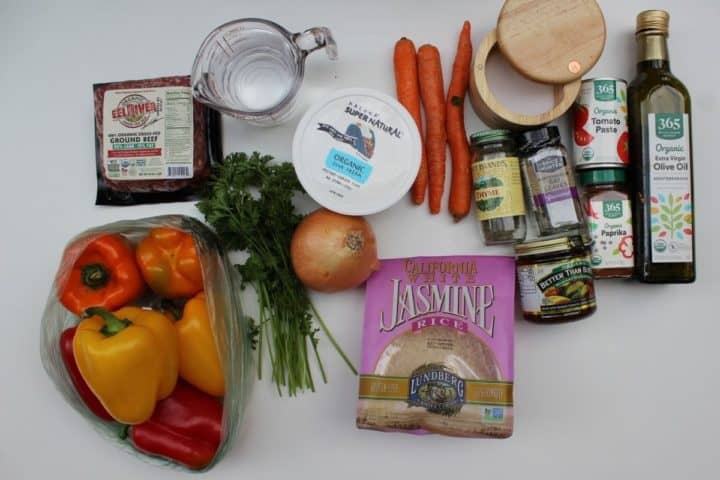 Uncooked White Rice: I used jasmine rice, but you can use any rice.
Bell Peppers: all colors will work, I prefer grabbing a few of each to make the dish more eye-pleasing and fun for kids.
Ground Beef: I used 15% fat. I recommend using meat with more fat content ( for juiciness).
Olive Oil: or any other oil to saute the vegetables.
Carrots and Onion: they will be added to the meat mix.
Fresh Parsley: you can skip it, but it adds some extra flavor and color to the dish.
Thyme: fry thyme spice or basil will work here.
Paprika: sweet paprika powder.
Salt: you will need some salt to add to the meat mix.
Water: we will need water for cooking rice; for the meat mix; for baking the peppers.
Tomato Paste: we will need it to make the sauce that peppers will be cooking in.
Better Than Bullion Base (vegetable flavor): this is an optional ingredient. I add it to the sauce for extra flavor. You can use ½-1 teaspoon of salt instead.
Bay Leaf: very popular spice to add to any Ukrainian dish.
Sour Cream: I added some to the sauce and a dollop for serving.
See recipe card for quantities.
Instructions
1. Preheat oven to 400 Degrees F. Rinse the rice a few times in cold water and drain. In a medium pot, add water, rice and boil it until rice is fully cooked. Once it's done, transfer to a large mixing bowl to cool down. Wash the bell peppers, remove any stickers. Cut off the tops without breaking them. If you happen to break the tops, just discard them. They are mostly decorative. But I love to cook the tops as well. Carefully, using hands remove the stems and seeds out of the peppers.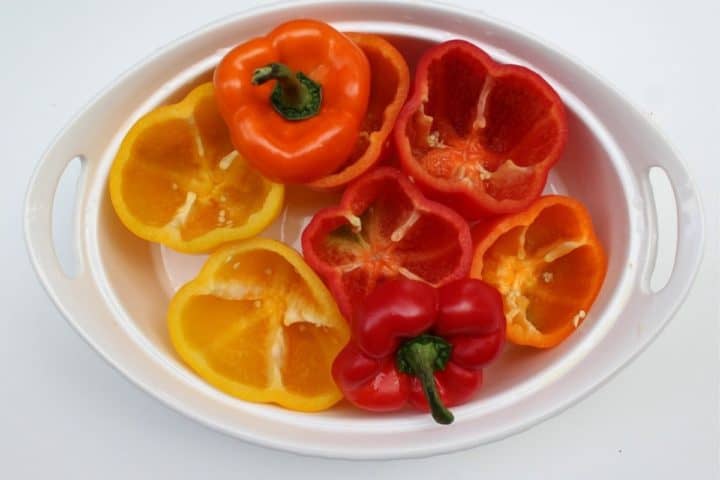 2. Using a box grater shred the carrots. Dice the onion. Preheat olive oil in a frying pan over medium heat. Add diced onions. Cook until translucent. Add shredded carrots and cook stirring occasionally for about 5 minutes until vegetables are soft.
3. Add cooked vegetables to the cooked rice. Add meat, salt, thyme, paprika, and chopped parsley. Give it a nice mix, add about ½ cup of water and mix it again. Fill each bell pepper with the meat mix. This amount should be perfect for 6 peppers, depending on the size of the peppers, of course. Arrange the stuffed peppers in a deep baking dish.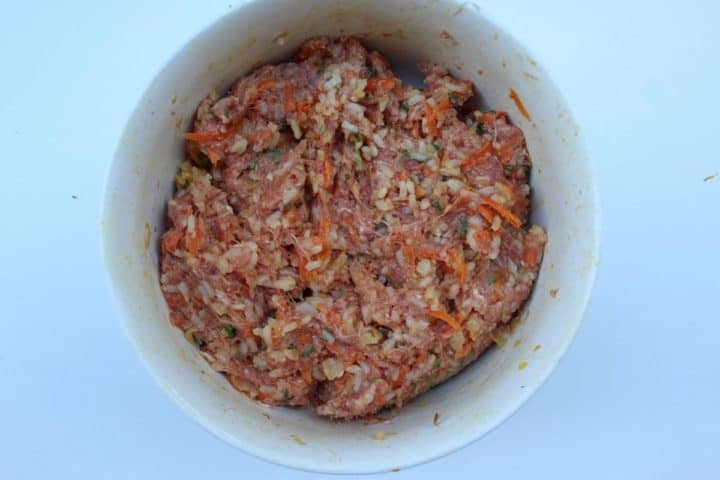 4. In a separate bowl, add 1 cup of hot boiling water, tomato paste, and better than bullion base. Whisk it together, pour the sauce into the baking dish, avoiding pouring it over the peppers. If you pour little on top of peppers, it's totally fine.
5. Now add the remaining hot water, bay leaf, and add few tablespoons of sour cream straight to the sauce. Make sure the water is covering at least ¾ of the peppers. Cover the dish with foil tightly and bake for one hour or until the peppers are tender and meat is fully cooked. Remove the cover and cook for another 5-10 minutes to give the tops that broiled look.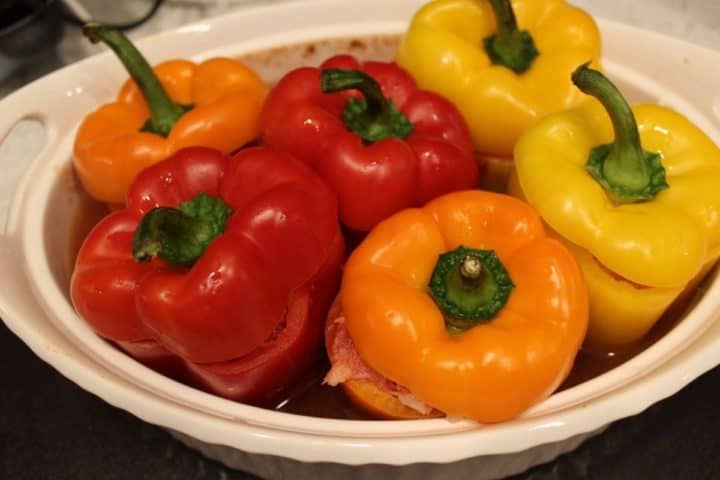 Useful tip: even if seems silly to add water to the meat mix, do not skip this step. Water will help to make the meat and rice taste very juicy, not dense.
Serving Suggestions
Ukrainian-style stuffed bell peppers with ground beef and rice are usually served with a dollop of sour cream on a side and sometimes a pickle. Sprinkle it with red pepper flakes, if you like more spicy food.
Substitutions and variations
Make it vegan by using any plant-based mince or sauteed mushrooms and omitting sour cream.
Make it keto by skipping rice and adding more vegetables and meat instead.
Use 1 cup of cooked quinoa instead of rice.
Use half a pound of ground beef and half a pound of pork.
Storing and reheating
Refrigeration: When the stuffed peppers cool down, transfer them to any large container with the lid and store them in the fridge for up to 3 days. Reheat in the microwave for about one minute or until hot. Cutting the pepper in half will reduce the reheating time.
Freezing: let stuffed peppers cool down first. Freeze each pepper in a separate freezer safe bag. Reheat in a steamer pot, or in a covered pan with some added water at the bottom.
Equipment
Deep baking dish (square or round): the dish must hold all peppers standing and be as tall (or almost) as bell peppers.
Non-stick frying pan: you will need a pan to saute the veggies.
Box Grater: to shred the carrots. You can dice the small instead.
Large Mixing Bowl: to make the stuffing for the peppers
Frequently asked questions
Is the stuffed bell peppers recipe healthy?
Yes, I can say with confidence that this is a balanced and healthy recipe. If for some reason you want to avoid rice, use the same amount of quinoa instead.
Do stuffed bell peppers freeze well?
Yes, this is a freezer friendly recipe. Freeze each pepper in a separate freezer safe bag up for 3 months.
How do I know when stuffed peppers are cooked?
These peppers should be fully cooked in one hour of baking. Once the peppers are soft and tender, and the internal temperature reaches at least 165 degrees F, they are cooked and ready to be served.
Are these stuffed bell peppers gluten free?
This recipe is gluten free. If you are gluten sensitive, make sure to buy gluten free certified rice.
Other traditional Ukrainian recipes you may like
📖 Recipe
Baked stuffed bell peppers
Baked stuffed bell peppers filled with ground beef, rice, carrots and onions, then baked in a delicious sauce until tender. A nutritious balanced meal that is tasty and easy to make on any day of the week. 
Equipment
Deep baking pan

Frying Pan

Box grater
Ingredients
½

cup

uncooked rice

6

bell peppers

1

pound

ground beef

at least 15% fat

1

Tablespoon

olive oil

½

medium onion

3

medium carrots

1

Tablespoon

chopped fresh parsley

½

teaspoon

thyme

½

teaspoon

paprika

½

teaspoon

salt

3.5

cups

water, divided

1 cup for rice, ½ cup for meat mix, 3 cups for the sauce.

3

Tablespoons

tomato paste

1

teaspoon

better than bullion

2

bay leaves

3

Tablespoons

sour cream
Instructions
Preheat oven to 400°F. Rinse and cook rice according to the package instructions. Cut off the peppers tops. Do not discard them. Remove all the seeds.

Dice onion and shred carrots. Cook onions in a frying pan with some olive oil until translucent, add carrots. Cook stirring occasionally for about 5 minutes until vegetables are soft.

In a large bowl, add together rice, vegetables, ground beef, chopped parsley, salt, thyme and paprika. Mix it until all ingredients are combined. Add ½ cup of water to the meat and mix it again. Stuff each pepper with the juicy meat mix. Arrange each stuffed pepper in a baking dish standing up and cover with the tops.

Boil 3 cups pf water. In a small bowl, add one cup of hot water, tomato paste and better than bullion. Whisk with the fork until tomato paste and bullion are dissolved.

Pour the tomato paste mix into the baking pan, add remaining hot water, bay leaf and sour cream. Cover tightly with the foil and bake for about 60 minutes, or until peppers are soft and meat is cooked. Uncover and cook for another 5-10 minutes. Enjoy!