Learn how to make iced strawberry matcha latte at home. This creamy latte is crafted with green matcha powder, almond milk, and fresh strawberries. Treat yourself to this energizing and vibrant drink in the morning or afternoon.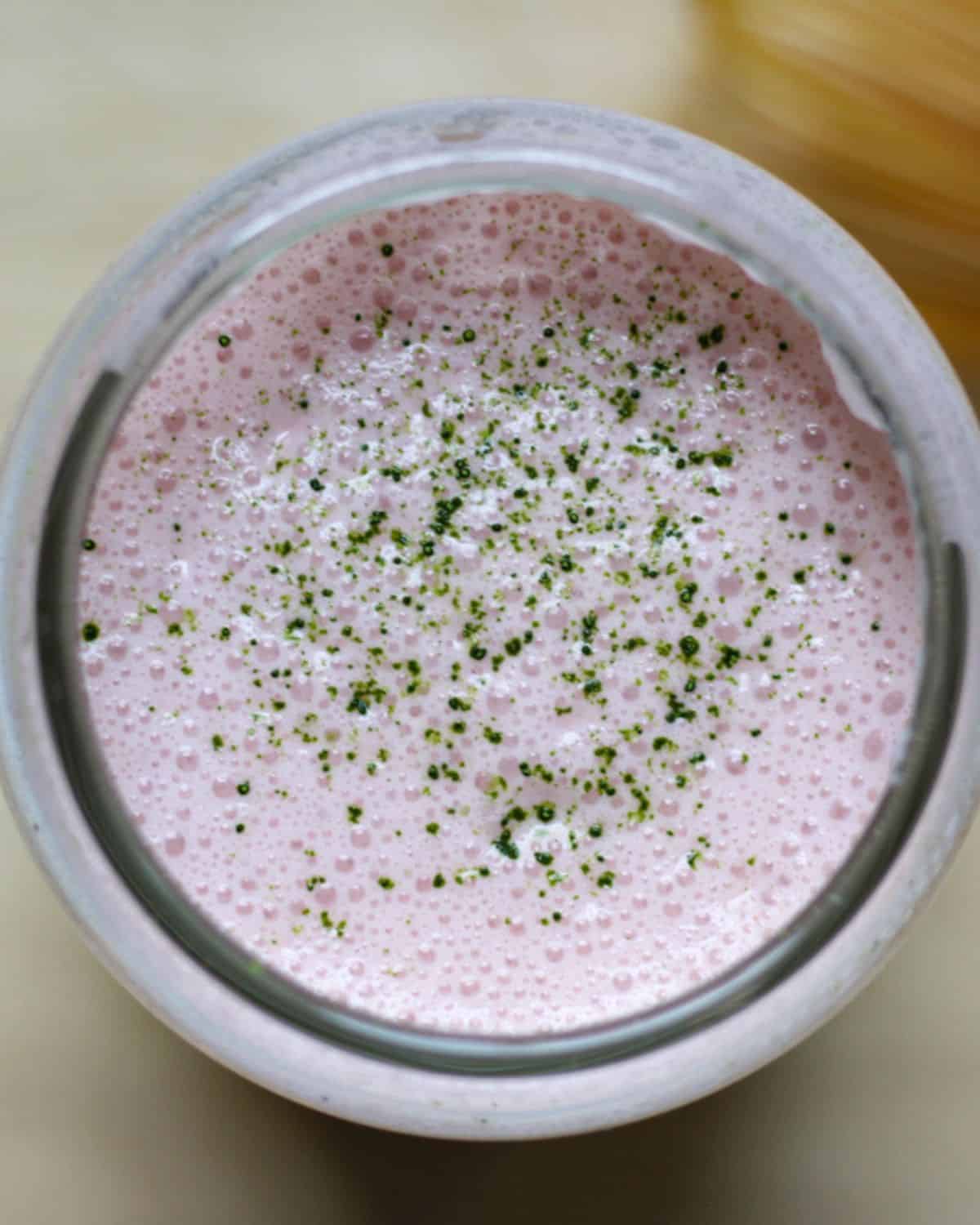 Jump to:
I enjoy matcha at any time of the day, but more often in the afternoon as a pick-me-up drink to get more energy. Matcha contains both caffeine (less than coffee) and L-theanine, which is an amino acid that has calming properties and can help with anxiety.
It is a perfect drink for those who need some extra energy and focus, but do not want to drink more coffee.
The combination of Matcha and Strawberries has gained recognition even among the most popular coffee shops, such as Starbucks and Boba Guys. You can easily make it at home by using minimal ingredients, fresh berries, and less sugar, which is a healthier and economical alternative to the one you can get at the coffee shop.
Strawberry matcha has a perfect balance of sweet strawberries, creamy milk, and the unique earthy taste of matcha. Such a refreshing drink to sip on a hot day.
And on a colder day, try our hot matcha latte. 
Before you stir it with a straw, the drink will have two distinct layers - bright green matcha tea and pink strawberry milk. It looks absolutely beautiful, that's why you should make it in clear-toll glass.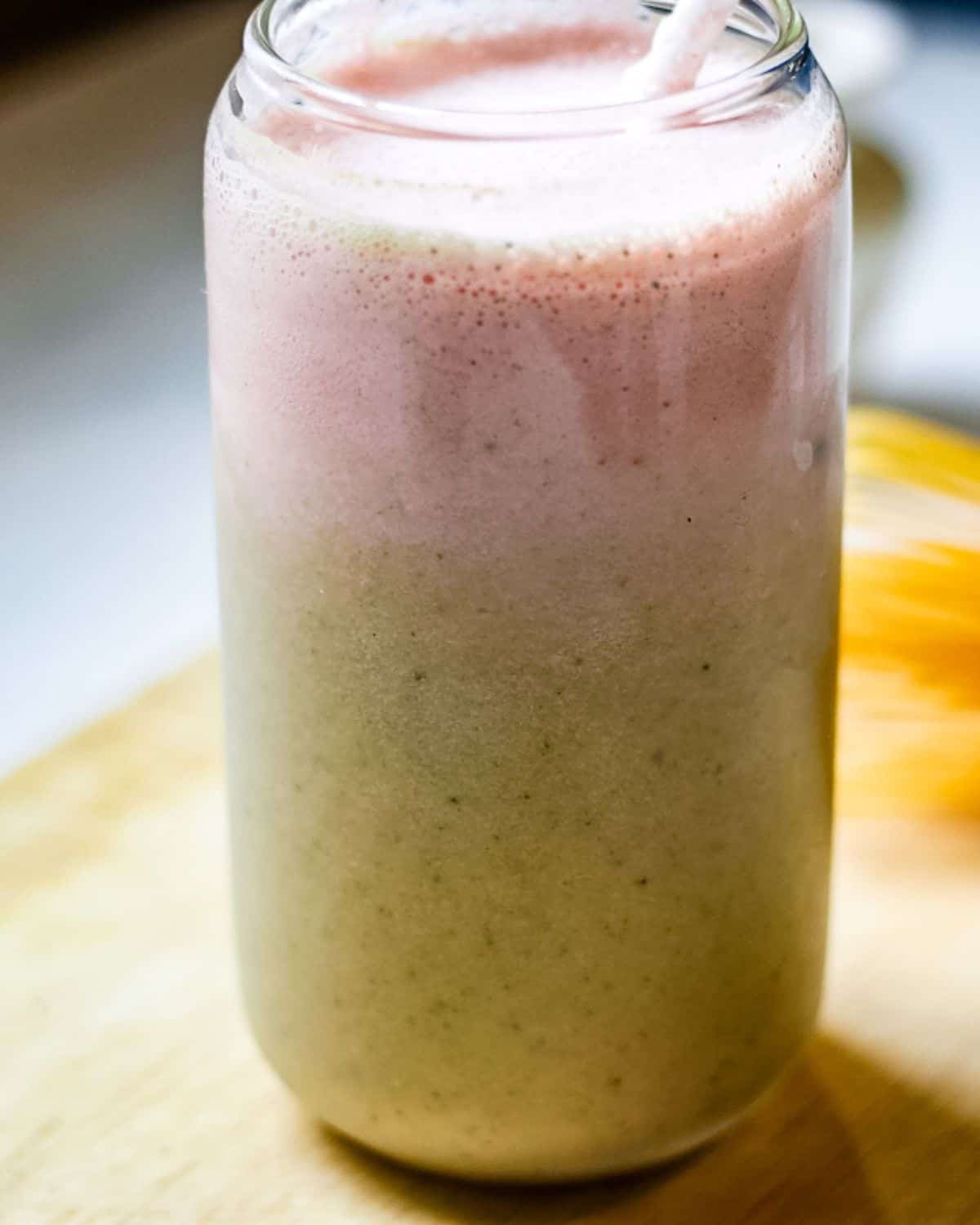 What you will need
Below you can find the list of ingredients and special equipment I recommend using to make this recipe. The quantities for one serving of drink are located in the recipe card below.
Ingredients
Matcha green tea powder - I used culinary grade. There is culinary grade and ceremonial grade matcha. Culinary-grade matcha is great for lattes, while ceremonial matcha is used to make traditional tea without any milk or sweeteners.
Hot water - you will need hot boiling water to make matcha.
Strawberries - you can use fresh or frozen strawberries.
Milk - use any milk of your choice. You can use oat milk, coconut milk, or dairy milk. Today, I used sweetened almond milk. If you are using unsweetened milk, add some sugar by taste.
Ice cubes - to make the drink iced cold.
Equipment
Matcha whisk (chasen) - it is a special bamboo whisk used to make matcha. Its specially designed thin tines, help to whisk and aerate matcha powder creating a smooth and velvety texture. If you do not have one, you can use a regular whisk or electric frother.
Matcha bowl (chawan) - If you do not have one, whisk it in a wide cup or a small bowl.
Bamboo scoop (chashaku) - mine came in a set with the chasen. You can also use a measuring teaspoon.
Blender - for blending strawberries and milk. I do not recommend chopping them as they will clog the straw when you drink it. If you do not have a blender, puree strawberries with a fork and strain it with a mesh strainer to ensure there are no large chunks of fruit.
Tall glass and a straw - I think that iced matcha or coffee tastes much better from a tall glass and a straw. You can also serve it in a mason jar.
Iced strawberry matcha latte recipe
Below, you can find the step-by-step directions with process images for better visualization. You can find the printable card at the end if the post.
Make matcha tea
Using chashaku, measure 1-2 scoops of matcha (or ½-1 of a teaspoon) and add it to the bowl (or a wide cup). You can make it more stronger, by adding more matcha powder. If it is your first time trying matcha, add only one scoop.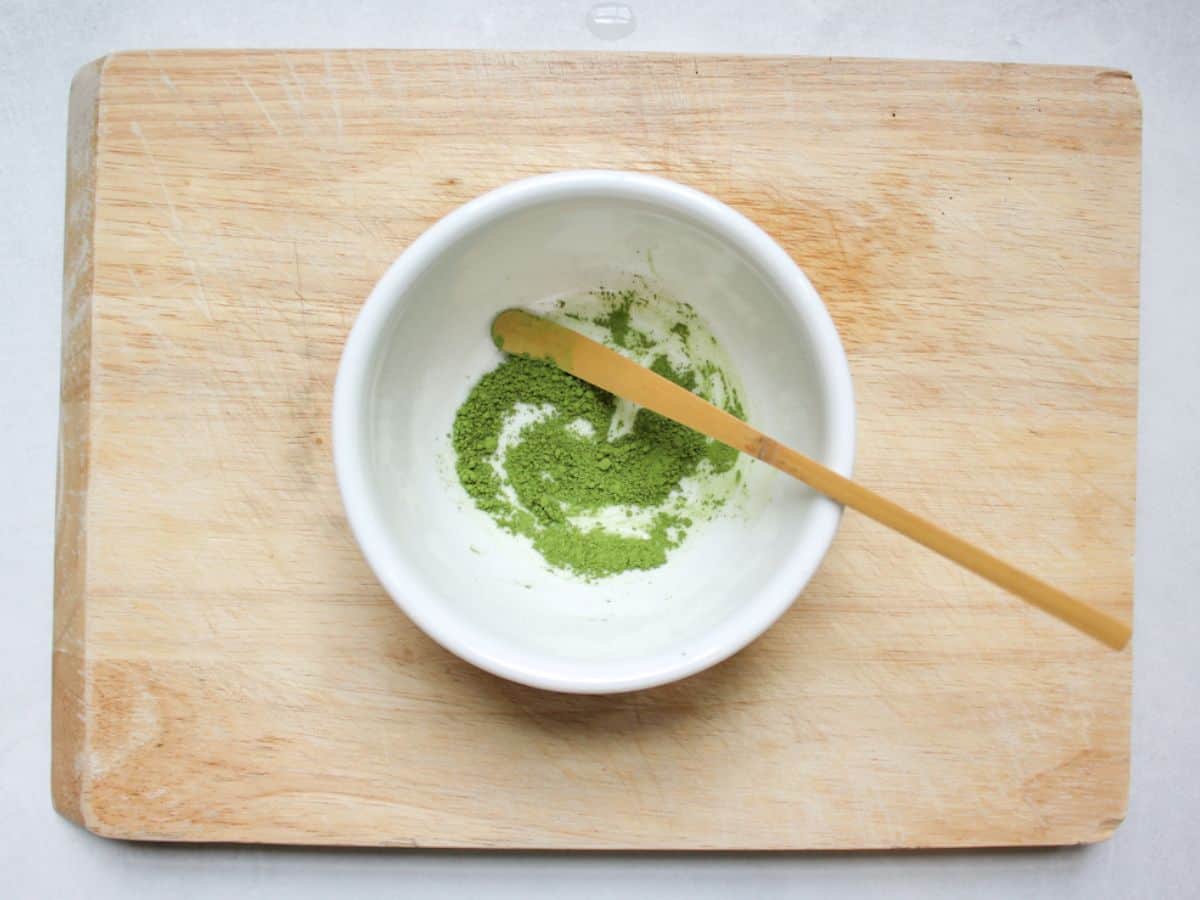 Boil the water and let it cool down just for a few minutes. The water for matcha should be about 175°F (80°C). Pour about 2 ounces of water over the matcha powder.
Now, grab the chasen and whisk matcha tea briskly until the consistency is smooth and frothy. Set it aside for now.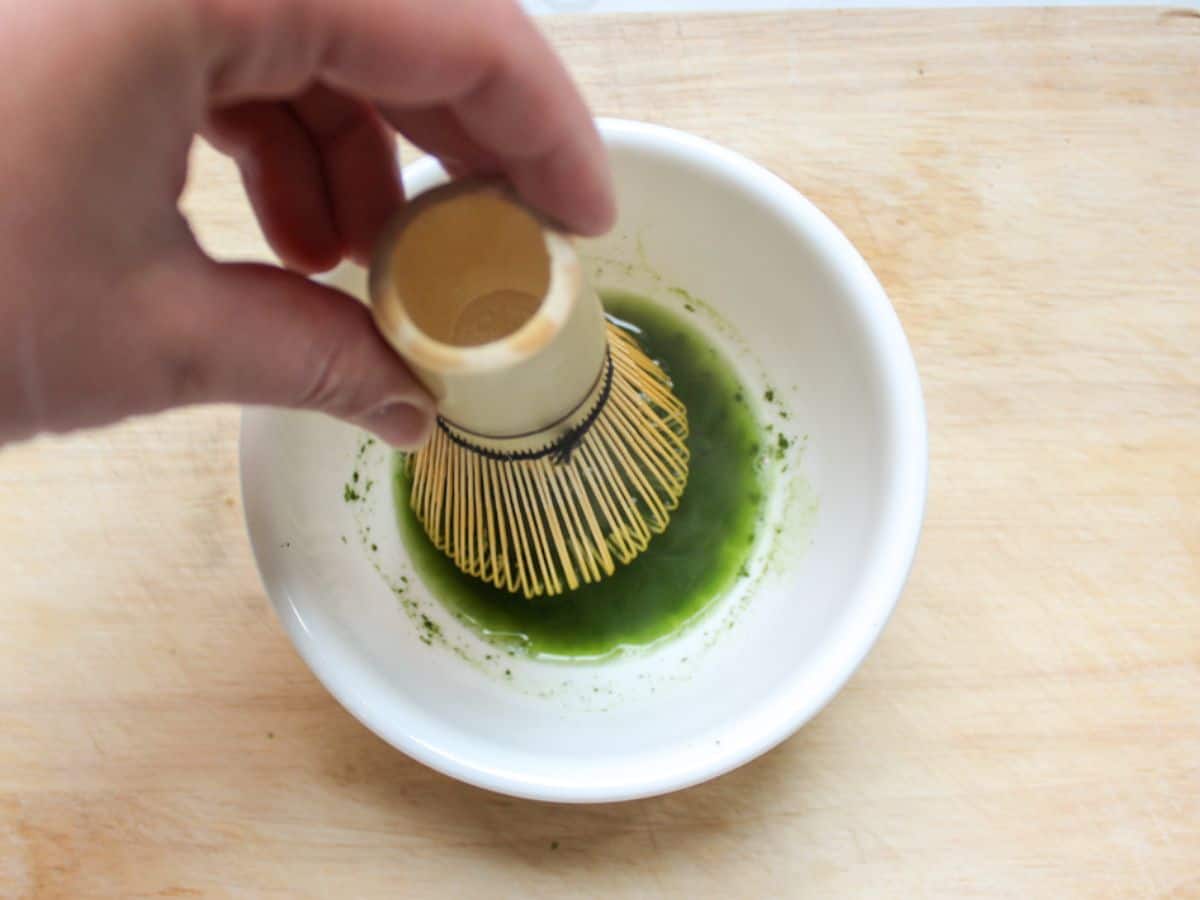 Blend
In a blender, add one cup of milk and a few strawberries. Do not forget to rinse them well before blending.
If you are using unsweetened milk, add about one teaspoon of maple syrup, honey, or other sweetener.
Blend on high until the strawberries are well blended. The milk will become dreamy pink. I recommend tasting it and adding more sweetener if needed.
Some strawberries are quite sour and the drink may need more sugar or syrup.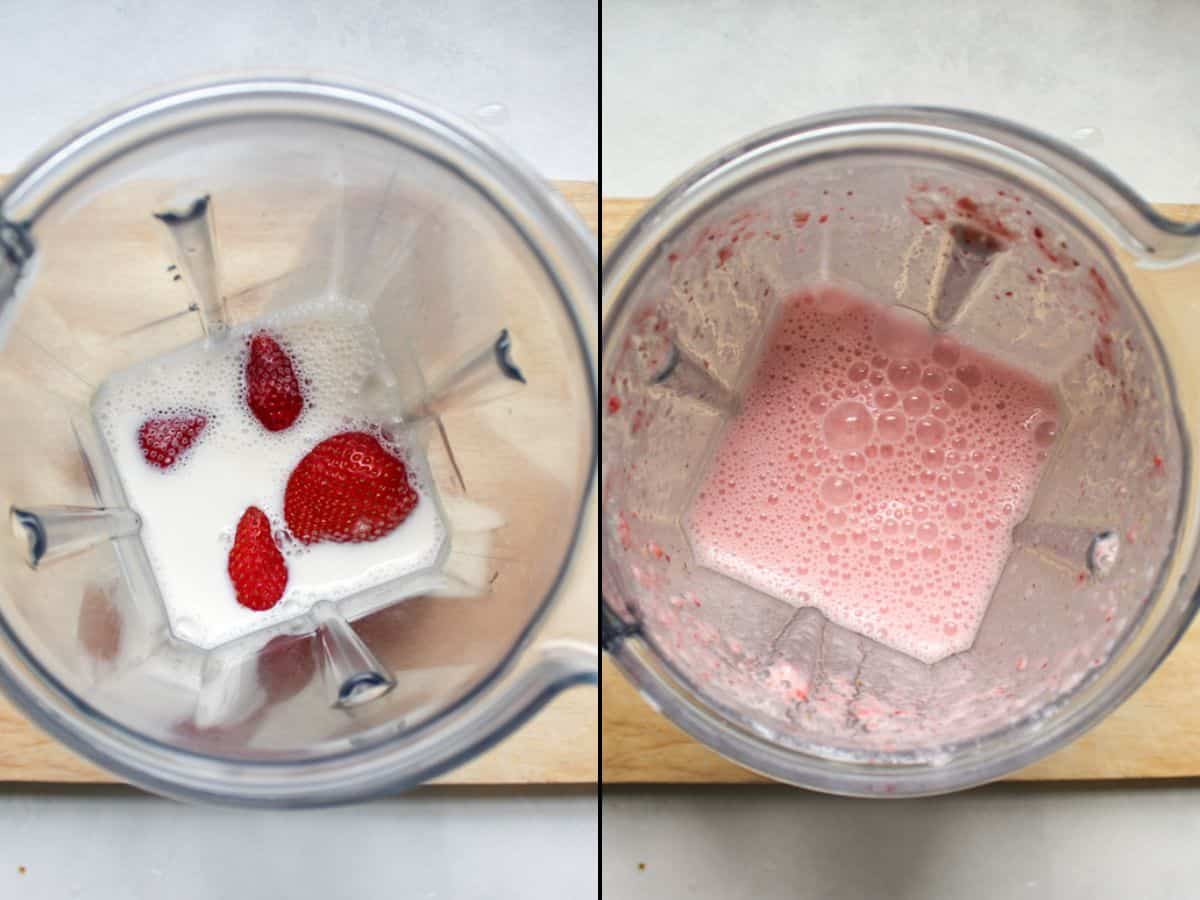 Assemble the drink
In a tall clear glass, add 4-5 cubes of ice. Pour prepared matcha over the ice. And at last, slowly pour the milk blended with strawberries.
You will have beautiful layers of green matcha and pink milk. Now, you can stir it with a straw to experience the duo of both flavors at the same time. 
Recipe shortcut: you can use store-bought strawberry milk instead of blending fresh strawberries to make this drink (not as healthy and fresh, but saves time). 
Recipe tips
A bamboo matcha whisk is the best for making matcha and it is worth getting one if you make the drink often.
Let the boiling water cool down for a few minutes before mixing it with the matcha powder. Boiling water may make matcha too bitter. It needs to be no more than 175°F.
Use fresh strawberries (avoid jams or syrups). You can also use frozen strawberries when the fresh ones are not in season.
If you decide to use fresh strawberry puree, I recommend straining using a mesh strainer to get rid of larger chunks of fruit in your drink that will block the straw flow.
When you blend the milk with strawberries, taste it and add more sweetener to your taste.
Frequently asked questions 
Can I make a strawberry matcha latte ahead of time?
For best results, I recommend preparing matcha drinks fresh and enjoying them right away. It takes only a few minutes if you already have the ingredients on hand.
Can I use another type of milk?
Yes, you can use any milk to make this latte. My favorite ones are almond, oat, or coconut plant-based drink. You can also make it dairy milk.
Can I use other fruits instead of strawberries?
Sure, instead of strawberries, try using blueberries or blackberries.
📖 Recipe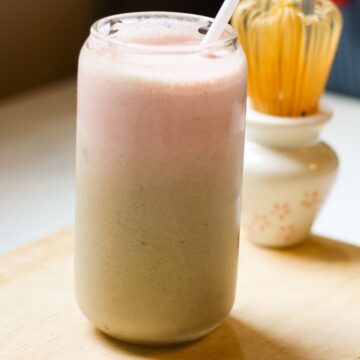 How to Make Iced Strawberry Matcha Latte
Learn how to make an iced strawberry matcha latte at home. This creamy latte is crafted with green matcha powder, almond milk, and fresh strawberries. Treat yourself to this energizing and vibrant drink in the morning or afternoon.
Equipment
1 bamboo matcha whisk or regular whisk

1 bamboo scoop or measuring teaspoon

1 wide bowl

1 Blender
Ingredients
1-2

scoops (½-1 teaspoon)

green tea matcha powder

2

ounces

hot water, about 175°F

6

ounces (¾ cup)

milk, dairy or plant-based

3

fresh strawberries, rinsed and stems removes

1

teaspoon

agave nectar or sugar to taste

if using unsweetened milk

3-4

ice cubes
Instructions
In a small bowl, add 1-2 bamboo scoops ( or ½-1 teaspoon) of green matcha. Pour 2 ounces of hot water over it and whisk with the bamboo whisk in a "W" motion until one consistency. Set aside.

In a blender, add ¾ milk, 3 strawberries and agave nectar or sugar (if using unsweetened milk). Blend well. Taste the strawberry milk and add more sweetener if needed.

In a tall glass, add ice and pour prepared matcha over it. Slowly pour strawberry to fill the rest of the glass. Enjoy!
Notes
Matcha: use culinary or ceremonial grade matcha, but culinary is more recommended for making lattes.  Milk: you can use any dairy or plant-based milk. Strawberries: fresh or frozen can be used. Caffeine: 1 teaspoon of matcha powder contains about 176 mg of caffeine. All nutrition facts are only estimate and should be used for information purposes only.
Nutrition
Serving:
8
oz
Calories:
80
kcal
Carbohydrates:
15.2
g
Protein:
1
g
Fat:
2
g
Monounsaturated Fat:
1.1
g
Sodium:
113
mg
Potassium:
181.1
mg
Fiber:
1.4
g
Sugar:
11.6
g