Acorn squash bread is a delicious quick bread made with flour, fresh acorn squash puree, eggs, oil, coconut sugar, spices and chocolate chips. It will become your new favorite fall treat.
I love fall and winter baking. When the weather gets colder, it is a perfect time to bake this homemade squash bread to enjoy it with a cup of tea or coffee, and as a bonus, your house will smell amazing after making this loaf.
Jump to:
Why you will love this acorn squash bread recipe
it is a sweet treat, but with purpose - loaded with a nutritious acorn squash puree.
great sweet breakfast idea for the holiday season.
very easy to pack in your lunch box.
it is super easy to make using simple ingredients.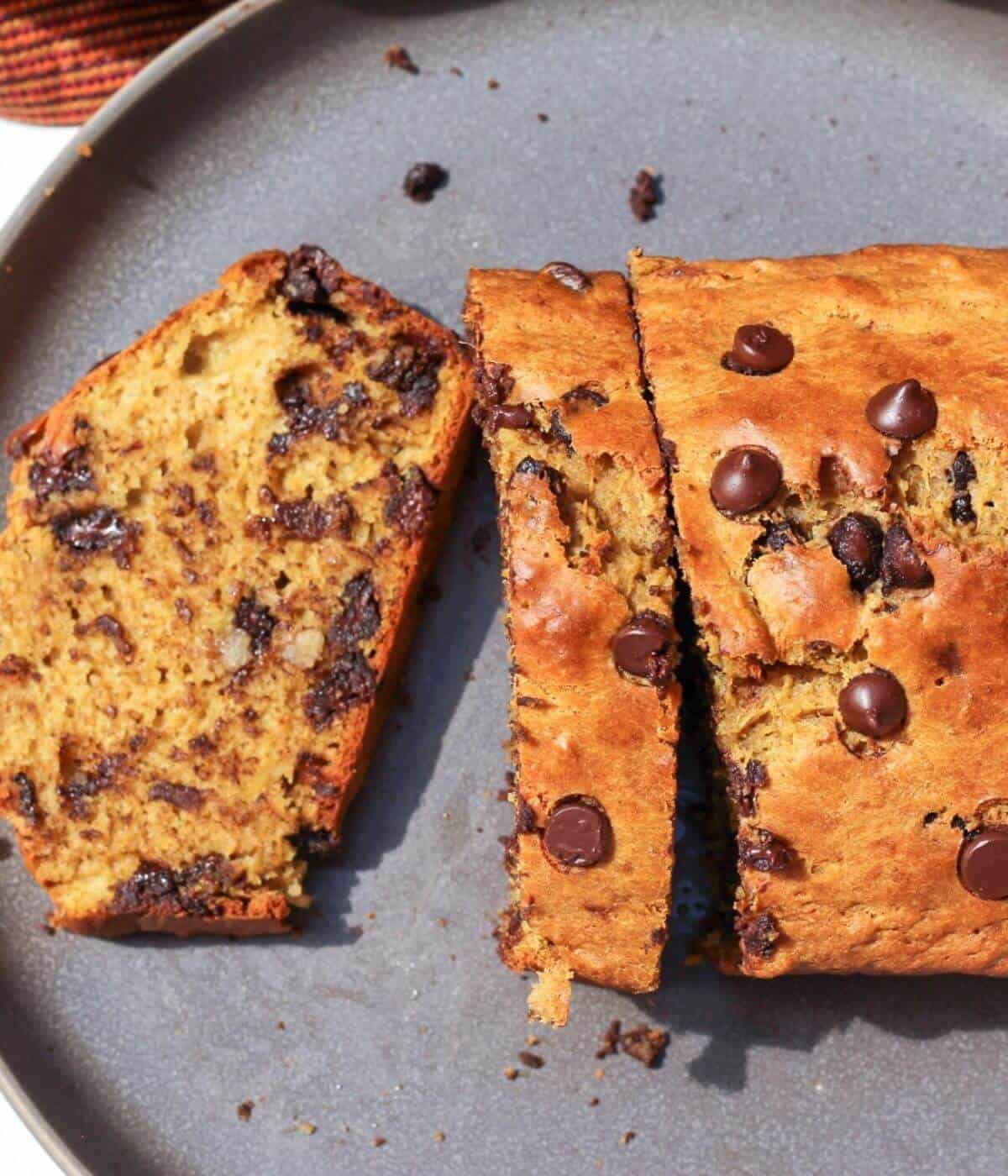 Ingredients
Fresh Acorn Squash - You will need a small acorn squash to make a homemade puree for our bread.
Flour - I used all-purpose unbleached flour. You can substitute half of it with whole wheat flour.
Baking Soda and Baking Powder - these two ingredients will create a perfect texture and will help the load rise.
Salt - Small amount of salt to balance the flavors and sweetness.
Warm Spices - I used cinnamon, nutmeg and cloves. You can simply use a teaspoon or two of the pumpkin spice mix.
Eggs - eggs need to be a room temperature. Just keep them on a kitchen counter for about 15 minutes before adding them to the batter.
Olive Oil - Olive oil is a great and simple non-dairy ingredient to make sweets and muffins. It creates a light texture. You can also use canola oil or coconut oil.
Coconut Sugar - I love to bake with coconut sugar. You can use the same amount of cane or brown sugar instead.
Chocolate Chips - I do not add much sugar to my batter, but I always add a generous amount of chocolate chips. This way the bread will have the right amount of sweetness.
See the recipe card below for ingredients quantities.
Home-made acorn squash puree
For this recipe, we will need to make our puree. It is super easy, just takes a little time. You can make it ahead of time and store it in the fridge for a few days.
Preheat the oven to 400°.
First, rinse the acorn squash and take off any stickers. Cut it in half and use a spoon to remove the seeds and strings.
Now, lay your baking sheet with parchment paper. Place squash halves on parchment paper, facing the cut side down. Bake for 30-40 minutes or until the squash is soft when pierced with the fork. Let the squash cool down until safe to handle.
Using a large spoon, scoop the flesh out of the squash. Discard shells. Add the acorn flesh to a food processor and blend it at high speed until you have a smooth puree.
Note: If you do not have a food processor, just mash it with a fork until smooth. Acorn squash is stringy, so it is better to use a food processor if you can. Set the pureed squash aside for now.
How to make acorn squash bread
Preheat the oven to 375°F. Lay a bread loaf pan with parchment paper or spray with some cooking oil.
In a large mixing bowl combine four, salt, baking soda, baking powder, and spices. Whisk with the fork all dry ingredients well.
Add eggs, olive oil, and sugar to a smaller bowl to make a wet mixture. Mix with a fork or a whisk until combined. Add a squash mixture and mix again until one consistency.
Combine dry and wet ingredients. Use a wooden spoon to mix until a soft dough forms, scraping the sides of the bowl to mix all the ingredients into one consistency. Fold in chocolate chips, leaving about 20 pieces for the topping.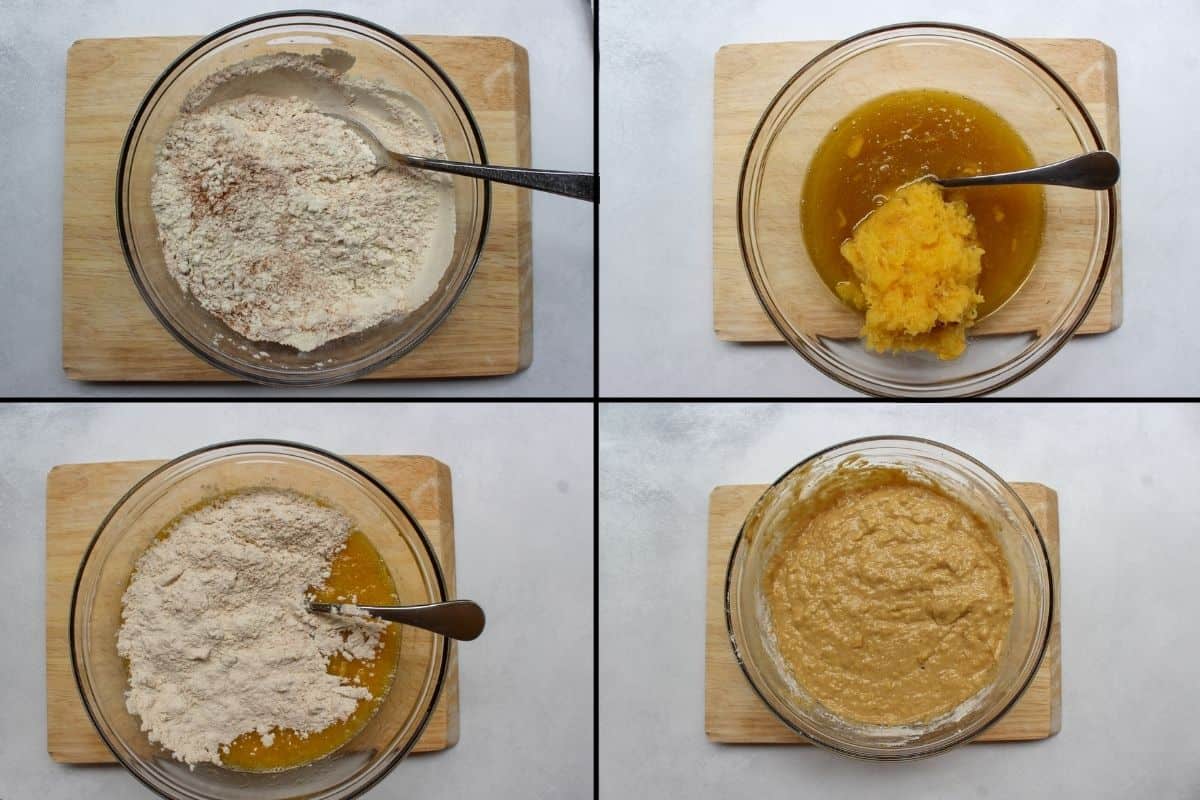 Add the batter to a prepared loaf pan. Spread the remaining chocolate chips on top of the loaf.
Bake for 40-45 minuted or until the cake tester comes out clean and the top of the bread looks golden brown.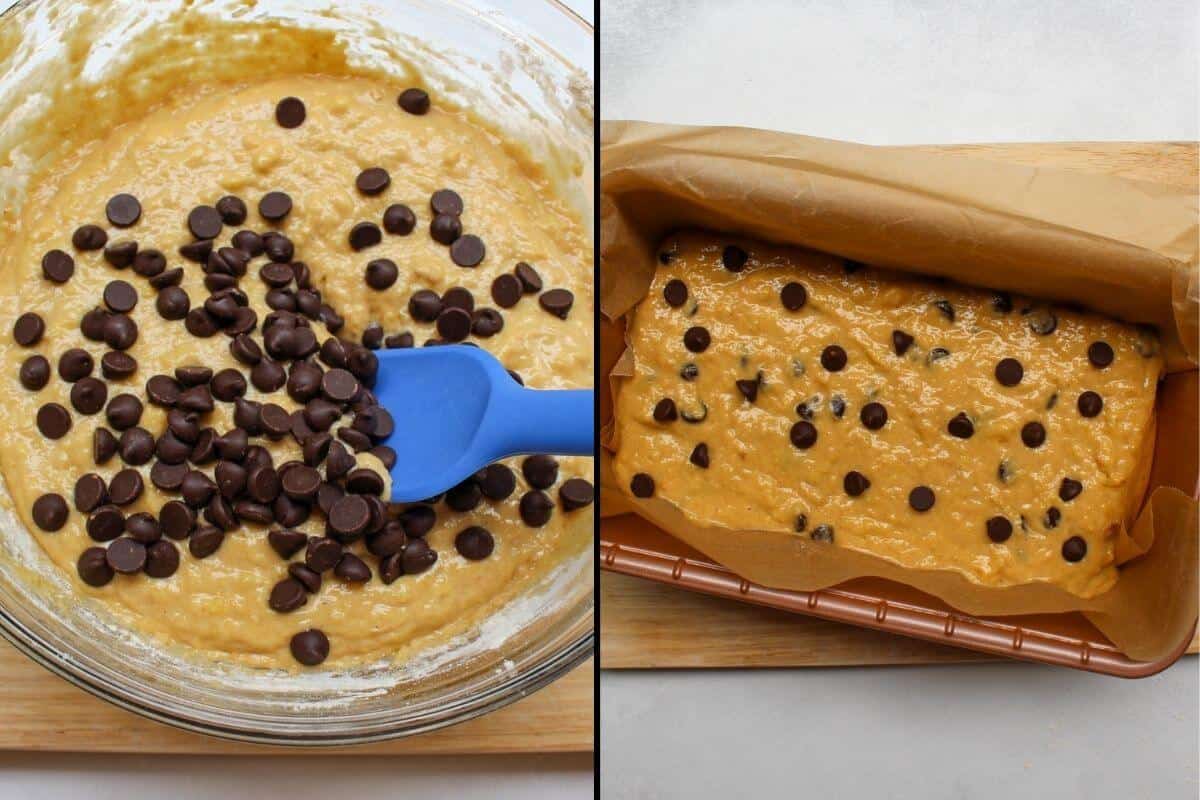 Let the bread cool down for 10 minutes on a wire rack. Slice it and enjoy warm or cold.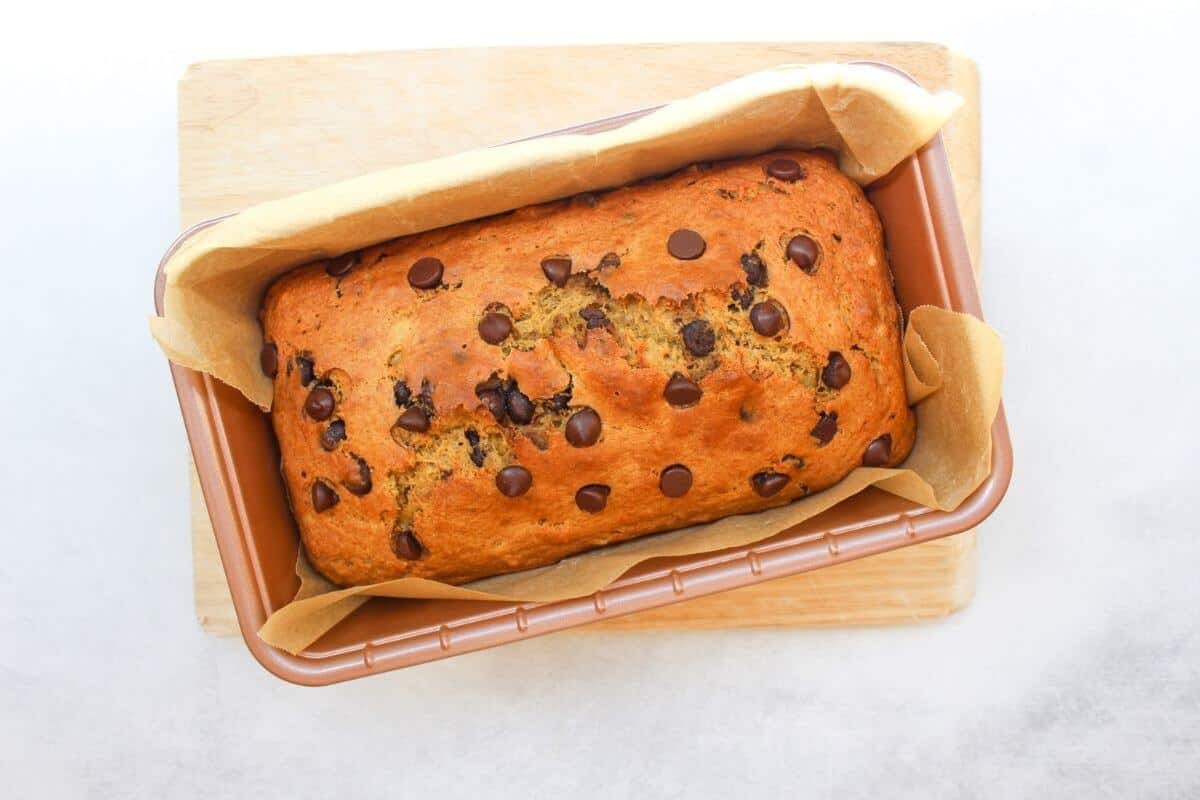 Tips for success
Oven temperature will depend on your altitude. I am at a high Colorado altitude, so 375°F is a perfect temperature to make a loaf. At lower altitudes bake this acorn bread at 350° for about 45-60 minutes.
Use room temperature eggs. Take the eggs out 15 minutes before making the bread dough.
Use parchment paper inside the bread loaf or spray it with the cooking oil spray to prevent the bread from sticking.
If you have mini bread loaves, divide the dough evenly and reduce the time to 20-30 minutes or until the toothpick comes out clean.
You will need only a cup of squash, consider freezing any remaining puree for other recipes.
Make a squash puree the night before to bake this bread in no time the next day.
If the top of the bread starts browning very fast, cover the top with aluminum foil to prevent it from burning.
Serving
Serve the fresh loaf for breakfast with Greek yogurt and seasonal fruits on the side.
It is great as a holiday dessert or even can be part of a holiday brunch.
Enjoy it as a sweet but nutritious snack.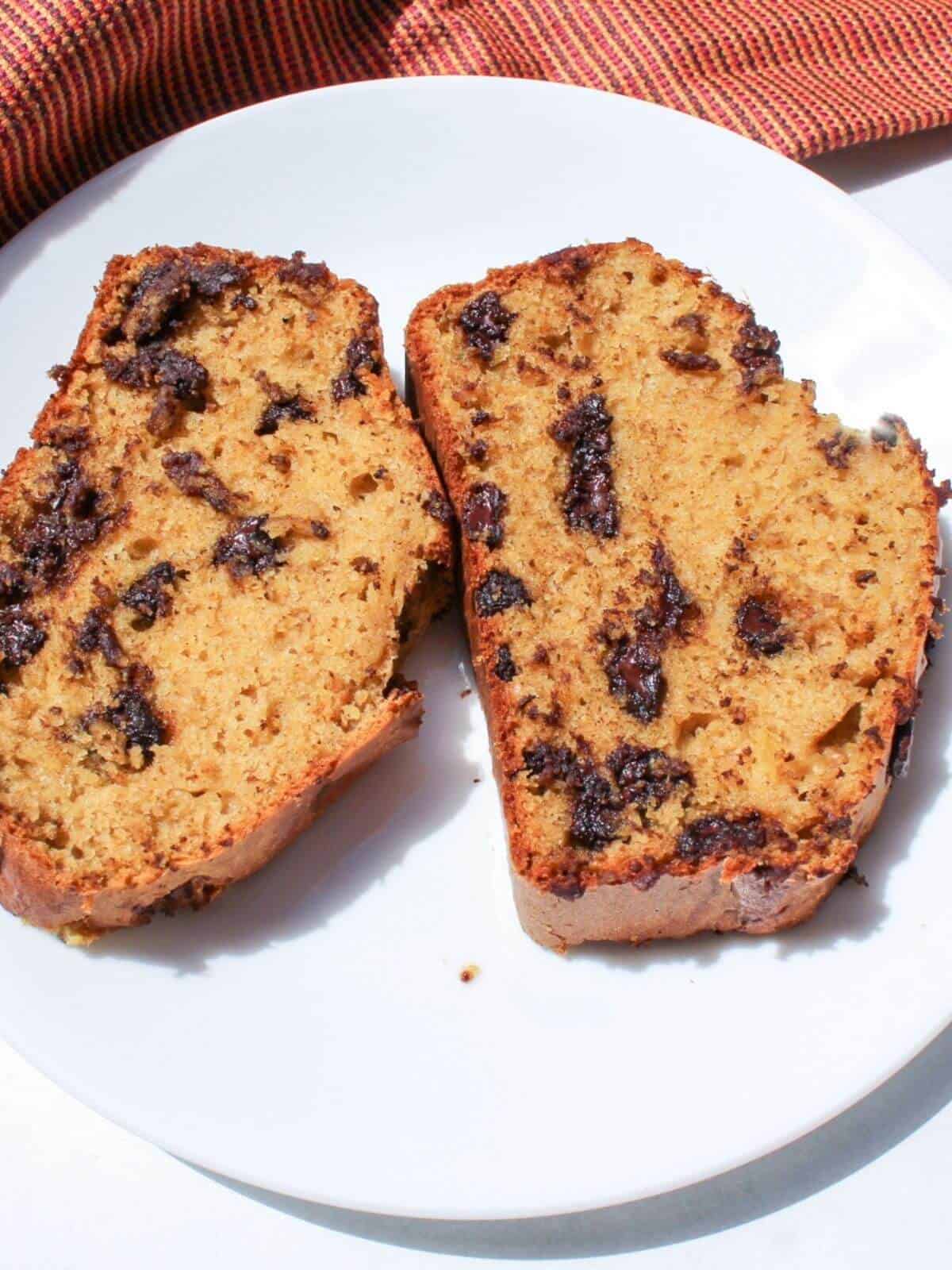 Recommended equipment
Baking dish and a sheet of parchment paper- for baking acorns
Food processor - to puree the cooked flesh of the squash
Large bowl and a medium bowl
Bread loaf pan - I used a 9.5x5 inch standard loaf pan
How to store
Refrigerate: Store the cooled bread in a Ziploc bag in the fridge for up to 3 days.
Freeze: You can freeze sliced bread for up to 3 months. Freeze it in a Ziploc bag, and have each slice wrapped in parchment paper.
Recipe variations
add 3-4 Tablespoons of pumpkin seeds to the batter.
use white chocolate chips in place of dark chocolate ones.
if not in the mood for bread - make some squash muffins. Bake them at 375° for about 20-23 minutes.
you can use this recipe to make pumpkin bread, just substituting acorn squash puree with the pumpkin puree (homemade or canned).
Other fall season sweet recipes to try
📖 Recipe
Acorn Squash Bread With Chocolate Chips
Acorn squash bread is a delicious quick bread made with flour, fresh acorn squash puree, eggs, oil, coconut sugar, spices and chocolate chips. It will become your new favorite fall treat.
Equipment
1 Baking pan

1 food processor

for making puree (fork can be used to mash it)

2 mixing bowls

1 set of measuring spoons

1 Measuring Cup

1 bread loaf pan 9.5x5 inch

2 sheets of parchment paper

or non-stick cooking spray
Ingredients
1

small acorn squash

or 1 cup of acorn squash puree

1 ¾

cups

all-purpose flour

1

teaspoon

baking soda

½

teaspoon

baking powder

¼

teaspoon

salt

1

teaspoon

Cinnamon

or more for extra spice

¼

teaspoon

nutmeg

¼

teaspoon

ground cloves

2

eggs

room temperature

½

cup

olive oil

½

cup

coconut sugar

or cane

⅔

cup

semi-sweet chocolate chips
Instructions
Preheat the oven to 400°. Cut the acorn squash in half and remove the seeds. Place the squash halves facing the cut side down on a baking sheet with parchment paper. Bake for 30-40 minutes or until the flesh is soft. Scoop out the flesh and add it to the food processor. Pulse until smooth. Measure one cup of puree. Freeze the rest for other recipes.

Reduce oven temperature to 375°F. Lay a sheet of parchment paper into the bread loaf pan or use cooking spray to grease it. 

In a medium bowl, add flour, baking powder, baking soda, salt, and spices. Whisk well to combine. 

In a large bowl, add eggs, oil, and sugar. Whisk to mix. Now, add acorn squash puree. Mix well until one consistency. 

Add dry ingredients to wet ones. Use a wooden spatula to mix the batter just until combined. Fold in chocolate chips leaving about 20 for topping.

Transfer batter to the bread loaf pan. Top with the remaining chocolate chips.

Bake for 40-45 minutes or until the cake tester (or toothpick) comes out clean. Let it cool down a little bit. Slice and enjoy. 
Notes
use room temperature eggs.
if baking a lower altitude (I am at Colorado high altitude) consider baking the bread at 350°F.
use parchment paper or cooking spray top grease the bread loaf pan.
if the top of the bread starts browning too fast, cover it with foil.
the nutrition information is only estimate. For accurate numbers measure all the ingredients and use calorie and macro tracking apps.
Nutrition
Serving:
1
slice
Calories:
315
kcal
Carbohydrates:
40.5
g
Protein:
3.7
g
Fat:
15.4
g
Sodium:
162
mg
Fiber:
2.6
g
Sugar:
19.8
g