Your ultimate guide on how to make a perfect air fryer whole sweet potato. The sweet potato comes out fluffy and creamy on the inside with a crispy skin on the outside.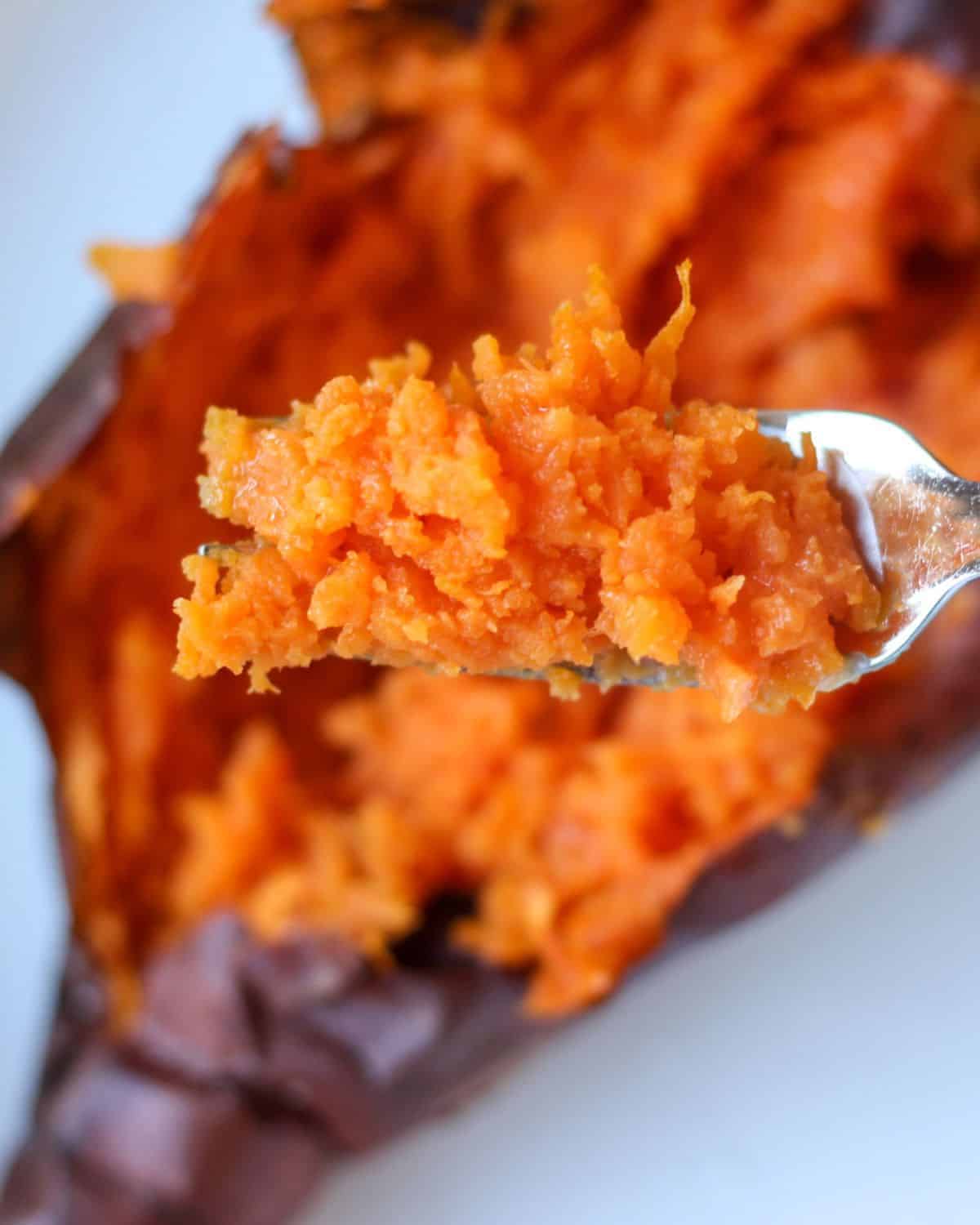 Air fryer whole sweet potato recipe
Baked whole sweet potatoes make not only a nutritious side dish, but can be used to make casseroles, muffins, pancakes, and more.
You may also like our air fryer cubed sweet potatoes, instant pot sweet potatoes or oven roasted sweet potato rounds.
Sweet potatoes have a creamy and fluffy texture when cooked properly. This vegetable is an excellent source of dietary fiber, beta-carotene, vitamin C, and potassium.
Here is why you will love this recipe:
Time saver - much less time compared to baking it in the oven.
Energy saver - especially if you are using a gas oven.
Less oil - you will need just a little bit of oil, or no oil at all (if you don't care about crispy skin).
Mess-free - air fryer is very easy to clean, but if you lay the air fryer basket with some parchment paper, it will become a zero-mess recipe.
Versatile - meal prep, baked desserts, casseroles.
How to pick the best sweet potato for air frying
When you are baking a whole potato (oven or air fryer), it is very important to pick the right potato for the best results.
Type: pick sweet potatoes with orange or red skin and orange flesh. Garnet or Jewel is the most popular.
Quality: fresh sweet potatoes are firm to the touch and do not have any bruises or scratches.
Shape/size: slim and long sweet potatoes will bake evenly and much faster. See the image below, where on the left, we have a perfect Garnet potato for air frying it whole. The one on the right is great for cooking it cubed.
How do I know when the sweet potato is cooked
Look: cooked sweet potato will have wrinkled-looking skin.
Test: insert a knife or a fork into the potato. It should easily go through and slide off without any resistance if the potato is cooked.
Ingredients
You can find the ingredients' quantities in the recipe card below.
Below is the overview of all ingredients I used to make the recipe:
Sweet Potato: Garnet or Jewel potatoes with red flesh are the best for air frying them whole.
Olive Oil: if you love crispy skin, rub the potato with a little bit of olive oil before air frying.
Salt: You do not have to use any salt, but it's great if you plan to eat the potato as a side dish.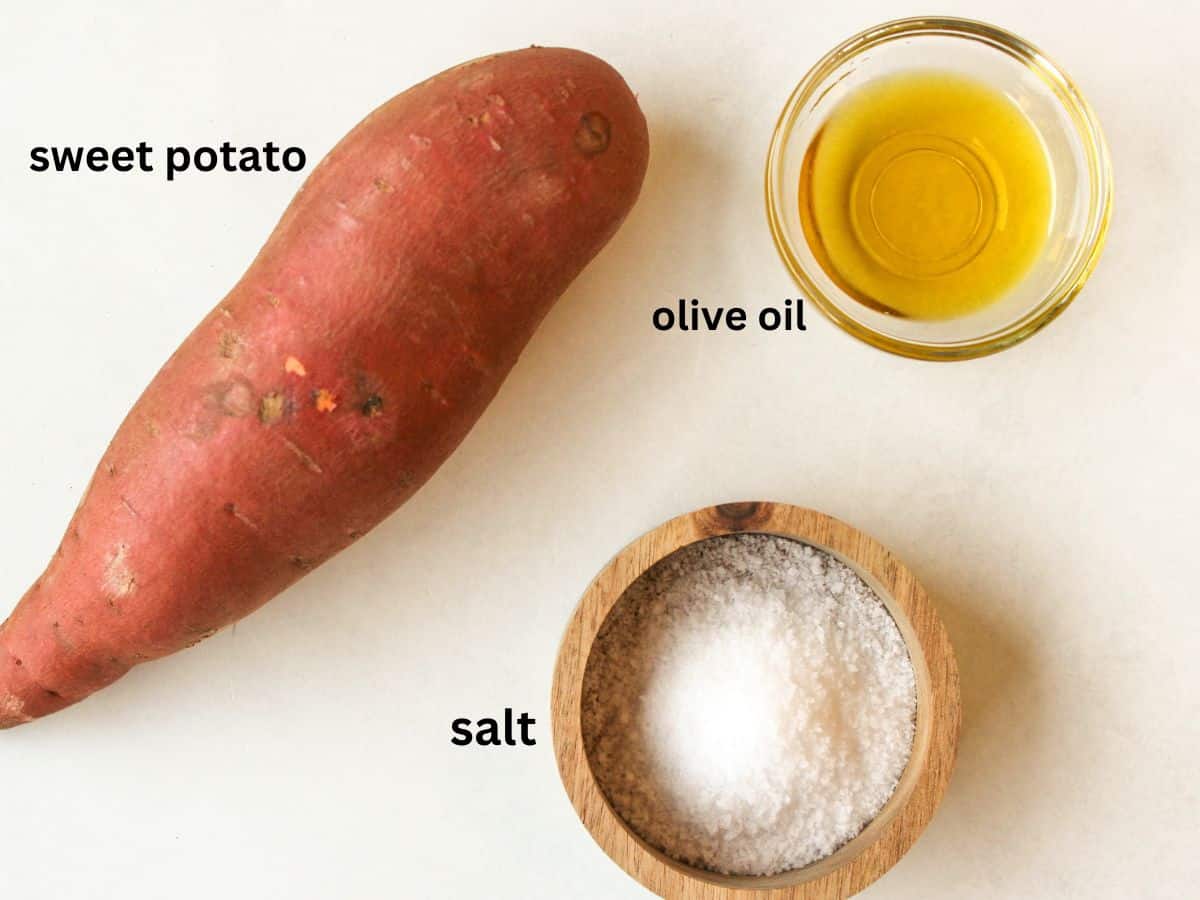 How to air fry a whole sweet potato
Step 1. Rinse and scrub the potato well to get rid of any dirt. Pat it dry with some paper or a cloth towel.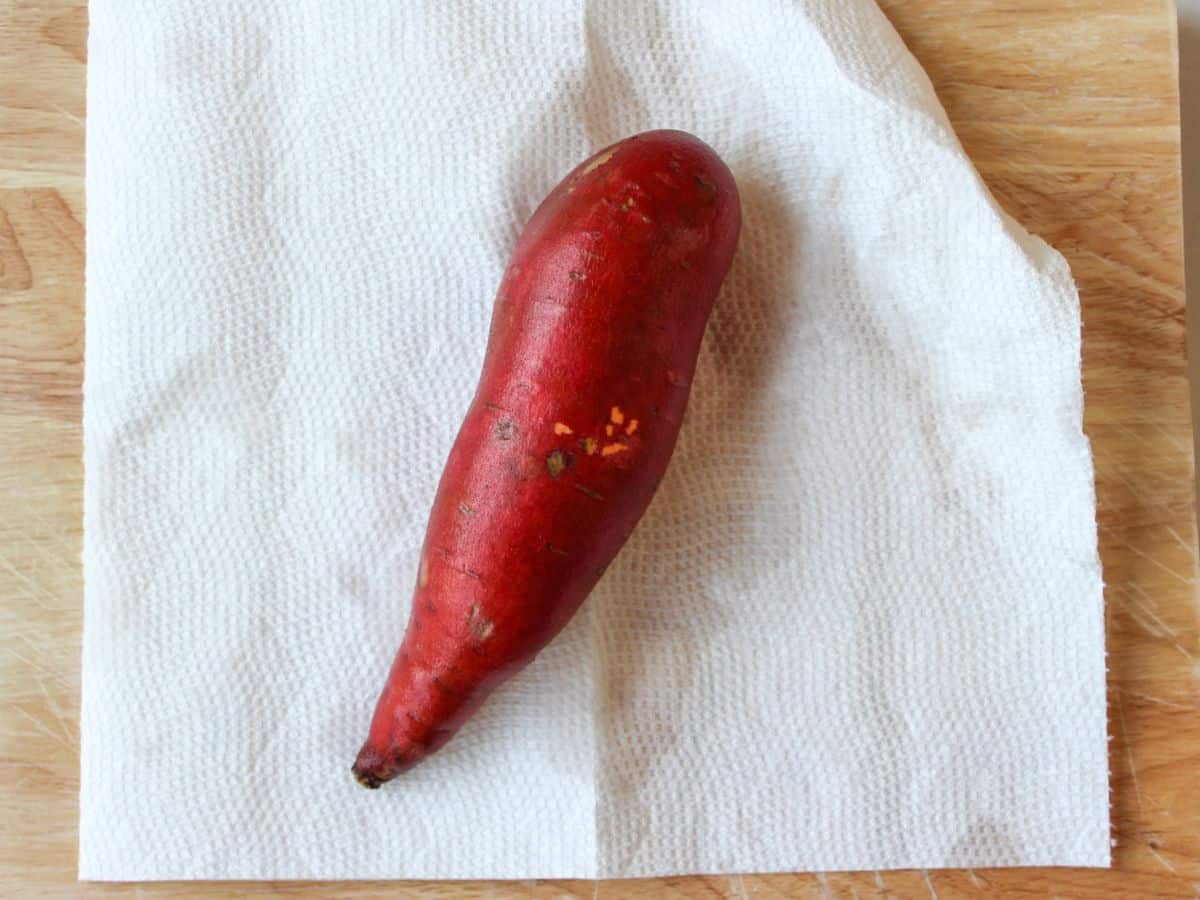 Step 2. Use a fork or a knife to prick the skin 6-8 times. Otherwise, the potato can burst while cooking due to moisture evaporation.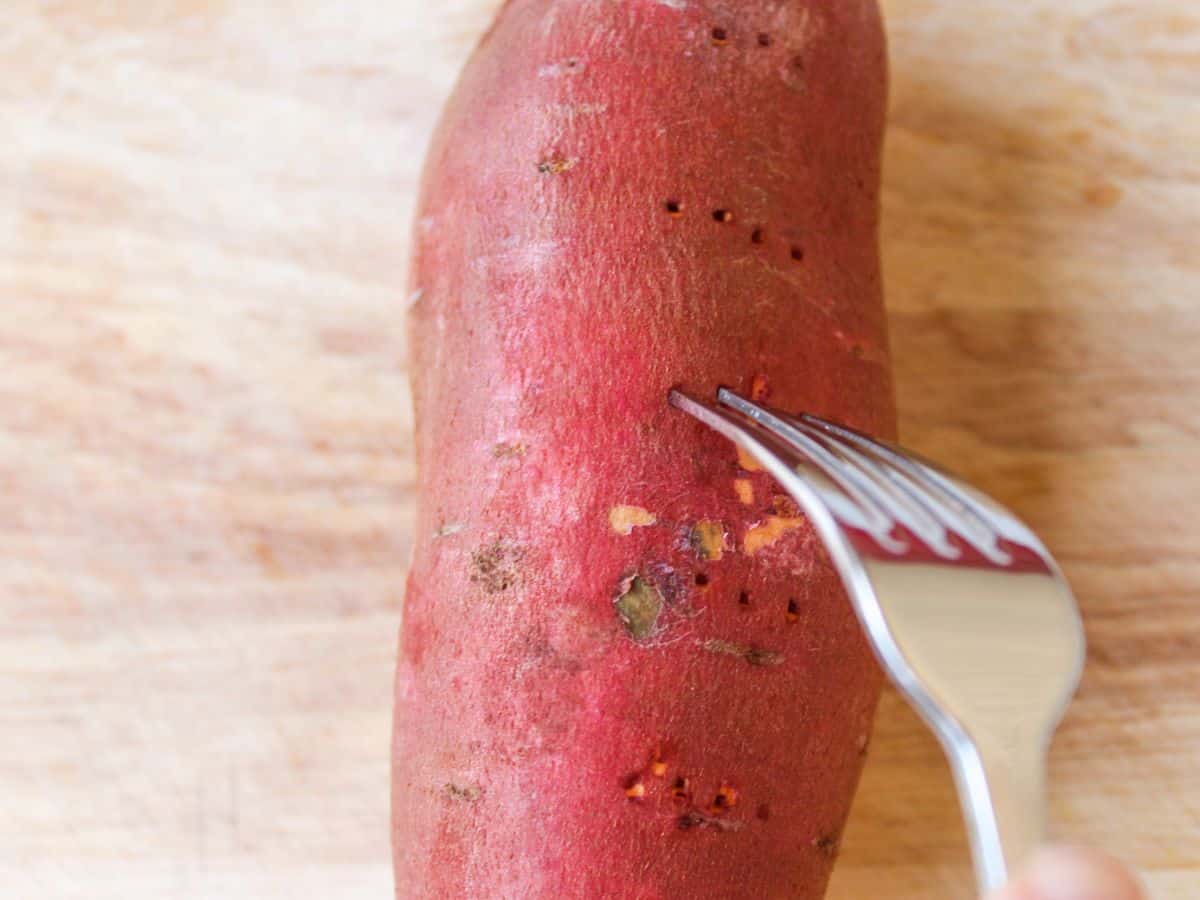 Step 3. You can skip the oil and salt but the skin will be not as crispy and not as tasty. Rub just a thin layer of olive oil all over the potato skin and then with some salt.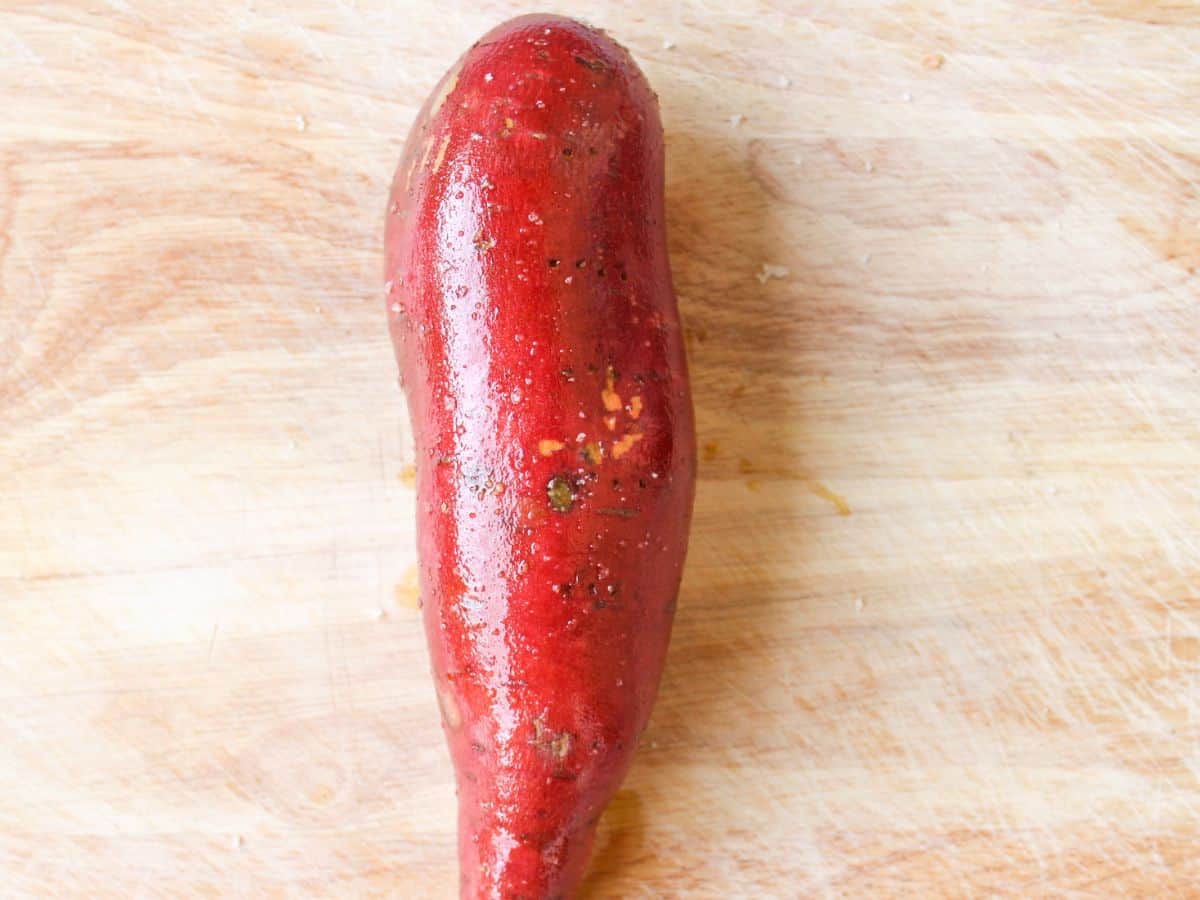 Step 4. Place the potato in your air fryer basket and set it on the "bake setting" if you have it. Otherwise, the "air fry setting" also works. Air fry the whole potato at 375°F for 40 minutes or until the fork pierced into the potato goes easily with no resistance.
Note: it took my potato to cook 40 minutes at 375°F in Ninja Air fryer. You may need more or less time depending on the potato size and the air fryer brand.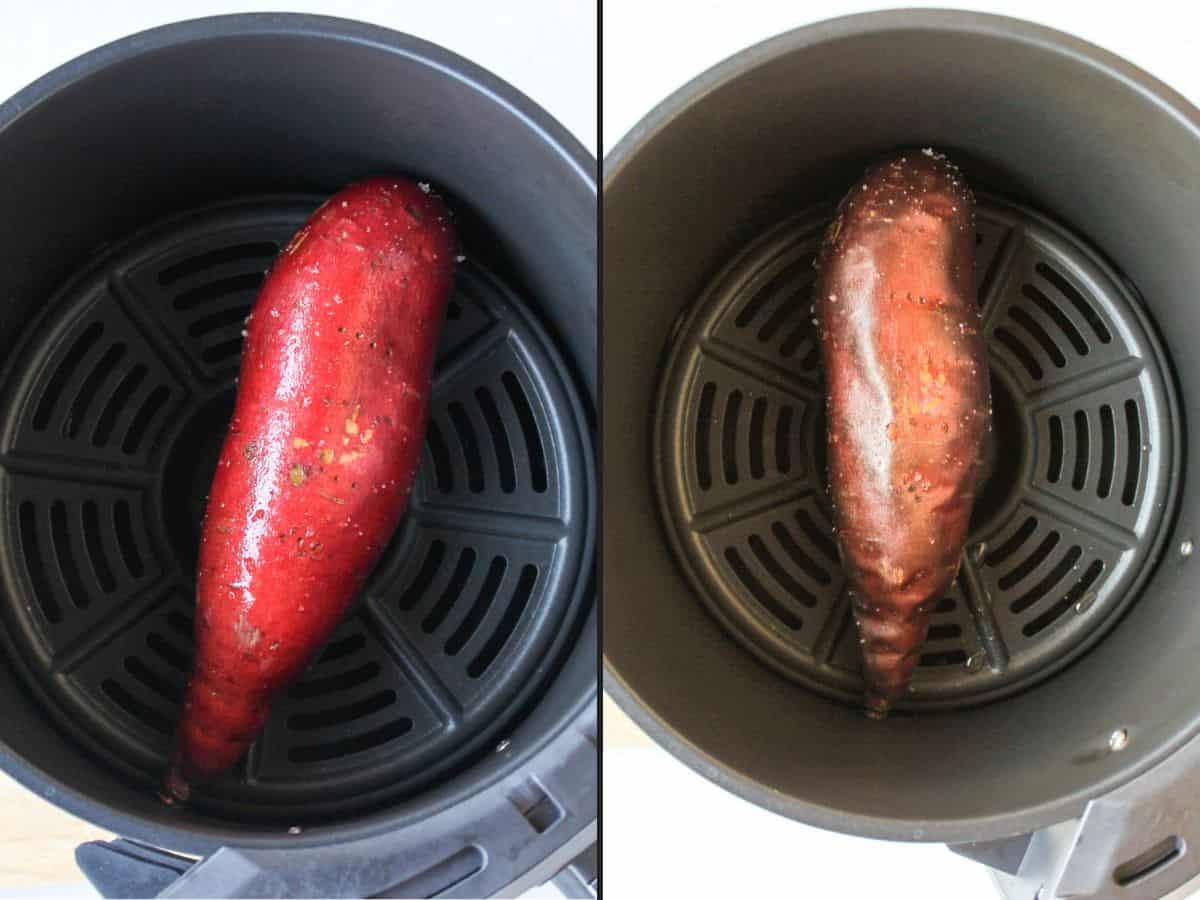 The wrap-in-foil method
You can also wrap washed whole sweet potato tightly in foil and cook it in the air fryer:
add about 15 minutes of cooking time.
no oil is needed for this method.
the skin is soft and not crispy.
the flesh comes out creamier and moister when cooked in foil.
Serving ideas
Side dish: make a meal by serving it with turkey zucchini meatloaf, marinated chicken legs, and chicken rissoles.
Stuffed: beans, ground-cooked meat, cheese, and corn are great for stuffing sweet potatoes.
Mashed: mashed sweet potato can be used in muffins, pies, pancakes, casseroles, and more. You can freeze it in portions to have it available at any time.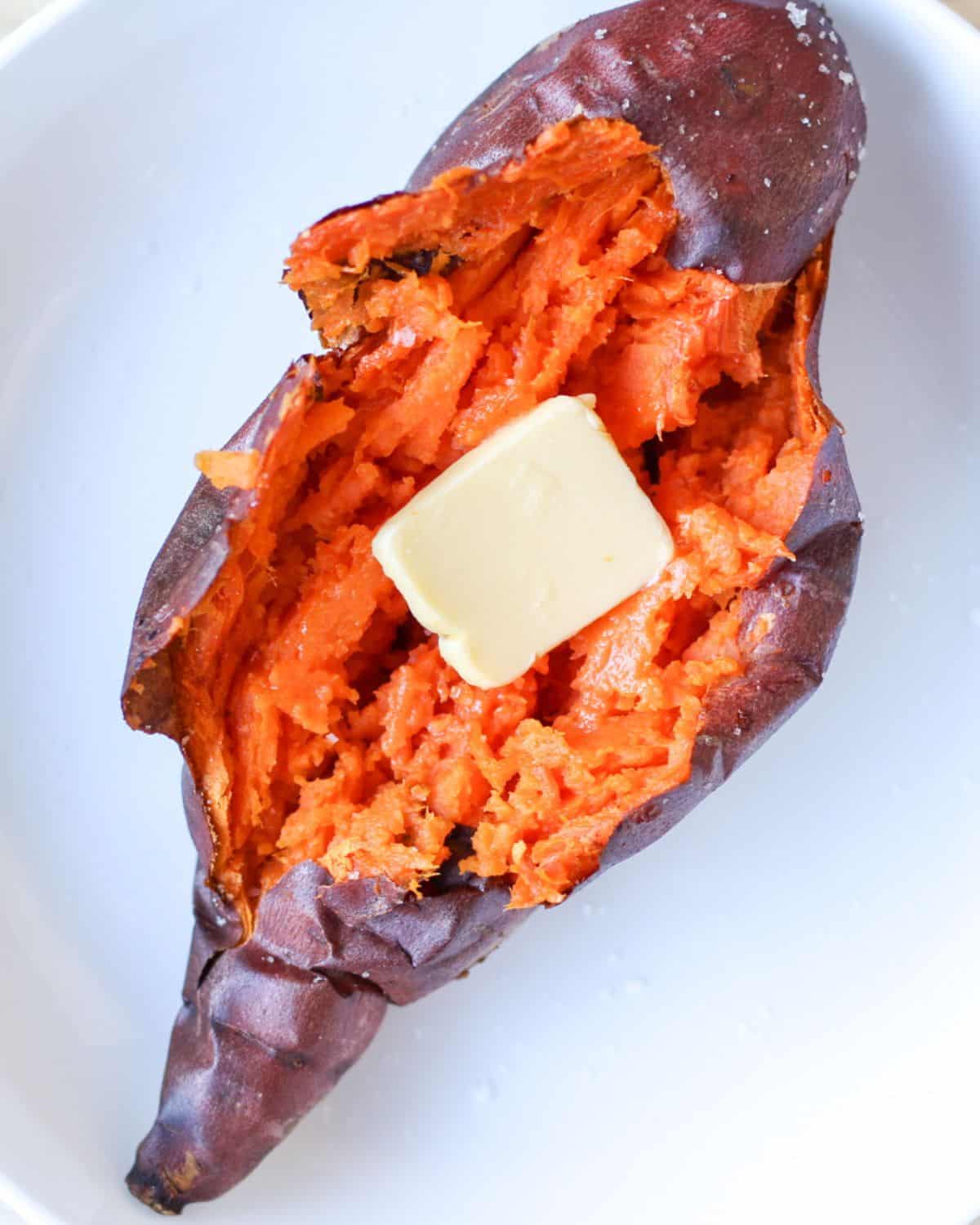 Equipment
I used a Ninja air fryer unit to make this recipe.
Any brand of air fryer works well with some cooking time adjustment since all air fryers cook differently.
Helpful tips
Pick longer and slim sweet potatoes rather than wide ones for even cooking.
Do not forget to prick the potato skin with a fork.
Rub with olive oil for crispy skin.
Wrap in foil before cooking if you like tender skin.
Recipe cooking temperature is flexible, but I suggest setting your air fryer between 350-375°F.
Mash and freeze the leftovers to have on hand for other recipes.
How to store and reheat sweet potatoes
Store whole or mashed sweet potato in an air-tight container or a bag for up to 3-4 days.
Reheat it gently covered in a microwave oven with a little bit of water to prevent it from drying.
You can reheat it in the air fryer at 350°F for about 5 minutes.
I do not recommend freezing the whole potato, but you can mash it and freeze it in portions to use later. It can be stored in the freezer for up to 3 months.
Frequently asked questions
Do I need to prick the potato before air-frying?
Pricking helps to escape moisture and prevents the potato from bursting. It rarely happens, but why risk? Poking will not change the taste or texture of the potato.
What are the best toppings for sweet potatoes?
Butter, ghee, nuts, brown sugar, or more savory such as chili or bacon bits.
How long to cook a sweet potato in an air fryer?
It takes between 40-50 minutes to cook a whole sweet potato in the air fryer. The time may vary depending on the potato size, air fryer type, and cooking temperature.
Other vegetables to cook in air fryer
📖 Recipe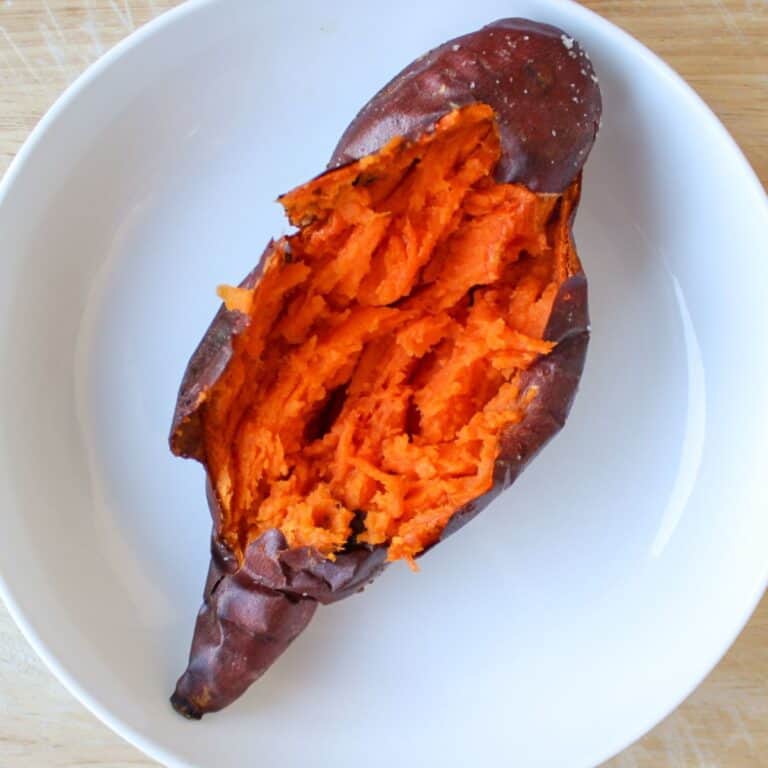 Air Fryer Whole Sweet Potato
Equipment
Air fryer

I used Ninja to make this recipe
Ingredients
1

sweet potato

garnet or jewel

½

teaspoon

olive oil

½

teaspoon

salt
Instructions
Wash, scrub and pat dry the potato. Prick the skin with a fork or a knife on all the sides.

Rub the potato with oil and salt.

Place it in the air fryer basket. Set the temperature to 375°F and cook it for 40 minutes.

Insert a fork in the middle of the potato if it it goes in without any resistance the potato is done. You may need to cook it longer, depending on the air fryer and on the size of the potato.
Notes
use a baking setting  option on the air fryer if you have.
the cooking time will vary depending on the size of the sweet potato.
if you cook more than one at once, pick the same size potatoes.
mash and freeze the leftovers to make muffins, pancakes and more.
Nutrition
Calories:
89
kcal
Carbohydrates:
18.2
g
Protein:
1
g
Fat:
1.2
g
Sodium:
296
mg
Fiber:
2.7
g
Sugar:
3
g