Purple sweet potato puree is a creamy, sweet, and savory side dish with a deep purple color. It is for sure holiday-worthy and simple enough for tonight's dinner. Crispy sage and ghee butter will add a lot of extra flavors to this amazingly delicious dish.
This purple sweet potato recipe is one of my favorite sides. I always prefer mashed sweet potatoes over white ones for a lot of reasons. Creaminess, flavor, and the addition of crispy sage leaves will make you fall in love with this easy recipe.
It pairs well with whole baked duck or air fryer turkey thighs.
So many reasons to love this recipe:
Beautiful holiday dish - tastes great and will look beautiful on your holiday table.
Easy on digestion - a combination of sweet potatoes and ghee butter will not make you feel heavy like regular potatoes loaded with butter.
Nutritious side dish - antioxidant, Vitamin C, dietary fiber, good fats (from Ghee butter).
Easy - only a few ingredients and you will not need any special equipment or too much preparation to make this side dish.
Fun - mashed purple potatoes are not only healthy but super fun for kids.
Jump to:
🍠What are purple sweet potatoes
Purple sweet potatoes are a type of sweet potato often called yams. There are a few varieties: Okinawan sweet potatoes (come from Japan) and Stokes (grown in the US). They have dark grayish-purple skin and a bright purple flash. Purple yams have a creamy texture and a sweet taste, just like regular sweet potatoes.
I usually find these potatoes at Whole Foods, Trader Joe's, Sprouts, or farmers' markets during the fall and winter months.
The purple version of a sweet potato is highly nutritious: high in antioxidants (anthocyanins and Vitamin C), dietary fiber, and potassium. Purple potatoes have a low glycemic index, meaning they will not spike the insulin levels as other types of carbohydrates.
These potatoes make a great side dish when baked, roasted, and mashed. The bright purple color will catch the eye of your family and guests.
Check out other methods you can cook different types of sweet potatoes.
📋Ingredients notes and substitutions
Purple sweet potatoes - if you are in the United States, you will probably get the Stokes variety. Pick large potatoes, because it is easier to peel them.
Ghee butter - will be used to fry the sage leaves and some for the potatoes. You can use regular butter or oil. Ghee gives a dish a unique flavor. It has a high smoking point, making it much healthier than other oils and butter. For a vegan dish, use vegan butter or olive oil.
Sage leaves - this is optional, but crispy sage will balance the sweetness and create a holiday look. If you prefer this dish sweet, add a sweetener of your choice such as honey, maple syrup, or agave. Garlic powder, black pepper, and coriander are great for a savory side dish, while cinnamon, nutmeg, and cardamom are perfect for a sweet version.
Salt - a little bit of sea salt for taste. Purple yams do not need much salt, compare to regular potatoes.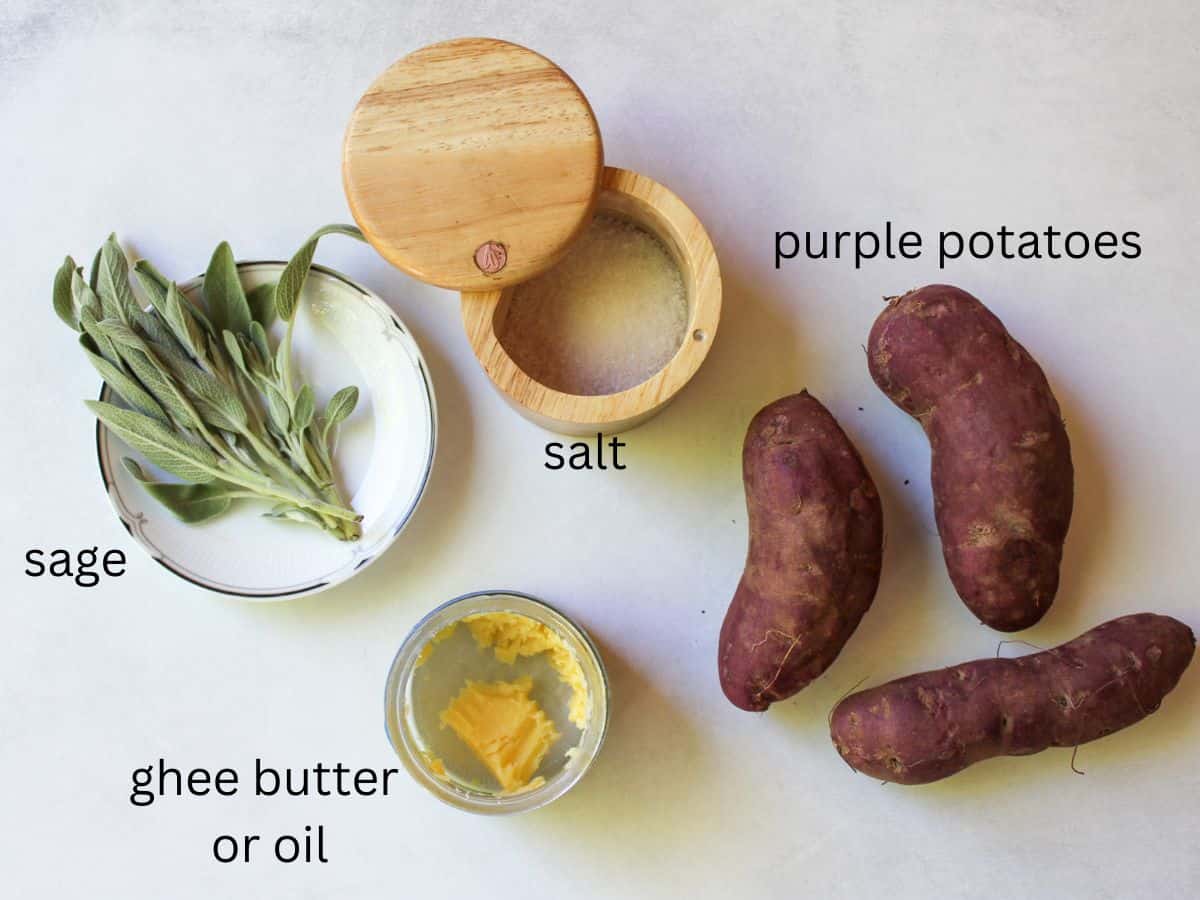 🔪Do I need to peel purple sweet potatoes
No, the skin is nutritious and can create an extra layer of texture for the dish. So, it is up to your liking to peel or not. I prefer peeling when making a puree. Also, if your potatoes are not organic, I suggest removing the skin.
Another important note, if you are keeping the skin make sure to scrub and rinse the yams extra well to void sand and dirt in your dish, and do not forget to remove any label stickers.
⏲️How to make purple sweet potato puree
Peel - wash and scrub potatoes well under cold water. Using a veggie peeler, remove the skin of the potatoes.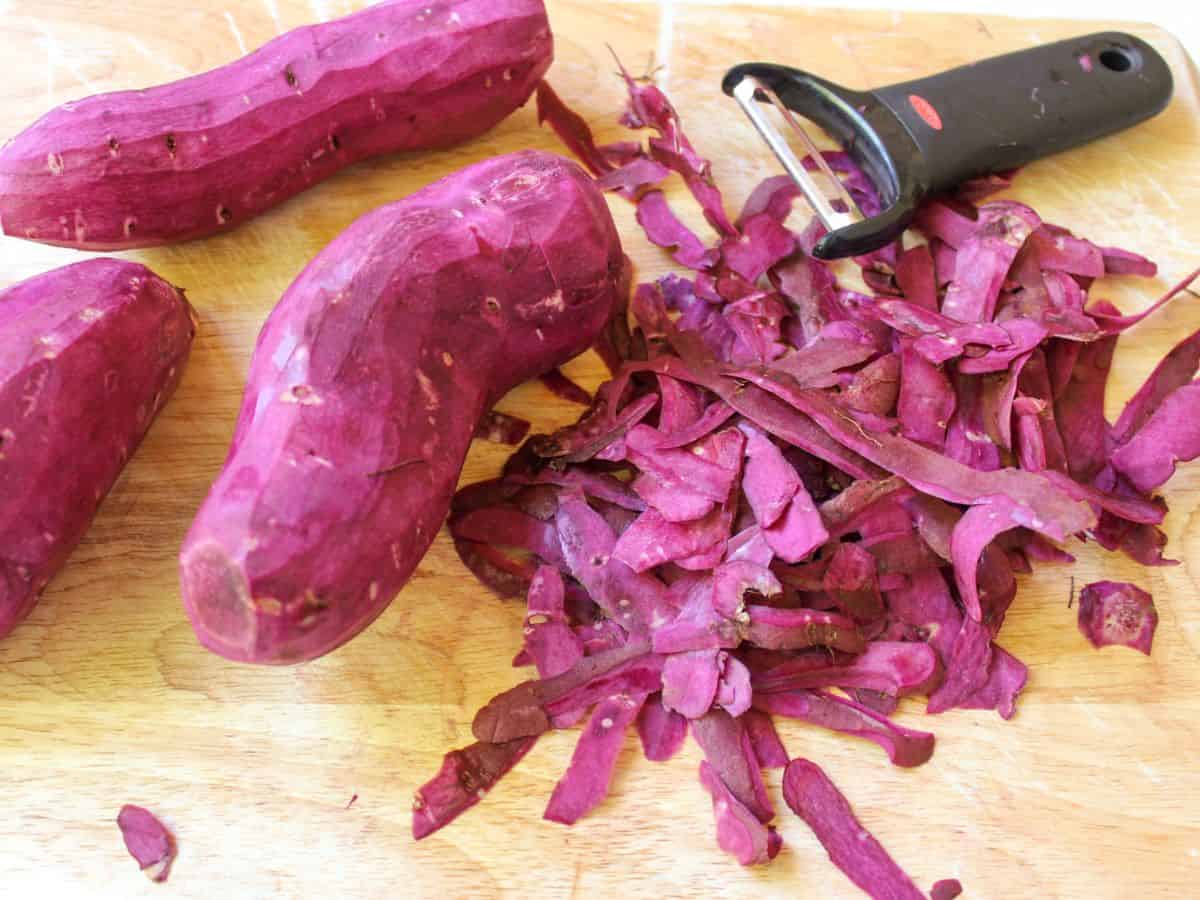 Cut - It doesn't matter how you cut the potatoes, they will be boiled and mashed anyway. I usually slice them into 1-2 inch circles and then cut them in half or quarter. The smaller pieces, the faster they will be cooked.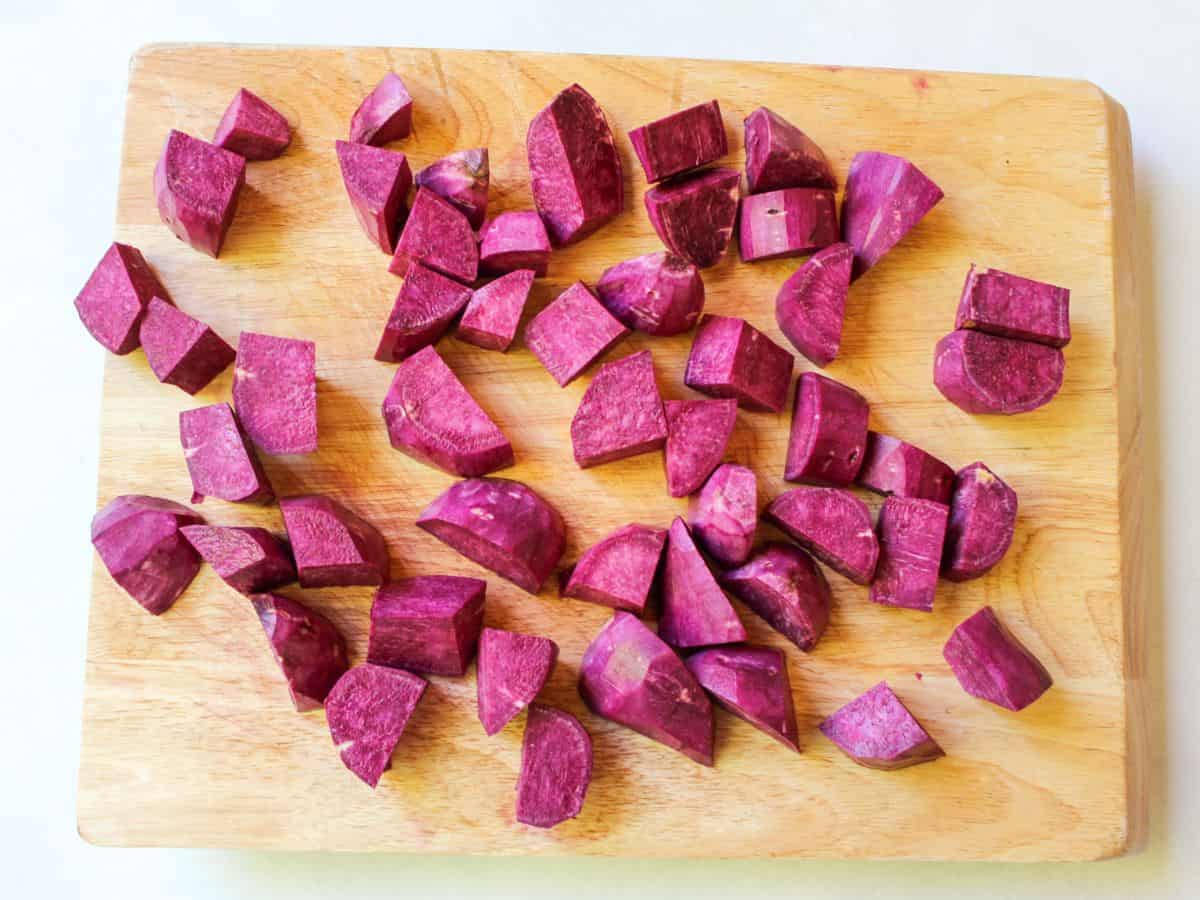 Boil - add cut potato chunks into a large pot. Pour water enough to cover the potatoes. Bring to boil and simmer on medium-low heat for about 20 minutes or until the potatoes are fork tender.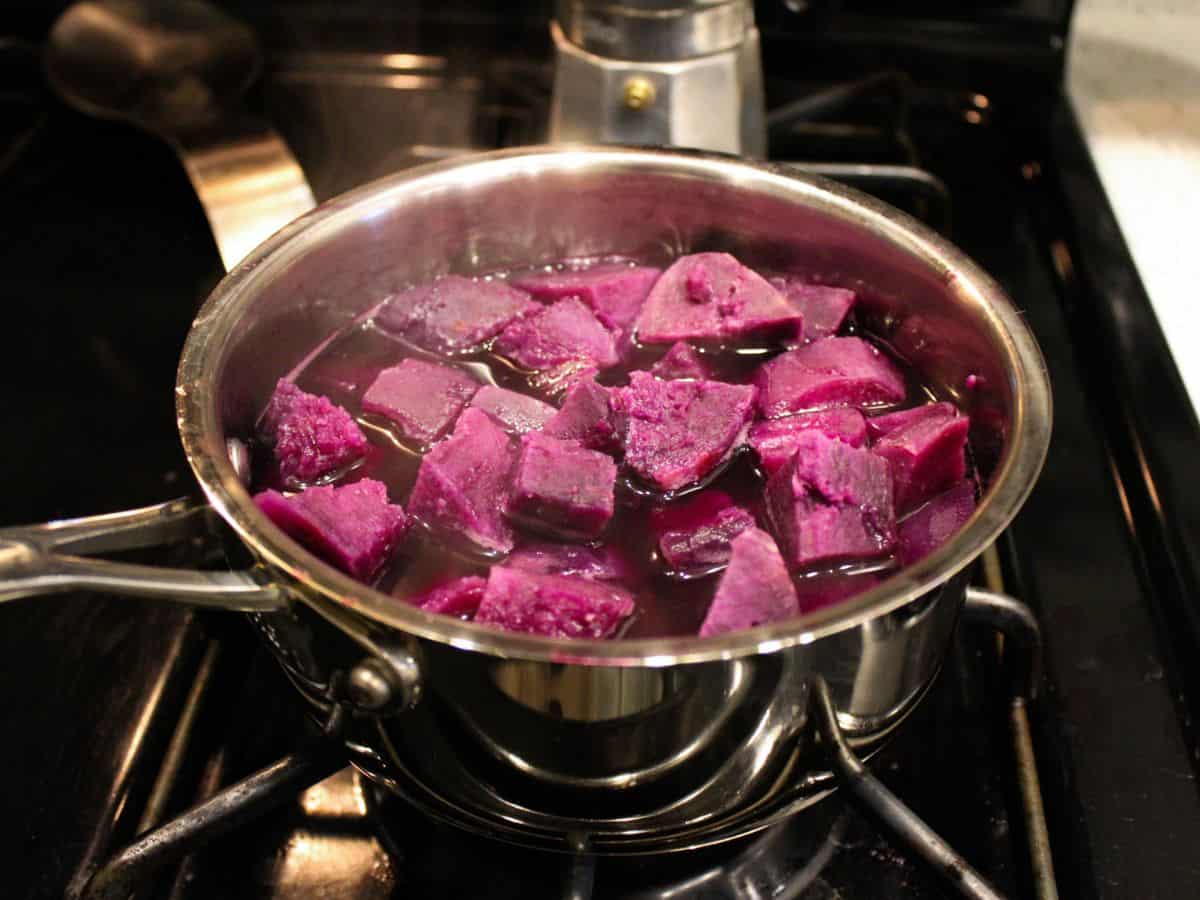 Fry sage - In a stainless steel skillet, heat 2 Tablespoons of ghee butter over medium heat. Add sage leaves and cook them on medium-high heat for 2 minutes on each side until they become crispy. Sprinkle a pinch of salt over the cooked sage leaves.
Mash - now, drain the water reserving about ½ cup. Use a potato masher to puree cooked yams until they are one consistency. If the potatoes are too dry, add some of the reserved water for a creamier consistency.
Season - remove the sage leaves and add the sage ghee butter to the mashed potatoes. Add salt. Mix everything well to combine.
Serve - serve hot as a side dish with a few crispy sage leaves on top.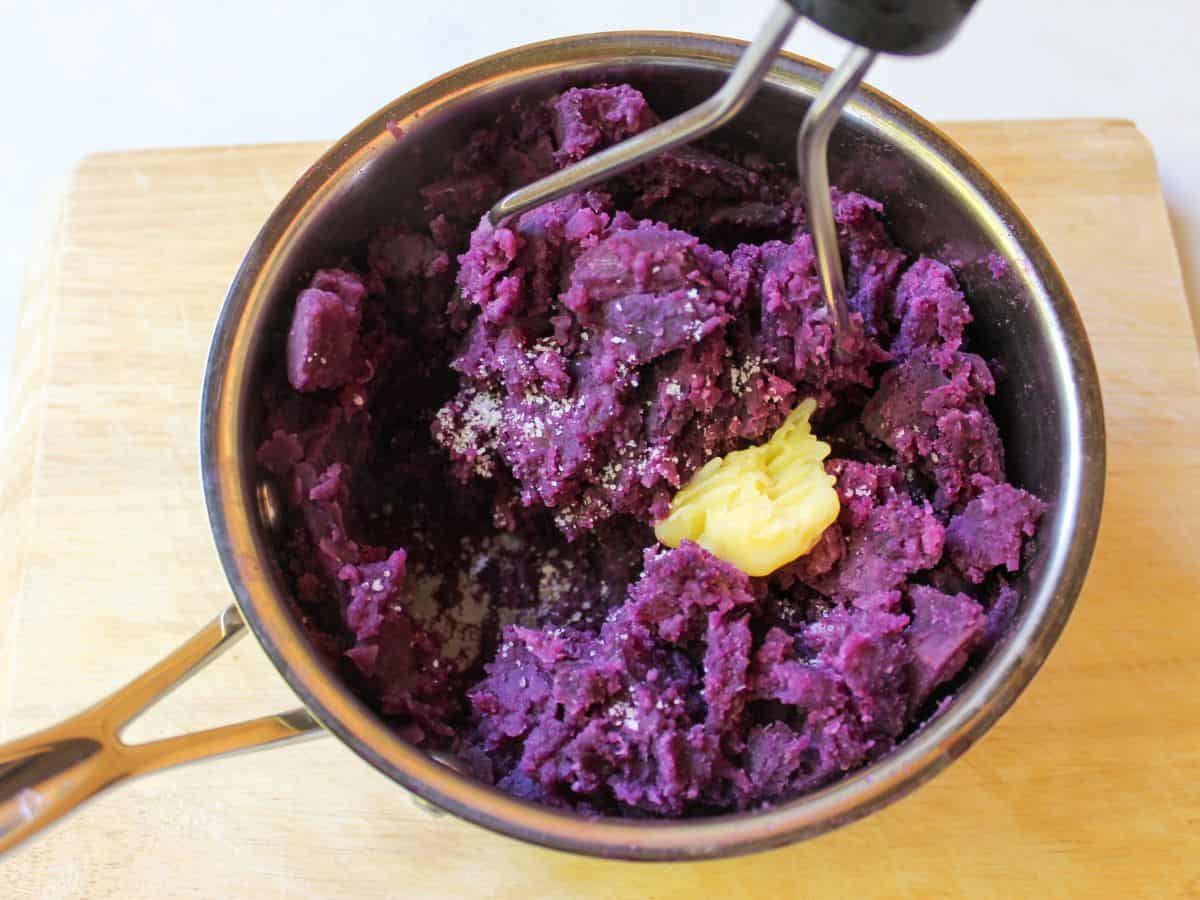 💭Recipe tips
pick larger potatoes when possible.
reserve some water after boiling in case you need to thin the puree out in the process of meshing.
use an electric hand mixer or potato ricer for extra fluffy potatoes
do not add too much salt.
🍴Serving ideas
Serve this healthy side dish in place of regular mashed potatoes. Sweet potatoes go well with chicken, turkey, or pork. The vibrant purple color, creaminess, and sweet and savory taste make this purple potato recipe a perfect Thanksgiving side dish.
It goes well with pinto, and black beans for a meatless meal.
Serve the leftovers for breakfast with some eggs. Good quality carbs will give you energy and will keep you full until lunch.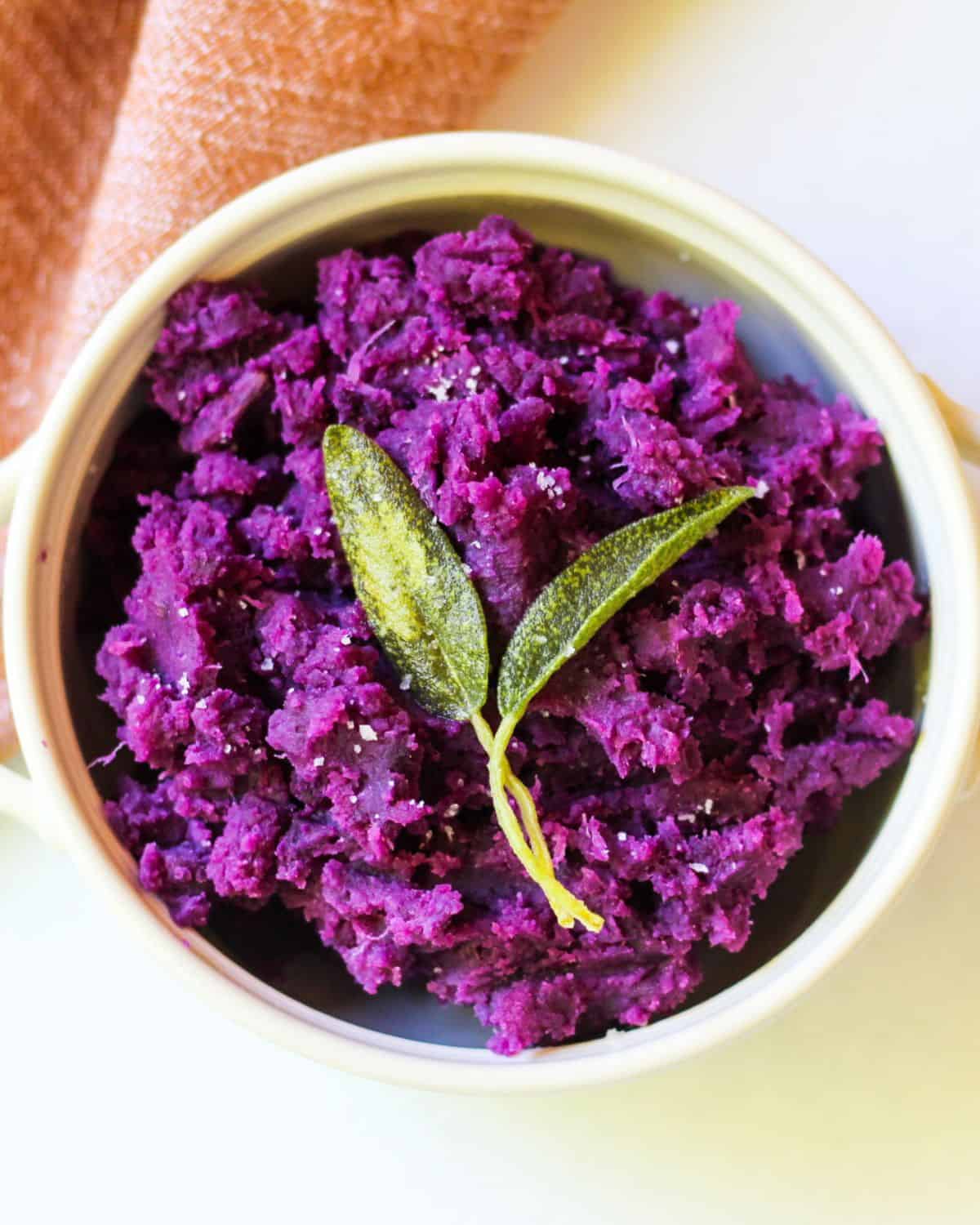 🌡️How to store and reheat
Sweet potato mash makes great leftovers that taste great the next day compared to white potatoes.
Transfer purple potato leftovers to an airtight container and store them in the fridge for no longer than 3 days.
Reheat in the microwave, covered for about 1 minute or until hot. You may want to add some extra butter after reheating.
🥔Other healthy side dishes featuring potatoes
📖 Recipe
Purple sweet potato puree with crispy sage
Purple sweet potato puree is a creamy, sweet, and savory side dish with a deep purple color. It is for sure holiday-worthy and simple enough for tonight's dinner. Crispy sage and ghee butter will add a lot of extra flavors to this amazingly delicious dish.
Equipment
1 Medium Pot

1 Stainless steel skillet
Ingredients
3

large purple sweet potatoes (1-2 pounds)

3

cups

water

or more as needed

¼

teaspoon

salt

2

Tablespoons

ghee butter

or regular butter, or olive oil

6-8

fresh whole sage leaves
Instructions
Wash and peel the potatoes. Then cut them into evenly-sized chunks, about 1-2 inches thick.

Transfer them to a medium pot. Fill with enough cold water to cover the potatoes.

Turn the heat on high, bring to boil. Reduce heat to medium-low and cook potatoes for 15-20 minutes or until fork tender. Carefully drain out all the water reserving about 1 cup.

Meanwhile, heat 1 Tablespoon of ghee butter over medium heat in a skillet. When the butter is hot, add whole sage leaves in a single layer. Cook them for about 2 minutes on each side over medium heat until they become crispy. Remove the sage, sprinkle them with a pinch of salt and set aside.

Use a potato masher or a hand mixer to puree cooked potatoes, adding little bit of reserved water at a time to create the desired consistency. Now, add salt, sage infused ghee butter and the remaining 1 Tablespoon of ghee. Stir or mash again until combined.

Serve hot with a few crispy sage leaves on top.
Notes
rinse the potatoes well.
you do not have to peel purple yams.
do not add much salt, purple sweet potatoes do not need much sodium.

use ghee butter, regular butter or vegan butter.
nutritional facts are for information purposes only.
Nutrition
Calories:
153
kcal
Carbohydrates:
21
g
Protein:
1.5
g
Fat:
1.4
g
Sodium:
145.3
mg
Fiber:
3
g
Sugar:
3
g